Infrastructure Bill Beneficiaries Index Down 17% In June
Last November, President Biden signed the Infrastructure Investment and Jobs Act (IIJA) into law, allocating $1.2 trillion of spending with $578 billion of new spending over the next decade as outlined below: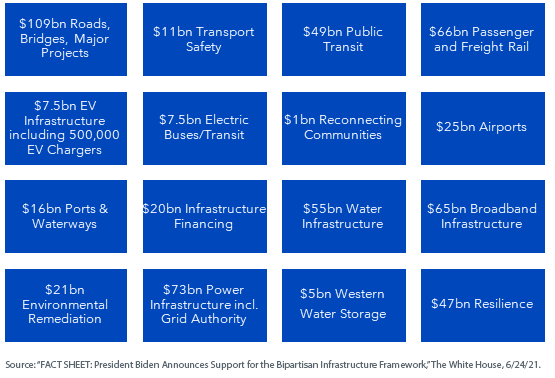 Since the infrastructure bill's enactment, the federal government has awarded, announced, or initiated funding for over $110 billion of spending across 4,300+ projects from which:
Near-term, the immediate spending on the products and services that comprise infrastructure projects is expected to increase the revenues of the companies involved.
Medium term, U.S. infrastructure companies involved are expected to:

enjoy freed-up capital from government-funded improvements that should reduce initial and ongoing capital expenditure needs and improve margins,
experience service improvements (rail operators, for example, should benefit from expanded and faster routes, while electric and water utilities should benefit from safer and more reliable service) that should expand their overall markets and revenues.

Long-term, U.S. infrastructure companies involved should benefit from:

the continued spending of the bill over the next 10 years
and from the resulting infrastructure improvements.
Investors looking for exposure to infrastructure via public equities may want to consider investing in companies that generate a majority of their revenues from infrastructure-related business activities and the non-tradable munKNEE Infrastructure Bill Beneficiaries Index tracks 12 such companies that are described below, in alphabetical order:
NONE of the above constituent stocks advanced in June (-17.5%, on average), and NONE are above their stock prices at the beginning of 2022 (-24.5% YTD, on average). For individual constituent price changes click on the ticker hyperlinks.
One would expect the above companies to advance in the months - and years - ahead, so now it might be the ideal time to do your own due diligence and decide on which, if any, companies you think have the best prospects going forward.
Visit munKNEE.com and register to receive our free Market Intelligence Report newsletter (sample more