Infrastructure Bill Beneficiaries Index Continued To Advance Last Week

Last November, President Biden signed the Infrastructure Investment and Jobs Act (IIJA) into law, allocating $1.2 trillion of spending with $578 billion of new spending over the next decade (see below) of which funding of over $110 billion of spending across 4,300+ projects has already been awarded, announced, or initiated.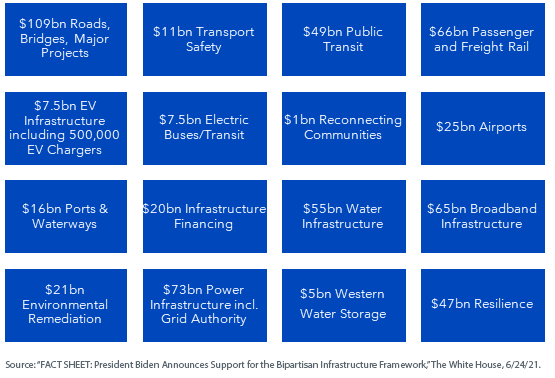 In my June Update article (see here) I reported that none of the 12 constituents in the munKNEE Infrastructure Bill Beneficiaries Index (-17.5%) had advanced during the month but commented that "one would expect the constituents to advance in the months - and years - ahead, so now it might be the ideal time to do your own due diligence and decide on which, if any, companies you think have the best prospects going forward." The Index did just that in July with ALL constituents advancing by a collective +17.8% (see here) and they continued to advance in the first week of August with ALL constituents going UP another 4.4%, on average, led by ChargePoint Holdings that advanced by 17.5%.
Given the above, investors may want to consider investing in companies that generate a majority of their revenues from infrastructure-related business activities such as the constituents in the munKNEE Infrastructure Bill Beneficiaries Index as presented below, in descending order, for last week and in the past 5 weeks (i.e., the end of June):
Advances In Excess of 6% Last Week
ChargePoint Holdings (CHPT): UP 17.5% this past week; UP 39.8% since the end of June

With the expected building of 250,00 customized charging stations CHPT should benefit considerably from their involvement.

Deere & Company (DE): UP 7.2% this past week; UP 23.7% since the end of June

As a major producer of earthmoving and roadbuilding and forestry equipment DE should see an increased demand for its machinery.

Caterpillar (CAT): UP 6.2% this past week; UP 11.7% since the end of June

As the manufacturer of asphalt pavers, compactors, excavators, pipe layers, backhoes, etc., CAT will benefit from future major infrastructure projects.
Advances Between 4% and 6% Last Week
Advances Of Less Than 4% Last Week
Despite the Index being UP 22.7% in the last 5 weeks only 3 constituents are up YTD (the Index is still DOWN 6.8% YTD), suggesting that there is a lot of upside potential.
---
More By This Author:
Major Psychedelic Stocks Down This Week; Still Up Since End Of June
Upward Move In American Cannabis Stocks Continues
Upward Trend In Canadian Cannabis Stocks Continues
Visit munKNEE.com and register to receive our free Market Intelligence Report newsletter (sample more