Illumina: A Growth Leader In The Genomic Revolution
The genomics revolution will offer extraordinary opportunities for growth in the years ahead, and Illumina (ILMN) is in a position of strength to benefit from those opportunities. The company is at the same time a major driving force and one of the main beneficiaries of the genomics boom.
Illumina has a profitable business model and solid competitive strengths. Volatility can be expected due to the impact of the recession and rising competitive pressure in the near term, but chances are that the stock will deliver solid returns for investors over the next 3 to 5 years.
A High-Quality Business
Illumina is a market leader in life science tools for analyzing genetic material. Nearly 90% of the world's sequencing data is generated with Illumina's technologies nowadays. This technology has enormous potential in areas such as oncology and reproductive health in the near term, and massive opportunities in new applications over the years and decades ahead.
Declining costs are a major driver for the industry, and this can be expected to produce exponential increases in demand. In 2003, the year when the Human Genome Project has completed, the cost of sequencing one genome was prohibitively expensive for most healthcare applications. This cost declined to a much more reasonable $1000 by 2014, and now it is declining to nearly $800. Illumina plans to reduce the cost of sequencing one genome to $100 in the coming years, which could open the doors to truly revolutionary opportunities for the company.
(Click on image to enlarge)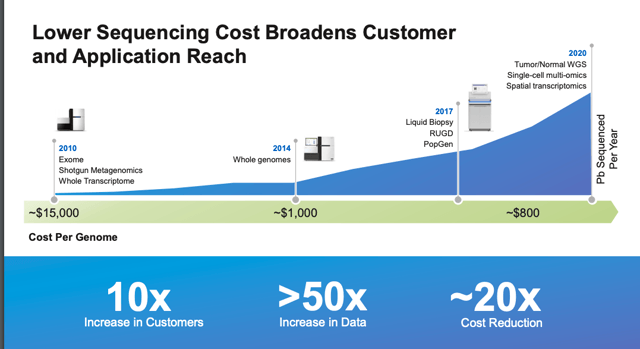 Source: Illumina
Success attracts competition, especially when a company has ample room for further growth. Illumina will most certainly face rising competitive pressure in the years ahead, and investors in the company need to keep a close eye on the competitive landscape. That being acknowledged, the company has the strength to protect its revenue and cash flow from the competition.
Market leadership provides competitive advantages for the company due to its superior scale and intellectual properties. Illumina invested $545 million in research and development to consolidate and expand its technological advantages last year, and a wide net of strategic alliances differentiates the company from smaller players trying to gain some ground in the sector.
Disclosure: I/we have no positions in any stocks mentioned, but may initiate a long position in ILMN over the next 72 hours.
Disclaimer: I wrote this article myself, and it expresses my own ...
more