E

High Short Interest Stocks: What Are They, Who Are They, And How To "Play" Them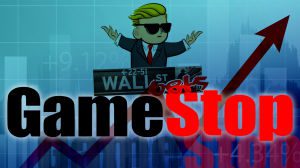 This article explains all things short stock-related and looks at those companies that might follow in the footsteps of GameStop whose stock went parabolic (+815%) over 10 trading days (January 18th to January 29th).
Why Do Speculators 'Short' Stocks?
When someone shorts a stock, they're trying to sell something that they don't actually own because they think they can make money later by buying it back at a lower price.
How Do You Short A Stock?
If you believe a stock's value will increase over time, you want to buy it and hold it, which is known as taking a "long" position but, if you anticipate that a stock's price will decrease, you could take a "short" position. To do this, you would:
borrow shares of the stock and sell them to another investor (even though you don't own them).

If you can sell the stock to someone else for a higher price than what it will cost you to purchase the shares from the original owner to cover your borrowing, you will profit from short-selling.
If the stock's price keeps rising, though, the short seller will have to rebuy the borrowed shares at a higher price than they sold the shares for.
What is Short Volume?
When a speculator makes a short sale, they do so with the belief that a security will decline in price.
If the short sale volume increases as a percentage of the total volume, then that suggests a bearish (negative) sentiment by the market.
If short sale volume decreases as a percentage of total volume, then that suggests a bullish (positive) sentiment.
When the total number of short shares traded on the major U.S. markets each day are divided by the total shares traded each day you get the Short Volume Ratio for the day. That lets you know how bearish (negative) or bullish (positive) the market is that day.
What Is Short Interest?
Short interest is the number of shares that have been sold short but have not yet been covered or closed out and is expressed either as:
Disclosure: Please keep in mind that high short interest stocks are very volatile and therefore highly risky so do your own due diligence.
Visit more