E

GTT Communications: Beaten Down And Primed For A Bounce
Prepared by Stephanie and Tara of BAD BEAT Investing
GTT Communications (GTT) is a telecom company that is on our radar today after some big declines. We believe it is poised for a bounce. Although there have been integration challenges the company's business model has scaled well over the years. Of course, it doesn't matter what the company has done, it matters what it will do. However, we have to at least acknowledge the returns here.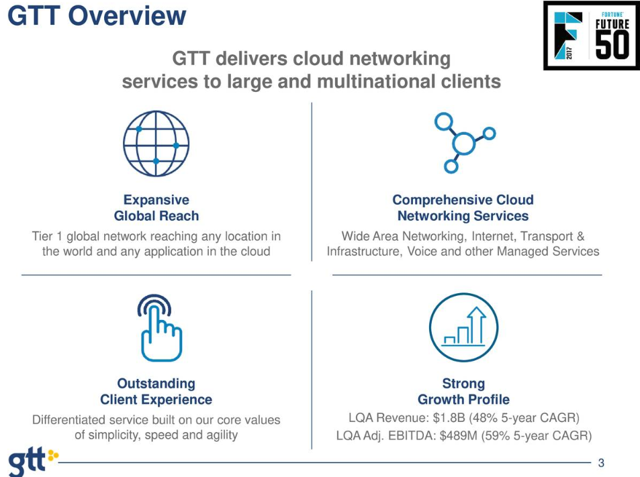 Source: GTT presentation
What do we mean? Well, how about EBITDA growth of a stellar 33% CAGR from just over $20 million to a current run-rate nearly half a billion. It is now highly cash generative helping to support its acquisition strategy which it employs. Over the last 5 years (excluding 2019), EBITDA has grown at a solid 70% CAGR and unlevered FCF at nearly a 65% CAGR.
Now here is where it gets murky. One of the reasons the stock is falling is that there are questions surrounding the viability of the business model. Management has excelled at effectively using its capital to acquire complementary companies. It is in the acquisition business and its there goal to grow the customer base and adding the necessary technology to become a dominant player in the space.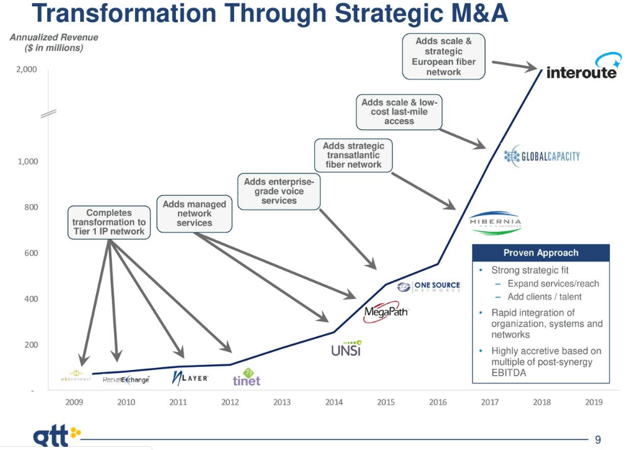 Source: GTT presentation
But here is the thing. The rapid integration approach to acquisitions has been one of the cornerstones of its success, helping management achieve a track record of meeting or exceeding its financial targets over the last few years. However, lately performance has been lacking and this has led to investors bailing out on the stock in the last two months for a near 60% decline: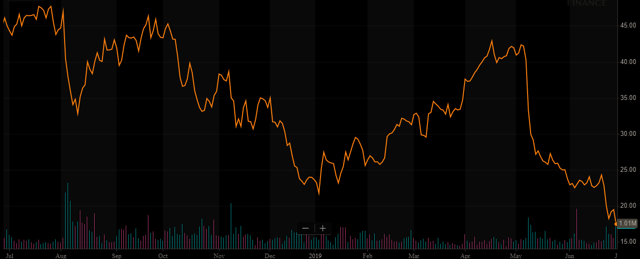 Source: BAD BEAT Investing
Now, this decline was underway, but it has accelerated in the last week. Take a look at the 5-day chart here:
Looking at a longer-term chart, we think we may see some technical support which lends itself to even just a bounce based on the chart. We believe that shares have fallen too far too fast on the same news after the latest quarter, in addition to a recent short report which we will discuss. The play we are looking at calls for trying to scalp a bounce back over $15.