E

Global Partners: Still Serving As A Hedge For Our Portfolios
On Thursday, November 5, 2020, retail store and gasoline partnership Global Partners LP (GLP) announced its third quarter 2020 earnings results. This is a company that has generally provided us with a hedge against declines in crude oil prices because margins for gasoline stations usually increase when crude oil prices decline. The COVID-19 pandemic changed that though as it resulted in people being shut up in their homes and generally foregoing travel. We can still see the lingering effects of this in these results as volumes still remain rather depressed compared to a year ago, despite the third quarter usually representing the heart of the summer travel season. This certainly had a negative effect on the company's revenues, which were down year-over-year and missed the expectations of the company's analysts.
Image Source: Pixabay
As my long-time readers are no doubt well aware, it is my usual practice to share the highlights from a company's earnings report before delving into an analysis of its results. This is because these highlights provide a background for the remainder of the article as well as serve as a framework for the resultant analysis. Therefore, here are the highlights from Global Partners' third quarter 2020 earnings report:
Global Partners reported total sales of $2.061382 billion in the third quarter of 2020. This represents a 36.49% decline over the $3.245653 billion that the company reported in the prior year quarter.
The company reported a gross profit of $169.241 million in the most recent quarter. This compares rather unfavorably to the $187.769 million that the company reported in the year-ago quarter.
Global Partners had total sales volumes of 1.4 billion gallons compared to 1.6 billion gallons in the equivalent period of last year. Thus, the company saw its overall sales volumes decline.
The company reported a distributable cash flow of $31.3 million in the reporting period. This represents a 2.96% increase over the $30.4 million that the firm reported last year.
Global Partners reported a net income of $18.192 million in the third quarter of 2020. This represents a 22.15 % increase over the $14.893 million that the company reported in the third quarter of 2020.
It is certainly not a surprise to anyone reading this that crude oil prices were substantially lower than what they were last year. As we can see here, West Texas Intermediate crude oil was trading for $55.17 per barrel a year ago compared to $42.17 per barrel today. This is a 27.04% decline over the period:
(Click on image to enlarge)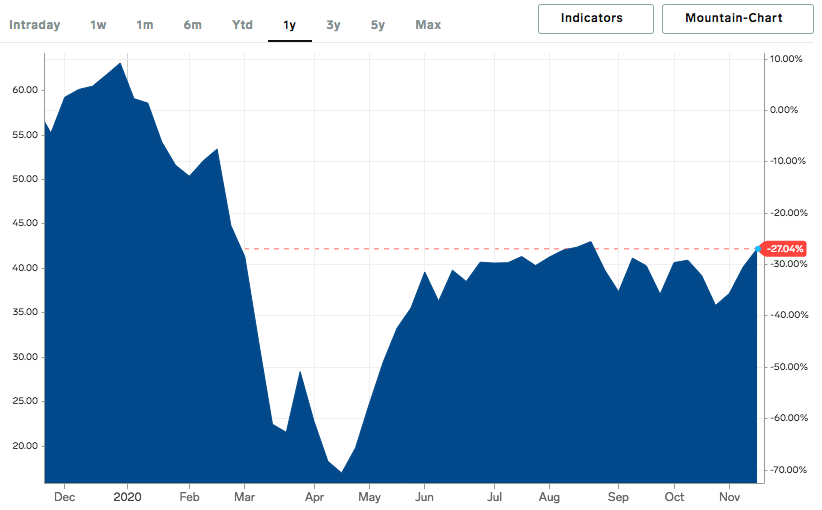 Source: Business Insider
This reduction in oil prices also had an impact on the price of refined products such as the fuels sold by Global Partners. This is because these products are sold based on crude oil prices plus a margin. This had an impact on Global Partners, which saw its sales decline fairly significantly year-over-year due to the lower overall fuel prices. However, the margin between crude oil and refined products prices normally increases whenever crude oil prices decline. This is why Global Partners generally sees its profits increase when oil prices go down. This is how the company can serve as a hedge for the crude oil producers or similar companies that we have in our portfolio since the spread between the two commodity prices essentially represents the company's profit margin. This did indeed happen this time around too as the spread was higher in the third quarter of this year compared to the year-ago quarter. We can see evidence of this by looking at the fact that Global Partners' gross profit held up much better than the company's sales did.
At Energy Profits in Dividends, we seek to generate a 7%+ income yield by investing in a portfolio of energy stocks while minimizing our risk of principal loss. By subscribing, you will get access to ...
more