Featured Stock In March's Dividend Growth Model Portfolio
The long-term success of our model portfolio strategies highlights the value of our Robo-Analyst technology[1], which scales our forensic accounting expertise (featured in Barron's) across thousands of stocks[2].
The methodology for this model portfolio mimics an All-Cap Blend style with a focus on dividend growth. Selected stocks earn an Attractive or Very Attractive rating, generate positive free cash flow (FCF) and economic earnings, offer a current dividend yield >1%, and have a 5+ year track record of consecutive dividend growth. This model portfolio is designed for investors who are more focused on long-term capital appreciation than current income but still appreciate the power of dividends, especially growing dividends.
Featured Stock from March: Carter's Inc. (CRI: $99/share)
Carter's Inc. (CRI) is the featured stock from March's Dividend Growth Stocks Model Portfolio. We made CRI a Long Idea in April 2017 and closed the position in July 2018 after the stock outperformed the market (up 31% vs. S&P up 19%) and was downgraded to Neutral. CRI has since been upgraded to Attractive and once again offers compelling risk/reward.
Over the past decade, CRI has grown revenue by 9% compounded annually and after-tax operating profit (NOPAT) by 11% compounded annually. NOPAT margin increased from 7% in 2008 to 9% in 2018 while return on invested capital (ROIC) improved from 10% to 12% over the same time.
Figure 1: CRI Profit Growth Over Past Decade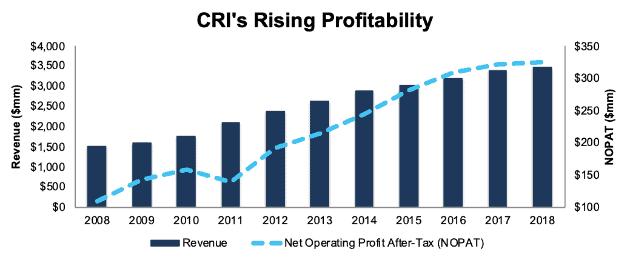 Sources: New Constructs, LLC and company filings
CRI's Free Cash Flow Supports Dividend Growth
Carter's has increased its annual dividend in each of the past five years. The annual dividend has grown from $0.76/share in 2014 to $1.80/share in 2018, or 24% compounded annually. Carter's recently announced a further increase in the dividend to $2/share for 2019, giving the stock a 2% dividend yield. Positive free cash flow fueled dividend growth in the past and should continue to do so in the future. Since 2014, CRI has generated cumulative FCF of $938 million (21% of market cap) while paying $307 million in dividends.
Disclosure: David Trainer and Kyle Guske II receive no compensation to write about any specific stock, style, or theme.