E

Exact Sciences Is Going Higher
Exact Sciences (EXAS) grabbed our attention yesterday after falling 12% yesterday morning following an earnings report that saw a top and bottom-line beat. The company is also making it official and combining with genomic health (GHDX) which will create a leading global cancer diagnostics company. The market was sour on the news and we felt this is a fantastic opportunity to get into shares for both the short and medium-term. The rally is underway and although shares are up 20% from our trade, we want long-term investors to consider the name right now. Let us discuss.

Source: Exact Sciences Website
First take a look at the chart, as you can see this is a sizable pullback following all of the growth:
(Click on image to enlarge)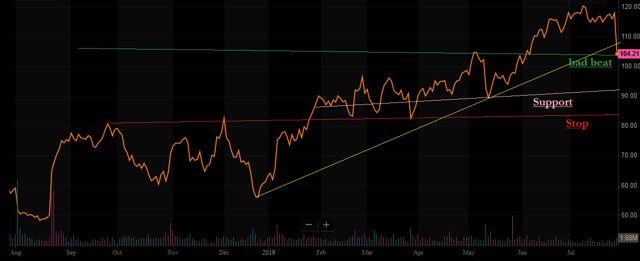 Source: BAD BEAT Investing Chartist
We have outlined the very simple zones here based on the statistical metrics applied by our in house chartist John and his calculations. Essentially we have a simple play here, and think if you can get this at the $100-$102 range it is a steal:
Current price: $104 (we think it comes lower and look for entry beneath this)
Target entry: $99-$102
Target exit: $115-$120+ on the trade
Stop: $83-$86
Medium-term? We think the growth trajectory can continue and see $150-$170 as likely in 2020, provided the story does not change. So what is the story here?
Discussion
Exact Sciences has shown incredible revenue growth over the last decade, but the company operates at a loss with more losses expected for 2020. The balance sheet shows that the company operates with moderate debt levels, ahead of this merger with Genomic Health. The long-term debt is currently $688 million representing 45% of its total asset value. The company's total liabilities represent 55% of its total asset value.
Excluding the merger, Exact Sciences operates with ample working capital (with a current ratio of 2.3) meaning that its short-term assets (such as cash and deposits) easily cover its short-term liabilities (bills the company has to pay). Even ahead of the merger Exact Sciences' forecast earnings are for losses through to 2020 (at both the net income level and operational level) which means the forward PE is not applicable as it's negative. So that hits the valuation analysis. Keep in mind the company booked a loss for the 2018 fiscal year.
Disclosure: I am/we are long EXAS. I wrote this article myself, and it expresses my own opinions. I am not receiving compensation for it. I have no business relationship with any company whose stock ...
more