EC

Cash Bans Coming To Your Town Next: 3 Stocks Driving The Trend
Before the pandemic, the U.S. was already on a path to becoming a cashless society. Each year, more and more Americans come to rely solely on credit cards or smartphones to make payments. But, there is always that one place: the small store that is "cash only," the gas station that charges less if you pay in cash, or the eclectic food truck with awesome tacos, that definitely doesn't take cards.
These exceptions to the increasingly cashless world ensured that I always carried around at least a few twenties, just in case. No more.
The pandemic has very rapidly accelerated the move to "contactless delivery," "cashless" stores, and an aversion—by anyone concerned with catching the virus—to touching bills and coins that may be a transmission mechanism for COVID-19.
Companies that were literally built for contactless delivery, and digital movement of currency, are prospering. This transition has also been a boon for certain other companies, but it is causing issues—some expected and others unexpected—for other companies across the country.
Additionally, low-income individuals who do not have access to digital banking are not faring as well. In response, some major cities, including Los Angeles and New York City, are even going as far as making it illegal for businesses to not accept paper money.
The move to cashless has also disrupted our money supply. The Federal Reserve has cut back on coin production in an effort to maintain the safety of its workers. And, as people spend less paper money and coins, retailers that take cash are having trouble getting access to coins, and in some cases demanding exact change only.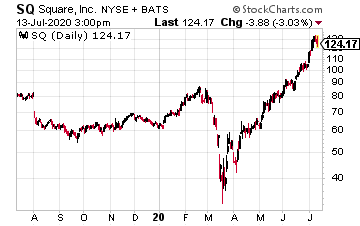 Square (SQ) is one of the companies seeing a surge in business as more and more transactions move to digital. Square, which was created as a replacement for the cash register at small businesses, was originally designed as a point of sale system.
The company recently received an upgrade from Sun Trust with a $150 price target. This after the company had already seen multiple rating raises from a variety of brokerage analysts to the $120-$130 range.