Bull Of The Day: CNH Industrial
Image Source: Pixabay

CNH Industrial N.V. (CNHI - Free Report) is innovating with new equipment including electric tractors. This Zacks Rank #1 (Strong Buy) is also expected to grow its earnings by double digits in 2023.
CNH Industrial is an equipment and services company that manufactures agriculture and construction equipment for customers in 180 markets. It has been manufacturing equipment since 1842 and operates 4 core brands: Case IH, New Holland Agriculture, New Holland Construction, and CASE Construction Equipment.

New Innovations in Electric and LNG Tractors Unveiled
On Dec 9, CNH Industrial revealed the New Holland T4 Electric Power, the industry's first all-electric light utility tractor prototype.
Developed by its teams in the United States and Italy, and in collaboration with strategic partner Monarch Tractor in California, the prototype was presented as New Holland Agriculture but the commercial model will also extend to the Case IH brand.
TR Electric Power is suited to mixed farm, livestock, municipality, orchard, and specialty applications.
Commercial production is expected to begin at the end of 2023 with a broader product offering to follow.
Also on Dec 9, at its Tech Day in Phoenix, CNH Industrial unveiled a prototype in natural gas tractors with the T7 Methane Power LNG (Liquefied Natural Gas) pre-production tractor.

New Electrification Center to Open in Detroit
With the auto industry well along its journey towards electric vehicles, it shouldn't be surprising that CNH Industrial announced on Dec 12, 2022, that it would be opening a new technical center in the Detroit metro area designed to support innovation in electrification.
"This new location underlines our commitment to growing our electric vehicle and subsystem profile, and marks yet another milestone after successfully expanding our in-house team," said Marc Kermisch, Chief Digital and Information Officer and ad interim Chief Technology & Quality Officer, CNH Industrial.

Record Third Quarter Consolidated Revenue
On Nov 8, 2022, CNH Industrial reported its third quarter results. It beat the Zacks Consensus Estimate by $0.09, reporting $0.41 versus the consensus of $0.32.
CNH Industrial has an excellent earnings surprise record. It has only missed once in the last 5 years and it was when the coronavirus pandemic hit in early 2020.
(Click on image to enlarge)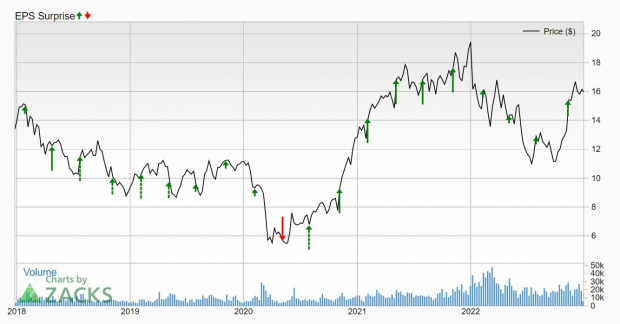 Image Source: Zacks Investment Research
The company had a record third-quarter consolidated revenue of $5.8 billion, up 23.9% year-over-year.
A favorable mix of volume, price realization, operational execution, and supportive product mix led to an increase in Industrial Activities' gross margins by 260 basis points. However, the company did warn that significant challenges persist in the supply chain and "inflation continues to run hot."
Free cash flow was $202 million in the quarter and the company continues to target a full-year industrial free cash flow of $1 billion.

Raised Full Year Guidance
In spite of the challenges, given the strong third-quarter performance, CNH Industrial raised its full-year guidance on net sales to the range of up 16% to 18%.
The analysts liked what they saw as 7 earnings estimates were raised for 2022 and 2023 in the last 2 months.
The 2022 Zacks Consensus Estimate rose to $1.47 from $1.38 during that time. That's an earnings growth of 8.9% as the company made $1.35 in 2021.
Similarly, for 2023, the Zacks Consensus jumped to $1.62 from $1.52 over the last 2 months. That's earnings growth in 2023 of 10.3% despite all the challenges.
(Click on image to enlarge)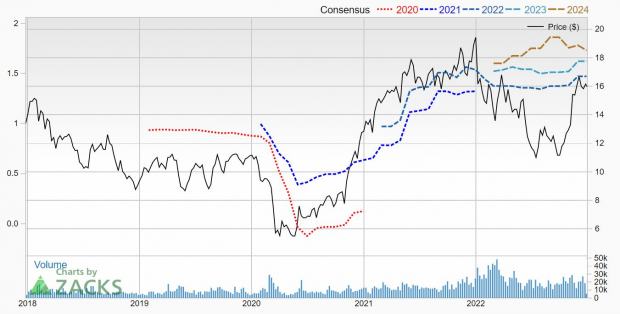 Image Source: Zacks Investment Research

Shares Are Cheap
It's been a volatile year for CNH Industrial shares but they are now down about 17% for the year.
But they are still cheap on a forward P/E basis. It trades at just 10.9x.
CNH Industrial is also shareholder friendly. It pays a dividend, currently yielding 1.8%. On Sep 19, 2022, it also announced a $300 million share buyback plan good through Oct 12, 2023.
For investors looking for an old economy company with both value and a growth outlook in 2023, CNH Industrial should be on your shortlist.
---
More By This Author:
Where To Find Top Value Stocks In 2023
Can Energy Stocks Win Again In 2023?
Screening For High Quality Cheap Tech Stocks
Disclaimer: Neither Zacks Investment Research, Inc. nor its Information Providers can guarantee the accuracy, completeness, timeliness, or correct sequencing of any of the Information on the Web ...
more