Best Silver Mining Stocks To Buy In December
Silver mining stocks have had a tough 2021. As the price of silver declined, so did the stock price of silver mining companies. Are these companies attractive at the current valuations?
Silver is one of the most interesting metals, as it has a unique combination of uses – it is both an industrial and precious metal. The industrial uses of silver cover many industries, such as automotive (used to make electric vehicles), telecommunications (5G), or energy (solar panels).
While it is mostly known as a precious metal, more than half of silver demand comes from industries. This is because silver has valuable properties, such as malleability, ductility, reflectivity, and the highest conductivity of all metals.
The price of silver started the year a little over $27, and now it trades in the $22 area, close to the year's lows. Because of the ongoing weakness, silver mining companies have also seen their stock prices decline.
Is it time to take advantage of the cheaper valuations? If so, here are three silver mining companies to consider in December: Gatos Silver, Pan American Silver, and Fortuna Silver Mines.
Gatos Silver (GATO)
Gatos Silver is one of the silver mining companies that did not see its stock price decline that much in 2021; it is down about -11%. The company operates the Cerro Los Gatos mine in Mexico, and it was founded in 2009.
Most analysts are bullish on the stock price. Out of the 9 analysts covering the company, 8 have issued buy ratings, and 1 has issued a sell rating. No analyst has a sell recommendation.
Pan American Silver (PAAS)
Pan American Silver is a Canadian company from Vancouver operating mines in Canada and Central and Latin America. Its net profit is forecast to double by 2025, and it is currently operating with a gross profit margin of 42.90%, higher by the sector median by 40.65%.
(Click on image to enlarge)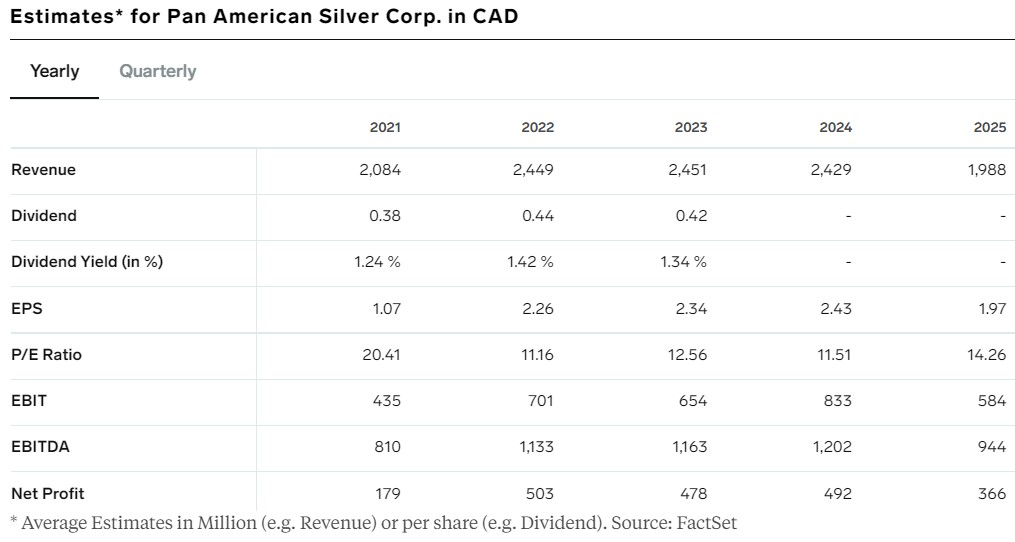 Fortuna Silver Mines (FSM)
Fortuna Silver Mines is a Canadian company headquartered in Vancouver. It employs over 1,200 people, and it was founded in 1990.
The company explores and extracts precious and base metals in Latin America, in countries such as Peru, Mexico, or Argentina. Its stock price is down more than -50% in the last twelve months, but the decline made the company attractive from a valuation perspective.
For instance, this is a company operating with a gross profit margin higher than the sector median (38.47% vs. 30.50%). Moreover, the P/E ratio of 6.67 is much lower than the 15.69 sector median. Therefore, contrarian traders may consider the attractive valuation despite the decline in the stock price.
Disclaimer: None of the content in this article should be viewed as investment advice or a recommendation to buy or sell. Past performance/statistics may not necessarily reflect future ...
more