Avoid These Overvalued Momentum Stocks
As the market reaches record levels despite no real profit growth, diligence matters more than ever. Irrational exuberance can drive stocks to dangerously high levels in the short-term. If you own momentum stocks with poor fundamentals, your portfolio could take big hits when fickle noise traders suddenly decide to sell.
These stocks are some of the best performing so far in 2019, but they have misleading earnings and significant downside risk. Carvana Co. (CVNA: $67/share) and Rogers Corporation (ROG: $171/share) are in the Danger Zone.
Stock Valuations Don't Only Go Up
Per Figure 1, CVNA and ROG are up 106% and 72% year-to-date (YTD) respectively, which greatly outpaces the 17% YTD return of the S&P 500. However, the fundamentals of their businesses remain weak and do not justify their valuations.
Figure 1: Outperformance Makes These Stocks More Overvalued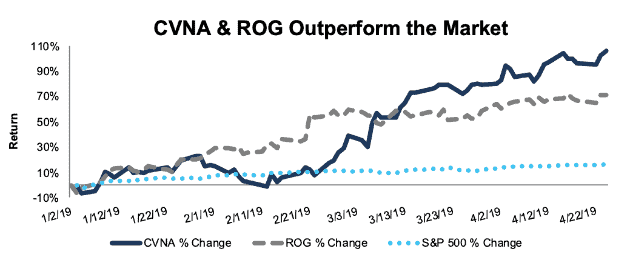 Sources: New Constructs, LLC and company filings
The momentum that investors are chasing could end soon. In "Big Tech Still Dominates Economic Earnings Growth", we showed that despite reported profit growth, economic earnings declined across the market in 2018 after removing the impact of tax cuts. Artificially elevated earnings cannot support overvalued stocks indefinitely.
When the music stops for momentum stocks, the results can be devastating. Look no further than the fourth quarter of 2018, when CVNA and ROG were down 43% and 30% respectively, compared to a 14% decline in the S&P 500. Investors would be wise to take their gains (or avoid entering at these high levels) before the next downturn in these momentum stocks.
Carvana Co. (CVNA): Unattractive Rating
Carvana aims to simplify the car buying experience by allows consumers to view, analyze, and purchase a car directly from their computer or mobile device. While a great proposition for consumers, the business model is not so great at creating shareholder value.
Misleading Earnings: From 2016-2018, CVNA's GAAP net income improved from -$114 million to -$67 million. Meanwhile, economic earnings, the true cash flows of the business, fell from -$112 million to -$315 million, per Figure 2.
Figure 2: CVNA's Misleading GAAP Net Income Hides Falling Economic Earnings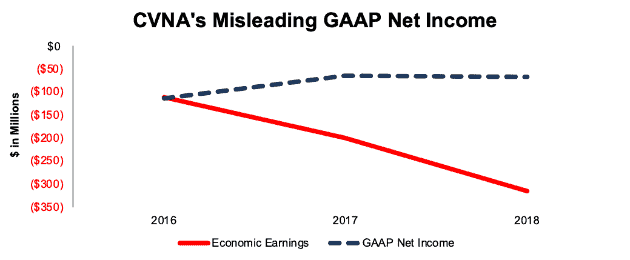 Sources: New Constructs, LLC and company filings.
Disclosure: David Trainer, Sam McBride, and Kyle Guske II receive no compensation to write about any specific stock, sector, style, or theme.
Disclosure: New Constructs staff receive no ...
more