A Paradigm Shift In Healthcare Produces A Big Market Opportunity
DarioHealth is poised to be a $100M+ company running 60%+ gross margins, be profitable and cash generating.


DarioHealth (DRIO) is a Digital Therapeutics as a Service (DTaaS) that began to offer digital healthcare solutions and therapeutics directly to consumers.
They started with treating diabetes through a combination of software and AI, health coaches, real-time data analytics and behavioral analytics but have expanded to five chronic conditions through several modules which come as apps:
Dario Evolve: treating metabolic problems like diabetes, weight management, hypertension and the like.
Dario Move: diagnostics and personalized treatment of MKS or musculoskeletal conditions like chronic pain and improve overall musculoskeletal health.
Dario Elevate: behavioral health for a wide range of mental health conditions which starts with an AI screener.
Dario One: the entire suite of chronic condition management solutions integrating the three applications into Dario's single digital therapeutics platform and behavior change journey engine.
All these apps draw on Dario Engage, the company's proprietary care management platform providing an integrated experience from contracting through onboarding, data exchange, enrollment, outcomes, and reporting, as well as supporting coaching.


The company also makes use of devices like glucose and blood pressure meters and a biofeedback sensor.
Since its days as a DTC (direct to consumer, or B2C) provider the company has made two shifts:
A shift towards B2B (or technically, B2B2C) business model.
A shift towards becoming a multi-condition platform.

B2B2C
The shift towards B2B is not hard to understand as during the pandemic there was a massive shift towards digital healthcare and CAC (customer acquisition cost) became very high and competition very intense.
With their user focused approach (see below) they are well suited to make the shift towards B2B and they have three segments here:
Health plans; while these often have the longest sale cycle, they offer large opportunities as they typically offer much larger potential member populations.

The shift to B2B is paying off: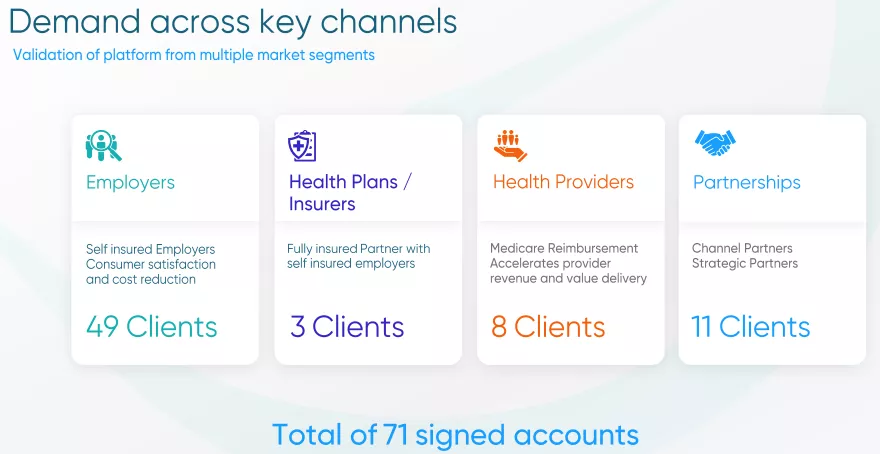 Strategic partnerships
The company also has strategic partnerships, which greatly broaden its sales reach:
Virgin Pulse has already delivered new clients and the pipeline at Solera is growing and management expects wins here fairly soon.
The biggest of these is the 5-year $30M partnership with Sanofi, which selected Dario as the solution of choice for its US managed care clients, cementing its position in that market. The agreement has three main planks:
Enlisting Sanofi's sales force to expand Dario's platform in the health plan and employer market.
Joint development of additional solutions.
Generating data that validate outcomes of Dario's platform.
The first is the most important in the short to medium term as it greatly extends Dario's sales reach, but investors should be somewhat patient as this doesn't change the length of the sales cycle which is in the order of 12-18 months.
But the company can receive up to $30M from Sanofi, and longer-term, developing joint solutions that serve as additions to its platform (even if parts of the revenues will be shared with Sanofi) will strengthen its competitive position and add upselling opportunities.

The $30M won't arrive immediately, they have three revenue buckets from Sanofi (Q2CC):
One is market access. Second one is development services for integration of Sanofi medical devices to our platform. And we have also revenue that is coming from data. Each of them have its own life cycle and revenue recognition.
Management talked of $8M this year from Sanofi but that might be a stretch.

Multi Condition


And it leads to upselling opportunities and other financial benefits:

Management believes they can generate 5x to 8x more dollars per account as a result of their multi-condition platform and CAC (customer acquisition cost) are 70% lower than in the B2C segment with the B2B2C CAC now below $20. About 35% of their signed deals are multi-conditions. From the Q2CC:
Our enrollment rates are averaging above 30% for all of our customers on the B2B side. Eligible lives in any given population can reach up to 40% of that population. So that speaks to the 5 to 8x more in revenue that we get in an account versus a single condition or a diabetes alone account.

Competitive advantage
Management believes that their origin in B2C gives them a competitive advantage in the B2B market as they are very user centric and focus on extreme personalization, from the 10-K:
our solution is informed by years of user experience data from over 223,000 users, enabling us to continually personalize and adapt user journeys themselves (and not just messages) over time. Our journey engine drives our multichannel targeted outreach and enrollment campaigns, informs specific recommendations around a range of categories such as diet, physical activity, self-care, coaching interventions, and provider engagement, and evolves in real time in response to the data exhaust from a user's interaction with the care ecosystem.
Management believes their solutions, unlike most others, provide more than just tracking, content, and nudges, which don't reward progress and changes.


They are on a personalized journey with the users (10-K):
Our journey engine adapts user journeys to drive engagement, retention, and clinical outcomes by optimizing timing, tone, channel, content, frequency and intervention to deliver dynamically personalized user journeys that are more likely to result in the behavior changes needed to drive improved outcomes across a range of conditions.
Their 40% member enrollment rate and 80% year-over-year retention rate rates are pretty solid indications that this is just more than words:

Growth
We see several vectors for growth:
Market growth
Adding clients
Adding conditions
Upselling
Adding end users
Market growth
The TAM is of course huge and growing and market penetration is at a fraction so it's still all to play for:


Main drivers are:
An aging population.
The shift towards digital healthcare.
A shift towards value based care (reimbursement based on results).
A shift towards integrated (patient centric) care.
A need to rein in ever increasing US healthcare costs. A whopping 75% of US healthcare costs come from people with chronic conditions.
Basically we're in the early innings of a paradigm shift:


We think that DarioHealth is well placed to benefit from this paradigm shift as it addresses the main vectors.

Adding clients and users
The company had 69 contracts at the end of Q2 and expects to reach 100 contracts by the end of the year. The company has 3 health plans already, one of them is a national health plan with 10M users.
Management estimates that this contract alone will produce $25M-$35M in recurring revenues a year when fully implemented, and is on the verge of signing another health plan as a customer. Investors should realize (Q2CC):
And with each account that we add on the B2B side, the ability to add users to the platform substantially increases our ability to add them one by one in the B2C business.
Onboarding is a gradual process, but as one can see in the graph above, there has been a marked acceleration from the start of last year as a result of the shift towards B2B.

Up-selling
More than 40% of the accounts that the company is signing on are from more than a single condition, but that still leaves plenty of room to sell additional conditions to existing customers. Investors might want to keep in mind that the company can generate 5x-8x more per account providing the full multi-condition platform.

Adding conditions
The company has three routes to add new conditions to its platform:
R&D and trials in their B2C segment first
Joint development with strategic partners like Sanofi
Acquisitions
So far the latter has been the more important, as the company acquired:
UpRight (January 2021) bringing MKS
Physimax (January 2022) computer vision for MKS
WayForward (May 2021) bringing behavioral health

Finances
Revenues increased 15% y/y to $6.2M, a considerable slowdown. B2B revenue fell back from $4.6M in Q1 to $2.8M in Q2 as the national health plan was supposed to start generating revenue in Q2 but that has slipped into Q3 and this produced the revenue miss in Q2 (the Q3 figures aren't yet in the graph):


Revenue from strategic partnerships is lumpy and therefore caused some slowdown in Q2. Q3 produced 17.3% growth to $5.6M with the first nine months 44% higher versus last year.
The B2B segment was already good for 63.5% of revenue in Q3, up from 46% in Q2 and management is going to spend less on it whilst keeping the recurring revenue customers and try to make it breakeven or better and use it to collect data on new services built first for B2C.
This will have a moderate impact on revenues in H2 and smaller in 2023 and 2024. There are currently no plans but the B2C segment could be revived if the pandemic VC money dries up and the competitive landscape improves here with reduced CAC.
On the other hand, the shift towards B2B will bring a host of financial benefits and the company has $61M in contract value already signed in Q3 on 85 signed contracts.


As the new health plan starts to deliver revenues in Q3, gross margin should rise back to between 50%-60% for the next few quarters and 50%+ for FY22 as a whole.
On a non-GAAP basis, gross margin is already above 50% in H1/22 while the pure B2B2C business produced 70%+ gross margins by Q2 already and confirmed in Q3.
For next year, when the company will derive most of the revenue from B2B, management expects 60%+ gross margins for the year (it's 45% in Q3 so still a significant rise is in store).
Apart from a rise in gross margin, the shift to B2B also produces a reduction in OpEx:


OpEx in Q3 were $16.4M versus $23.3M in Q3/21 (-29.8%) and $18.5M in Q2/22 (-11.5%). Net loss was $15.6M down $6.8M or 30.3% from Q3/21 and down 13.3% versus Q2/22.
The company ended Q3 with $57.1M in cash (and $23M in debt), Given the decline in OpEx and continued strong revenue growth the cash bleed will go down further in Q4 and subsequently stabilize.
Management argues the cash provides a run rate for 2024 and they have an additional $25M credit line from OrbiMed and strong backers. Q3 isn't yet in the figure below:

Valuation
The company has 23.3M shares outstanding (fully diluted 32.3M), which gives a market capitalization of $135M (at $4.2 per share) or an EV of $80M for an EV/S of just under 3x. Analysts don't expect profitability anytime soon with an EPS loss for this year of -$3.08 falling to -$2.47 next year (on $35M of revenue), but these assessments might be increased a little after Q3.

Investment thesis
A paradigm shift in healthcare produces a big market opportunity that is still in the early innings
Sensible shift towards B2B to improve financials and reduce competition is already paying off
Competitive advantage based on hyper-individualized technology and multi-condition platform
Growth opportunities in adding clients, conditions, upselling and end users.
The company is likely to produce significant revenue growth and margin expansion, which will decrease the cash bleed which is still significant at this point.
In a couple of years this could easily be a $100M+ company running 60%+ gross margins and be profitable and cash generating.
---
More By This Author:
A Ground Floor Opportunity in Splash Beverage
Bion Environmental Technologies Turns Waste Into Marketable Products
SurgePays Will Surge Ahead As Subscribers Flock To The Company
Disclosure: This article is part of TM's' "UnderCovered" series of exclusive articles featuring companies with limited coverage. Authors are compensated by TalkMarkets ...
more