4Q18 Energy Infrastructure Earnings Wrap Up
Earnings season often produces memorable soundbites during the conference calls that follow. Last summer, Energy Transfer (ET) CEO Kelcy Warren said, "A monkey could make money in this business right now." (see Running Pipelines is Easy). Kelcy is not overly burdened with modesty, but at least he is backing up his brash comments with results. ET's 4Q18 report completed a strong year, and they reaffirmed previous 2019 guidance that is at the high end of expectations. ET is seeing the benefits of its exposure to Permian crude oil, natural gas and NGL logistics.
The company has an aggressive culture, which is reflected in their laudable response to troublesome environmental activists. But it also shows up in conflict with regulators in Pennsylvania, where all work was recently halted on its Revolution pipeline project due to compliance failures. When asked what lessons they've learned, Kelcy answered "We've learned a lot. Every place is not Texas." There's also the ill-fated pursuit of Williams Companies (WMB), which included a dubious issuance of convertible stock to management (see Will Energy Transfer Act with Integrity?, written when we thought they might). ET's management has a checkered reputation.
Nonetheless, with a Distributable Cash Flow (DCF) yield of 14.7%, this is a cheap stock. If not for the preceding considerations it would be a bigger position for us.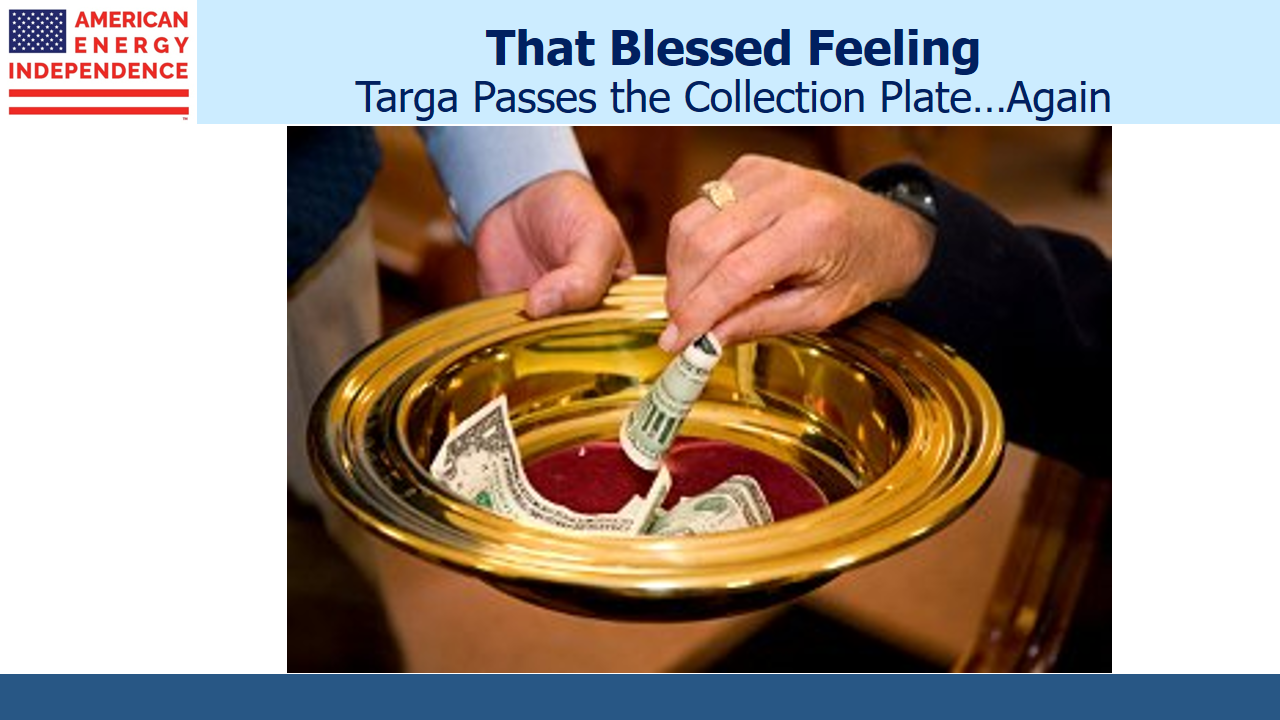 Joe Bob Perkins, CEO of Targa Resources (TRGP), provided this quarter's memorable quote. Responding to a question about increased 2019 growth capex, he responded, "…I described it as capital blessings".
One reason why S&P Energy has been the weakest sector for four of the past five years is the differing views on capital allocation between management and investors. Companies want to invest to grow, while investors would prefer greater return of cash, through buybacks and dividend hikes. Joe Bob knows what investors want whether they like it or not. He continued, "Those are high return strategic investments that every investor looking under the covers would want us to make. And I think most investors and analysts like you looking from the outside in, knowing what they are and when they're coming on, wanted us to make those investments."
Disclosure:
We are invested in ET, PAGP, TRGP, WMB.
SL Advisors is the sub-advisor to the Catalyst MLP & Infrastructure Fund.To learn more about the Fund, please ...
more