Running Pipelines Is Easy
"A monkey could make money in this business right now." Kelcy Warren, Energy Transfer Partners CEO, August 2nd, 2018.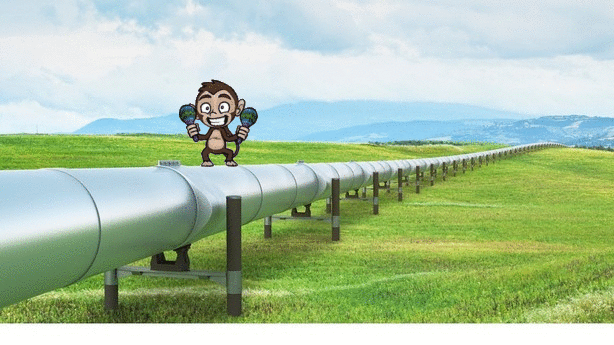 Presumably when Energy Transfer Partners (ETP) announces earnings next week they'll be good. That was the clear message in the attention grabbing combination of ETP with its General Partner (GP), Energy Transfer Equity (ETE). The 1.28 exchange ratio represented an 11% premium but also a 30% distribution cut for ETP investors, given ETE's lower payout. The new company anticipates coverage of 1.6X-1.9X by 4Q18, a Distributable CashFlow (DCF) yield of 11.5% based on its current price.
Kelcy Warren's comment on favorable conditions contributed to positive sentiment across the sector, something that has been sorely missing until recently. Wall Street's most recent solution to the weak MLP market has been eliminating the GP/MLP structure, and with it the Incentive Distribution Rights that boost the GP's share of DCF. ETE endorsed that recommendation, but still retained some special rights through the issuance of "A" class shares to insiders. Overall though, we think this move shows ETE's attractive valuation.
In 2Q results, pipeline companies reported earnings buoyed by higher volumes. Output of natural gas, Natural Gas Liquids (NGLs) and crude oil are all hitting new records. The U.S. is on track to be the world's biggest oil producer by late 2019 – if infrastructure bottlenecks don't delay that for a year.
As pipeline capacity out of the Permian Basin has dwindled, it's caused a spectacular widening in regional differentials. Crude oil in Midland, west Texas is worth $17 less per barrel than in Cushing, OK. This reflects the cost of moving the marginal barrel, which has to go by truck since there's no spare capacity on pipelines or railroads. This $17 differential is a thing of beauty to a pipeline owner with some uncontracted availability. For oil producers faced with unexpectedly steep shipping costs, it's a hit to profitability. The larger companies tend to have committed transport which guarantees them access to market. For example, Devon Energy (DVN) reported realizations on crude oil production within 2% of the Cushing benchmark. It's the smaller, more speculative companies that stand last in line.
Disclosure: We are long CEQP, ENLC, EPD, ETE,OKE, WMB.