3 Cult Stocks To Avoid In 2015
These three stocks are defined by innovation and customers who can't get enough, but the valuations of these stocks just don't add up. With such sky-high valuations not based on business fundamentals, these stocks can turn sour at a moments notice. It would be wise to avoid these 3 stocks right now.
Writing on a regular basis for Investors Alley, Real Money Pro, and Seeking Alpha as well as an increasingly busy speaking circuit brings me into contact on a consistent basis with readers who have myriad questions about investing. One of most frequent questions I get asked is what I look for when making an investment. Less often someone inquiries about just as an important a question that should be asked more. What kinds of stocks do I avoid?
Every investor wants to find the next Apple (NASDAQ: AAPL) or Starbucks (NASDAQ: SBUX) as one does not have to find one of these great growth companies early in their lifecycle to have a very successful investment performance over the lifetime of one's portfolio. Just as important is avoiding stocks that might have momentum currently but eventually fall back to earth, blowing a huge hole in your portfolio that takes some time to recover from.
One mistake I have seen investors make over and over is to fall in love with stocks in companies because they adore and use their products or services not because of business fundamentals or reasonable valuation expectations.
I was at investing conference just over a month ago when someone asked me to name a few companies that this would apply to in the current market. I thought about it a moment and came up with Tesla Motors (NASDAQ: TSLA), Amazon (NASDAQ: AMZN) and GoPro (NASDAQ: GPRO). All of these stocks are down since that conference but further declines could be forthcoming as their business fundamentals do not support their valuations afforded them currently by investors.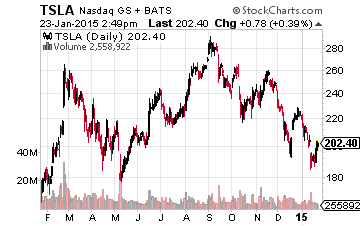 All of these are well-run companies that provide great services and products. Tesla makes one of the finest cars I have ever driven. If the stock was valuing the company for its wonderful Model S and the 100,000 vehicles it may sell of that model annually in a few years, I might buy some shares myself.