10 Clean Energy Stocks For 2020: May, Update Part 1
For the last few monthly updates, I've been focusing on the big picture, and have neglected to say anything about many of the 10 Clean Energy Stocks for 2020 since I looked at how the pandemic would likely affect each stock in March.
This month, I'm trying to rectify the oversight, and have been posting updates on individual stocks for my Patreon supporters since Friday. Below is a collection of the updates I've published so far. I am to keep posting one a day until I've gotten to all of them, after which I plan to publish another collection of updates on AltEnergyStocks.com for everyone.
In addition, here is the overall performance of the portfolio compared to its benchmarks so far this year:
(Click on image to enlarge)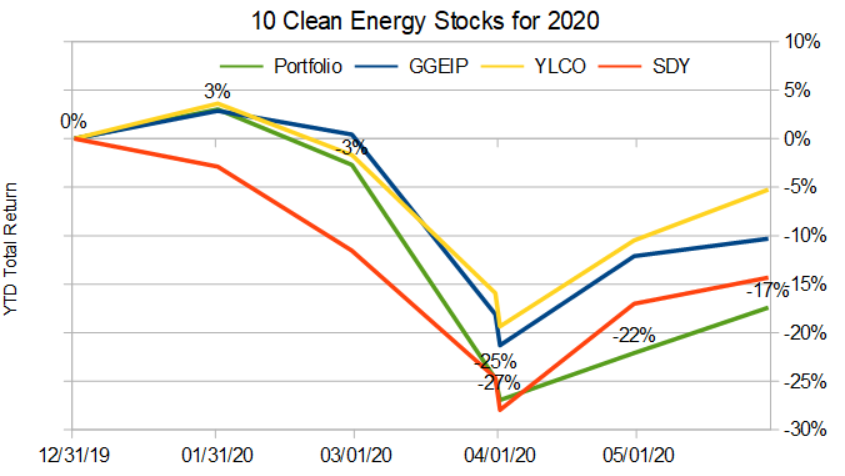 In addition, here is a detailed view of the model portfolio showing the individual positions:
(Click on image to enlarge)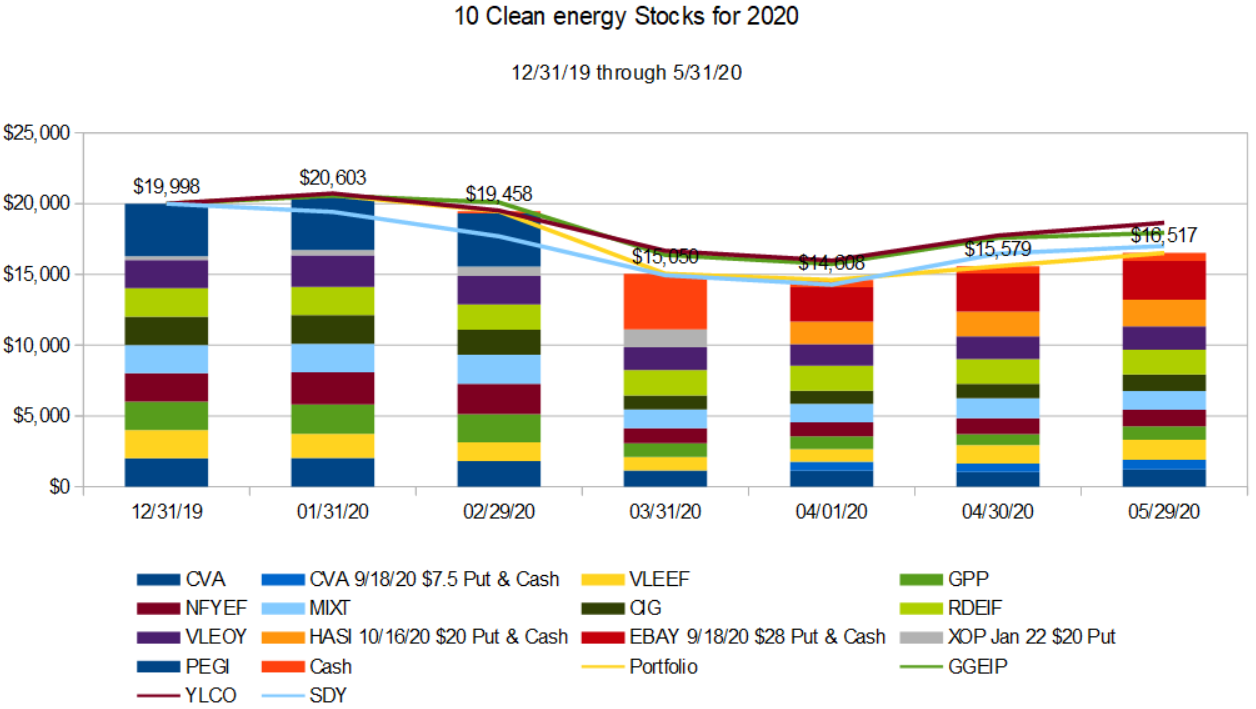 The relatively poor performance of the model portfolio so far this year is mostly due to my attempt to limit trading. I do that because I want small investors who only look at the market a few times a year to be able to follow along. Most years, I do no trading at all in the model portfolio, and its performance has seldom suffered for it. This year I limited trading to two trades at the start of April.
The performance has also been hurt by the fact that I did not expect the strong rebound from March lows. I still believe it could be short-lived… we shall see.
Stock Updates
May 28: Thoughts on MIXT Earnings
Mix Telematics reported earnings on May 28th. As I said in the March update, "MiX Telematics (MIXT) is exposed to disruption through its customers in the oil and gas and transportation industries. I expect the damage to be temporary, so keep an eye out for buying opportunities. "
MiX swung to a net loss of $2.4 million for the quarter compared to a gain of $5.5 million the previous year. Much of this loss was due to a large deferred tax charge and foreign exchange losses, so this number probably overstates the direct damage caused by COVID-19 and the turmoil in the oil market (oil and gas companies account for a large slice of MiX's customer base.) Less daunting than earnings were operating income, which dropped from $6.8 million a year ago to $3.7 million this year, and subscription revenue (up 5.6%) and number of subscribers (up 9.1%) from the previous year.
Disclosure: Long positions all the stocks mentioned.
Disclaimer: Past performance is not a guarantee or a reliable indicator of future results. This article contains ...
more