Ten Clean Energy Stocks For 2020
If it's tough to follow a winner, 2020 is going to be an especially tough year for my Ten Clean Energy Stocks model portfolio.
I've been publishing lists of ten clean energy stocks that I think will do well in the year to come since 2008. With a 46 percent total return, the 2019 list has had its best year since 2009, when it managed a 57 percent return by catching the rebound off the 2008 crash. This year's returns were also achieved in the context of full- to over-valuation of most of the clean energy income stocks I now specialize in.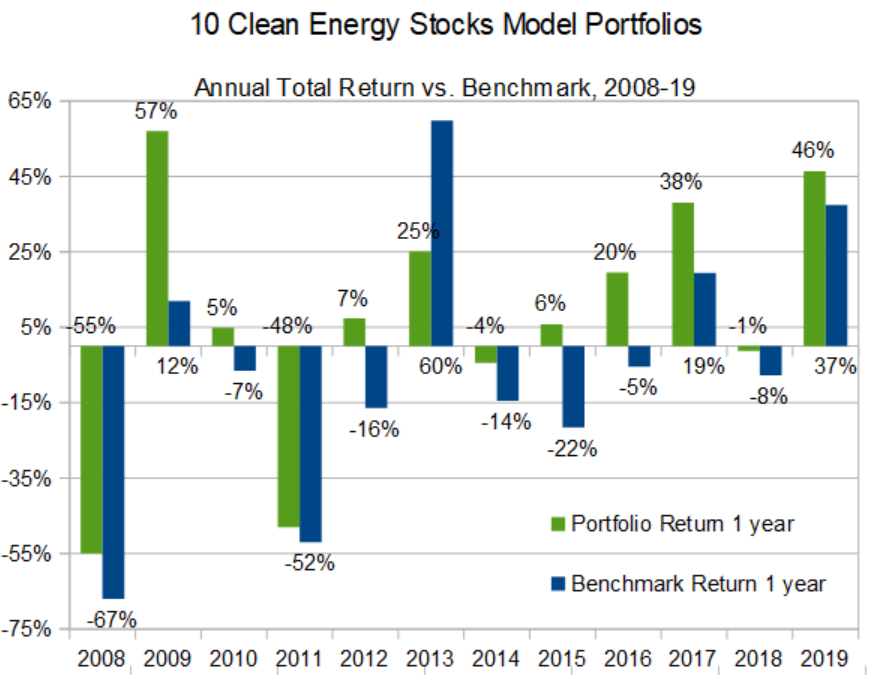 Going International
With this as background, my main goal with the 2020 list is to find stocks which will be resilient in the event of a US bear market. Early 2019 saw bear market fears surface when the US yield curve inverted, only to fade again when the inversion vanished. The yield curve has inverted before every recession over the last 50 years, and there has only been one yield curve inversion which did not proceed a recession in that time. Will we get another recession in the two years following March 2019? It is clearly too early to say. Investor complacency is not a predictor of a recession, but it is an ingredient of bull market peaks.
I am not at all complacent about the prospects of the US stock market, European and emerging markets have not enjoyed the same bull run the US did in 2019, so they still have some relatively good values left. If you do not have much experience in trading foreign stocks, I've published some thoughts here. The short version is: Decide how much you want to pay for the stock and use a good-til-canceled limit order.
The article also has some notes in what the multiple ticker symbols mean. For the purposes of tracking performance, I will be using the stock price in the company's home market translated into dollars at current exchange rates.
The List
Returning Stocks from 2019
Unsurprisingly, the stocks I'm keeping from last year's list are those that have not seen the biggest run-up.
Covanta Holding Corp. (CVA) and Valeo SA (FR.PA, VLEEF, VLEEY) have both been making progress implementing their business plans, but have not been fully rewarded by the market the way I would expect given the massive run-up in other stocks.
The thesis for retaining Green Plains Partners (GPP) remains the same as the one for including it last year: the ethanol MLP enjoys revenue guarantees from its parent, Green Plains, Inc (GPRE). Despite the continuing pain the ethanol market caused in large part by the Trump administration's trade war and giveaways to friends in the petroleum refining industry, these guarantees should allow GPP to maintain its healthy $1.90 annual dividend. If Trump loses in November, I expect that the stock price to produce further gains as the market anticipates a return to business as usual and an end to the Trump EPA's giveaways to refiners.
New Stocks for 2020
NFI Group, Inc. (NFI.TO, NFYEF) (formerly New Flyer Industries) is a leading manufacturer of transit buses and motor coaches. New Flyer was a great 10 Clean Energy Stocks success story; it appeared on the 2012 list at $5.65, gaining 54% that year. It returned in 2014 for a 22% total return, and in 2015 with an 80% return. I dropped it from the 2016 list because it was starting to look overvalued.
The stock did not peak until the start of 2018, but for the last two years, it has since been struggling. When the stock was last in the list, it was simply the leading manufacturer of heavy-duty transit buses in North America… now it is a leading global manufacturer of both transit buses and motor coaches. Its current problems do not seem permanent in nature. Some arose from the recent acquisition of Alexander Dennis and a build-up of work in progress as NFI experienced some hiccups internalizing much of its parts manufacturing.
Despite many people's unpleasant experiences with diesel buses, bus transit is an inherently clean and low emission form of transport because it is an effective way to take numerous cars off the road. But buses are rapidly getting greener as they have some of the best economics for electrification.
Electric transit bus manufacturers like Proterra argue that an electric bus is best designed from the ground up as electric, in order to take advantage of the flexible layout possibilities that electric propulsion enables. In contrast, NFI takes a propulsion-agnostic approach and uses third-party drivetrains including diesel hybrids, natural gas, battery-electric, and fuel cell electric to meet its customers needs. I see value in both approaches. I think many of the large transit agencies that are considering heavy-duty electric transit buses from both Proterra and NFI will find comfort in the new technology when it is backed by a large, traditional supplier with a large parts and service arm that they have been dealing with for years, while others will prefer a bus designed from the ground up to be electric. From a competitive standpoint, I expect both strategies to flourish, at the expense of smaller competitors without the resources to deliver credible electrified and hybrid options. Proterra, however, is not a public company. NFI is, and it currently trades at an attractive price with a healthy dividend.
Disclosure: Long PEGI, CVA, GPP. VLEEF, NFYEF, RAMPF, MIXT, CIG, RDEIY, RAMPF, VEOEF, Puts on XOP, short NEP.
Disclaimer: Past performance is not a guarantee or a reliable ...
more