Iron Mountain (IRM) Continues To Climb
(Click on image to enlarge)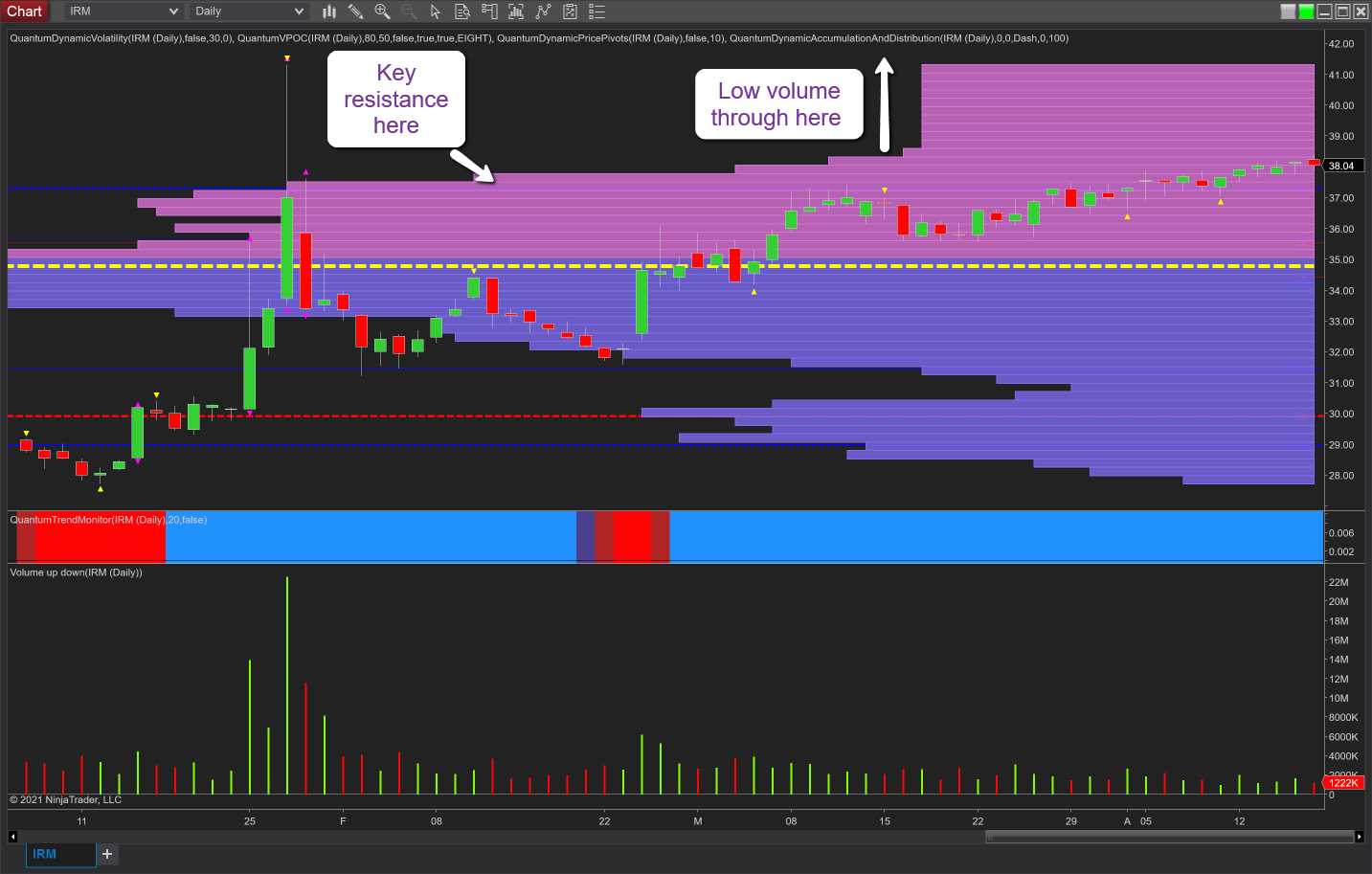 Iron Mountain (IRM) is a stock I last analyzed back in December last year when it was trading at $29.23 in a post entitled Not Such A Mountain for IRM to climb and the title says it all. Then it was the key resistance AT $30.230 per share which was coming into play and once breached I expected the price to move higher and develop a bullish trend. This has indeed been the case albeit with some extreme volatility during the late part of January, and as of last week, the stock closed at $38 per share. However, as we move firmly away from the volume point of control at $34.80 per ounce I believe there may be more to come for this stock for two reasons.
First, we have broken through the well-developed price-based resistance at $37.20 per share and denoted with the blue dashed line of the accumulation and distribution indicator for NinjaTrader. The indicator works by presenting these levels graphically according to their strength, so the thicker the line, the stronger the region and this simple principle then provides an instant graphical display across the chart and identifying key levels of significance, of which this is one, and equally those which have less importance. The second key point is that volume on the histogram falls away rapidly once we reach $38.50 per share and through to $42 per share. So two strong reasons to expect to see this stock continue its longer-term move higher and on towards $42 per share and beyond. Technically the share continues to trade within the spread of the volatility candle, so this level becomes even more significant once breached as it denotes the extreme of this candle, and hence once again marks an important level.
Disclaimer: Futures, stocks, and spot currency trading have large potential rewards, but also large potential risk. You must be aware of the risks and be willing to accept them in order to invest in ...
more