5 REITS Increasing Dividends In August
In a volatile and sideways market like we are seeing this summer, one way to get some positive pop in your portfolio is to hold stocks that announce higher dividends. The market likes dividend increases and such announcements usually produce a nice share price gain. The secret is to know which stocks will make a higher dividend announcement before the rest of the market finds out.
Many real estate investment trusts (REITs) are stocks that pay attractive current yields and regularly increase their dividend rates. I maintain a database of about 100 REITs with histories of dividend growth. Most of these companies increase their quarterly dividend once a year and then pay the new rate for the next four quarters. Even though individual REITs increase their dividends once a year, those announcements are spread across almost every month of the year. To capture those share price gains, you want to buy shares a few weeks to a month before the next dividend announcement is published. Now in early July, it is a great time to look at those REITs that should increase dividends in August. Here are five REITs from my database that historically have boosted their payouts in August.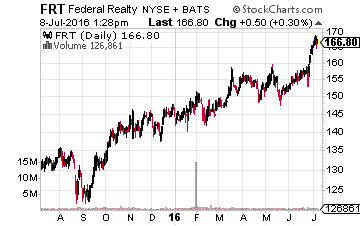 Federal Realty Investment Trust (NYSE:FRT) is a $12 billion market cap REIT that owns, operates, and redevelops high-quality retail real estate in the country's best markets. FRT has increased its dividend for 48 consecutive years, the longest growth streak of any REIT. Over the last 10 years, the average annual dividend increase was 5.3%. Last year the dividend was increased by 8%. Based on management guidance, an increase of 7% to 8% is in the cards for this year. The company announces its new dividend rate in early August. The ex-dividend date will be in mid-September with payment about a week later. FRT yields 2.25%.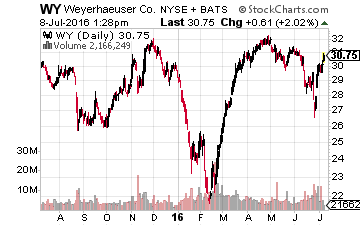 Timberlands owner and wood products producer Weyerhaeuser Co (NYSE:WY) converted to REIT status in 2010. Since then, the company has more than doubled its quarterly dividend rate. Last year, the WY dividend was boosted by 6.9%. Weyerhaeuser completed a merger with Plum Creek Timber in February this year, so its hard to predict how much the dividend will be increased this year. Historically, the company announces a new dividend rate in the second half of August, with ex-dividend and payment dates in September. From the Investor Relations website, here are the three dates respectively for this year: Aug. 19, 2016, Sept. 9, 2016 and Sept. 23, 2016. WY yields 4.1%.
Disclosure: There are currently over twenty of these stocks to choose from in my more