Quicker Recovery Than Financial Crisis?
It's ironic that after we talked about how the ADP report has been so wrong this year it isn't being followed as much that it was fairly accurate this month. Remember, November's ADP report stated there were 307,000 private sector jobs added. In the BLS report, there were 344,000 private sector jobs added which missed estimates for 590,000, and the lowest estimate which was 400,000.
This report was so bad that it was good because it means a stimulus is more likely. Mitch McConnell has been holding back on stimulus packages because of the great jobs reports. This might make him give in since it seems like the December report is only going to get worse. The 10-year yield certainly sees a stimulus as it rose 6 basis points to 0.97% after the report came out. Normally, a bad report would have caused it to fall a few basis points.
The short sellers can't catch a break. Whether reports are good or bad, stocks rally. Even with the vaccines and rising rates, the Nasdaq 100 keeps hitting records (up 10 straight days as of Monday). Value stocks are doing well (best month ever in November) along with the most shorted stocks. Short sellers have nowhere to hide.
Just Getting Back To Even
This was a pretty bad labor report because October's private sector job creation was revised down 29,000 to 877,000 along with the miss this month. Overall November job creation was 245,000 which was less than half of estimates (500,000). As you can see from the chart below, employment is 6.45% off its pre-recession peak (9.8 million off peak employment). That's near the trough of the last recession which was -6.34%.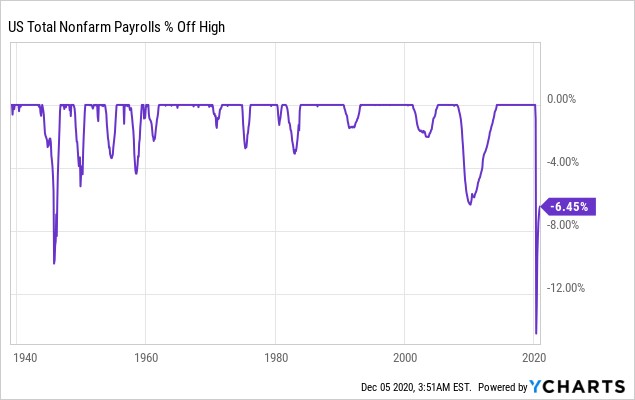 We are only just approaching the worst of the financial crisis despite having 7 months of amazing job creation. Plus, initial unemployment claims rose in the past 2 weeks excluding the Thanksgiving-effected report. Furthermore, 13.4 million people are on the precipice of losing their pandemic unemployment insurance (December 26th). It's not a good situation. On the positive side, despite the recent weakness, we could see another spike in job creation once vaccines are distributed enough to cause herd immunity.
Disclaimer: The content on this site is for general informational and entertainment purposes only and should not be construed as financial advice. You agree that any decision you make will be ...
more