Which Way Wednesday?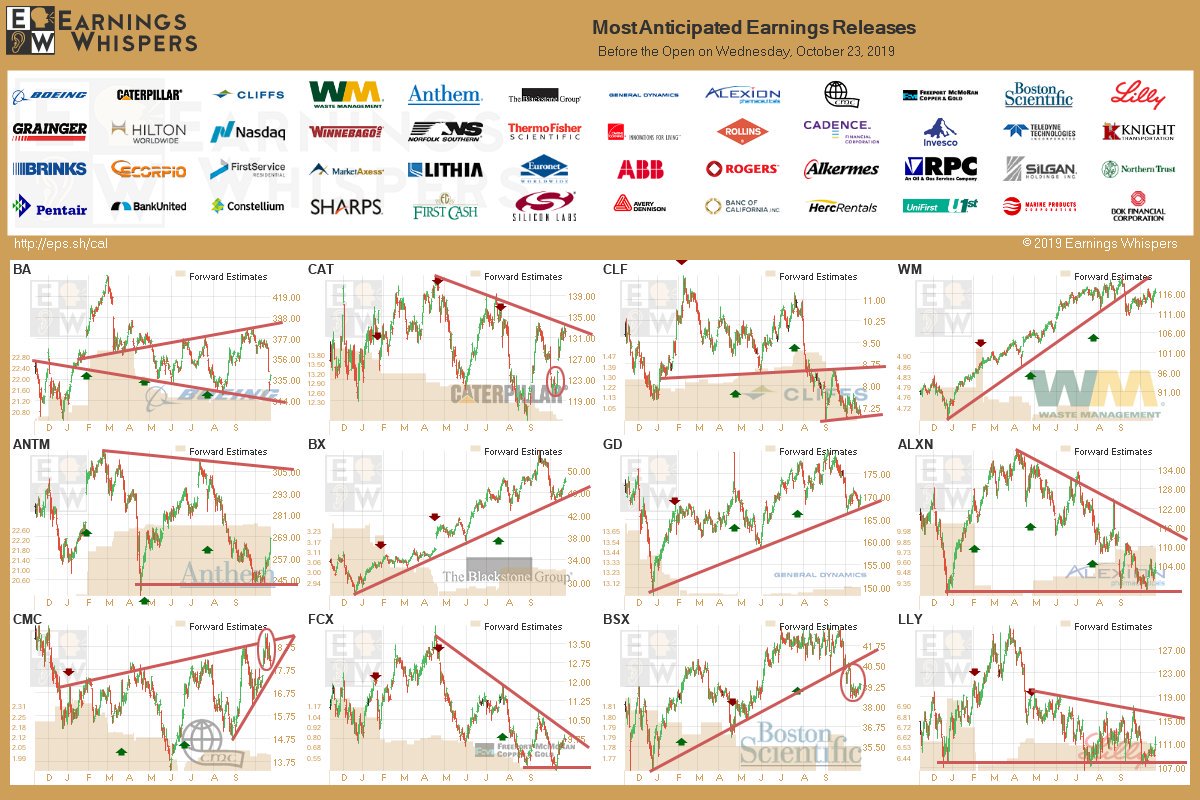 Earnings are now a mixed bag.
75 S&P companies have reported so far and 43% (32) have beaten expectations and the ones that have missed have been hit with average 3.9% drops vs the historic 2.4%, so not much tolerance for failing to hit those expectations. The ones that beat have only gone up 1.6% – indicating that good news is mainly priced into the current prices. The Banksters have led us so far – now we have to see if Tech, Industrials, Consumer Goods, Energy and Services can hold up.
Caterpillar (CAT) is often regarded as a good proxy for the Global Economy and they just reported earnings that are down 8% from last year on 6% lower revenues AND they lowered their guidance to the $10.90-11.40 range, which is not bad for their $133 shares, which are already 20% down from last year's highs.
We like CAT but we'd like them a lot more around $110.Yesterday, we initiated a new, $100,000 Earnings Portfolio to give us something to do while we wait for a proper correction.As noted in yesterday's Morning Report, we went with Boing (BA) as our first official play and we added IRobot (IRBT) and Cliffs (CLF) as the day progressed:
Though BA didn't have much encouraging to say this morning, the lack of additional negatives has pushed the stock back to $350 so we're on our way to goal on that one already, which could net us a nice $13,250 (122%) profit at that level.CLF beat by a mile at 0.33 vs 0.24 expected and, keep in mind, that's just one quarter on a $7 stock – so silly!Our main premise there is a China deal will really get them going.
Unfortunately, we didn't win them all and IRBT was a big disappointment as tariffs are hurting them badly. We did think that was a possibility, which is why we did not sell puts initially but now we will sell 5 of the 2022 $35 puts for $10 ($5,000) and then spend $5 ($5,000) or less to roll the 2022 $45 calls down to the 2022 $35 calls which will widen our spread to a potential $25,000 on the same $5,750 net cash investment.

IRBT lowered their guidance to a $2.60-2.80 range from $2.40-$3.15, so about 5% lower so a 20% drop is a bit of an over-reaction – especially since there is no indication of product issues – simply Trump's tariffs taking a bite out of profits – certainly not a reason to dump the stock for the long haul. IRBT was our Stock of the Century at $10 back in 2009 but we took $100 and ran earlier this year as we were not happy that they sold off their military division .Now that it's back below $50, we're happy to get back on board!
Disclosure: Our teaching theme at Phil's Stock World is "Be the House, NOT the Gambler." Please see " more