The Broken Heart Butterfly Option Strategy
As its name suggests, the broken heart butterfly is a variation on the broken wing butterfly, which itself is a variation of the butterfly option trade. Some investors feel that the broken wing butterfly is a better alternative than the butterfly. Could it be that this newer broken heart butterfly variation is an even better alternative than the broken wing butterfly strategy?
We say newer since the earliest reference to the term "broken heart butterfly" was by TastyTrade during the last quarter of 2020. However, this type of trade is nothing new. It is a credit spread hedged by a debit spread, or vice versa. Investors have been doing it long before then. It's just that they never had a good name for it.
Today, we will take a look at the broken heart butterfly as compared with the broken wing version.
Setup Put Side Broken Heart Butterfly
An investor sees a chart of SPX on August 3, 2020 with the market on a bull run. Price is above an upward sloping 20-simple-day-moving average.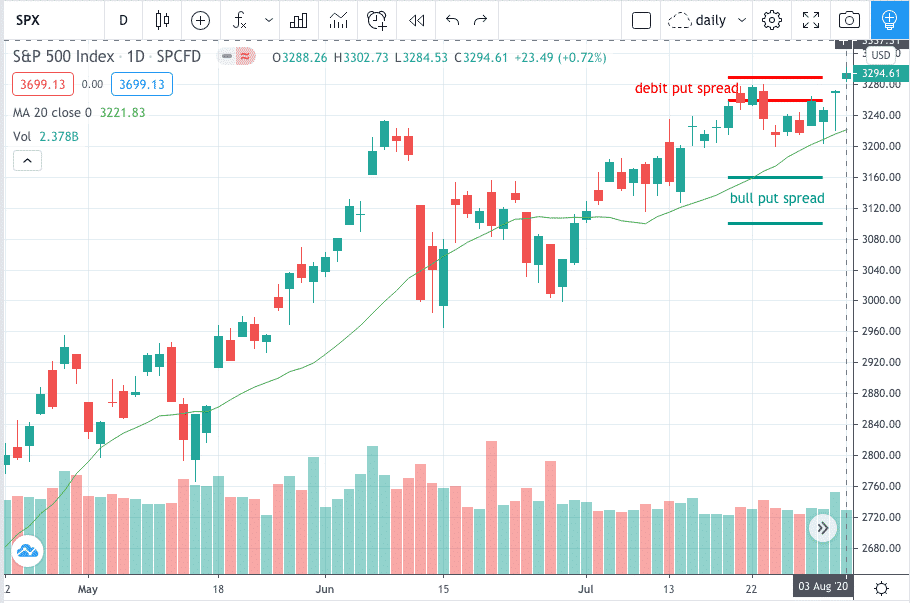 As is natural for this investor, a bull put spread is placed on anything bullish. However, the investor's conviction is not strong. The market has already gone up so much already. Can it really still continue up? This hesitancy causes the investor to add on a debit spread hedge. Not a full hedge, but enough to offer some protection if the market reverses.
The put broken heart butterfly is constructed as an out-of-money bull put spread with a bear put spread placed closer-to-the-money. This second spread is the hedge and is smaller (meaning strikes are closer together) so that an overall credit is received for the trade. Here is some data for the example trade.
Date: Aug. 3, 2020.
Price: SPX at $3294.61.
Short Put Spread:
Buy 1 SPX Sept. 18 – $3100 put @ $56.60.
Sell 1 SPX Sept. 18 – $3160 put @ $70.80.
Long Put Spread:
Sell 1 SPX Sept. 18 – $3260 put @ $85.80.
Buy 1 SPX Sept. 18 – $3290 put @ $96.60.
Conclusion:
Net Credit: $0.90.
Max risk: $2,910.
Max profit: $3,090.
Breakeven price at expiration: 3129.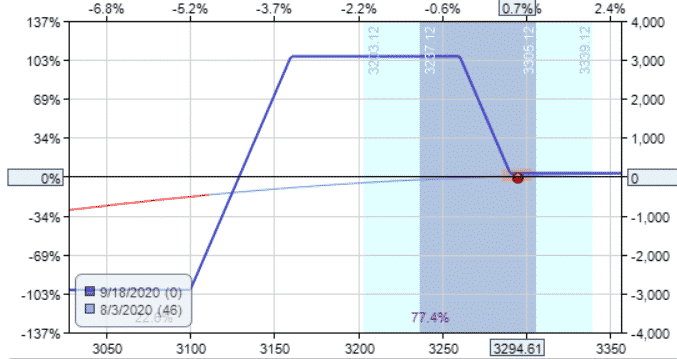 In this example, the short put spread was placed around the 30-delta. Because the investor has two hedging spreads, the investor feels comfortable putting them on closer to-the-money than if it was just a solo bull put spread.
Disclaimer: The information above is for educational purposes only and should not be treated as investment advice. The strategy presented would not be suitable for investors who are ...
more