Tesla And The Quest For Alpha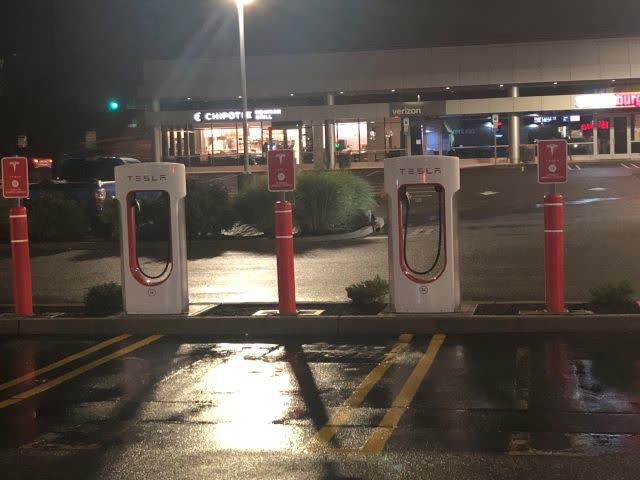 Tesla charging stations in a Wawa parking lot. Photo by author.
Picking Tesla In May 2020
Tesla (TSLA) exemplifies the recent challenges of our security selection process. How it does over the next several months will impact how we pick stocks going forward, so I thought it might be useful to sketch this out a bit.
Each day the stock market is open, our system selects the names it estimates will have the highest potential returns over the next six months, based on a handful of factors that gauge stock and options market sentiment. We started tracking a new factor in September of 2019, and after several months of observation added it to our top names selection process in late May of 2020. On May 28th, the new factor applied to four stocks in our top ten, Tesla, Netflix (NFLX), Twilio (TWLO), and Regeneron (REGN).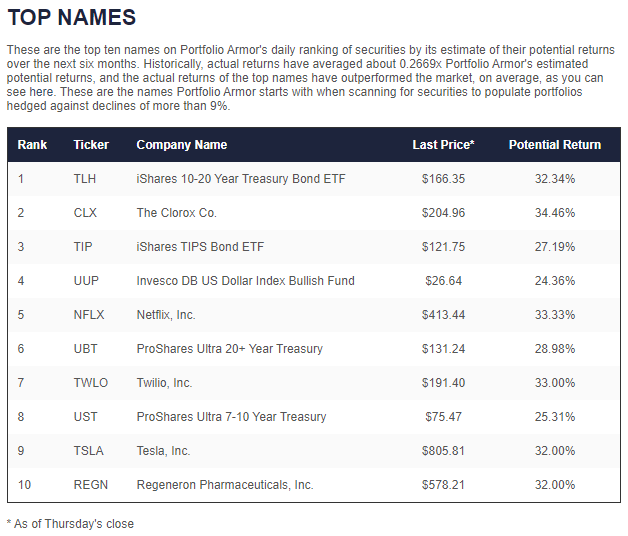 Screen capture via Portfolio Armor on 5/28/2020.
Over the next six months, three out of the four names selected by the new factor generated positive returns, with Tesla more than tripling.
Most of the other times the new factor picked Tesla in 2020, its performance was good over the next six months. Unfortunately, the factor also picked Tesla right near its peak in January of this year.
Picking Tesla In January 2021
Tesla dropped 21% in the six months after it hit our top names on January 7th of this year.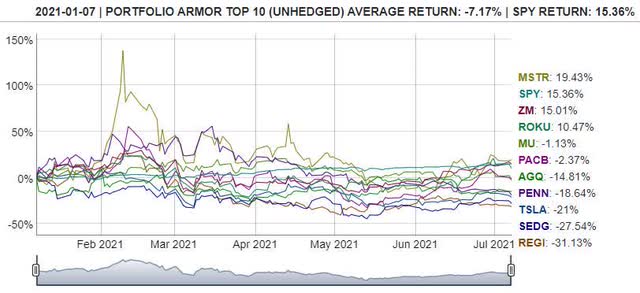 The line with the big spike in early February in that chart is the Bitcoin stock MicroStrategy (MSTR). It posted a positive return over the next six months from January 7th, but you can see the same issue here, of our new factor picking stocks near their peaks. Let's look at what the new factor is because it has picked MSTR as a top name again recently, as well as TSLA.
The New Factor
The new factor we added is essentially a measure of options skew. Our hedging algorithm scans for an optimal collar to protect against a greater-than-9% decline in security over the next several months while capping its possible upside at 1% or the current money market yield, whichever is higher. Here's what that looked like for Tesla on Friday when it was again one of our top ten names.
Disclaimer: The Portfolio Armor system is a potentially useful tool but like all tools, it is not designed to replace the services of a licensed financial advisor or your own independent ...
more