Shields Up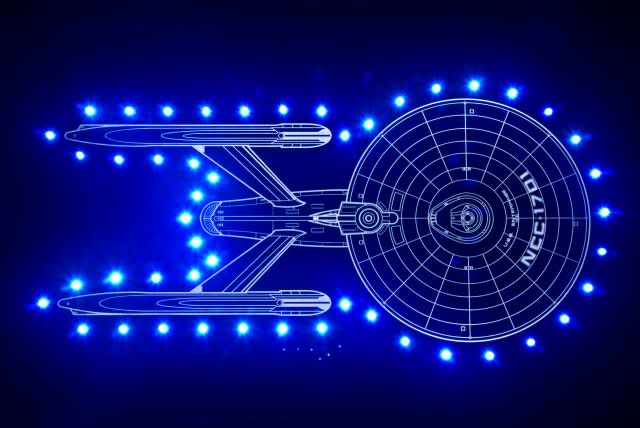 Shields up on the Starship Enterprise (via Laser Fire Creations).
Correlations Converging To One
Looks like we spoke too soon when we wrote Bitcoin Bounces Back. As we type this early Friday morning, Bitcoin prices are tumbling back to Tuesday's lows. Bitcoin's not alone. Checking futures now, everything's in the red, including gold, stocks, and oil. We still think Anatoly Karlin's Bitcoin prediction is likely, and we still think it will reverberate in the stock market. But that's not important right now though. What's important is getting you some protection in case the current selloff gets worse.
Here's a quick-and-dirty (and relatively cheap) way to hedge your portfolio today.
Setting Initial Conditions
For the purposes of this example, we'll assume your portfolio is worth $500,000, and that it's closely correlated with SPY. We'll also assume you have enough diversification within it to protect against stock-specific risk, and that you can tolerate a decline of up to 15%. If you have a smaller risk tolerance, you can use the same approach entering a smaller decline threshold, Similarly, if you have a larger or smaller portfolio, you can adjust Step 1 below accordingly. If you have gold, bonds, or other asset classes in your portfolio, we'll address that at the end.
Hedging Stock Market Risk
Step 1
Divide the dollar value of your portfolio by the current price of SPY. For this example, we'll use numbers as of Thursday's close, but obviously, you'll use current data when you do it. SPY closed at $382.37 on Thursday. Dividing $500,000 by 382.37, gets you 1,307 shares (rounded up).
Step 2
Scan for the optimal, or least expensive, puts to protect against a >15% decline in your number of shares of SPY at the options expiration you want. We've selected the April 16th expiration below. It's far enough out to give you some breathing room, and it's not too expensive.