Options Hedging Example
With stocks near all-time highs and an explosion present in call option buying, it is easy to forget that options were primarily developed as hedging products. This article will break down an options hedging example and take a look at the benefits and costs involved.
Buying a put option is best visualized as buying insurance. In today's society, we can buy insurance on almost anything. From our microwave, car, house, to even our life itself. In the stock market, it is the same. We have a plethora of put options to choose from.
Deciding what option to choose can be daunting. Yet once you understand the products available and how they work, any investor can construct a prudent portfolio; one that can generate long-term returns but also allow you to sleep easy at night.
Options Hedging Example: Using Put Options To Protect A Stock Position
Buying a put option gives an investor the right to sell an asset at or below a certain price. This price is determined from the strike price (shown in green). When we buy a put option, we buy this right for a certain amount of time. This is known as the days to expiry or DTE (shown in yellow)
The last component is the premium. This is the price paid for the put contract. In this arbitrary example, we will consider the 255 Strike (shown in red).

If we buy this put option, we have the right to sell Facebook (FB) stock if it falls below $255 over the next 20 days. This put option costs approximately $5.30. Below we have the payoff visualized. Remember that being long shares has unlimited downside risk until the stock reaches $0.
Using the put option, our loss is capped at the distance between the current price and our strike price, plus the premium paid. A price of $0 for the next 20 days is unrealistic for Facebook. So here is the risk profile visualized for a correction down to $220.
Long 100 shares: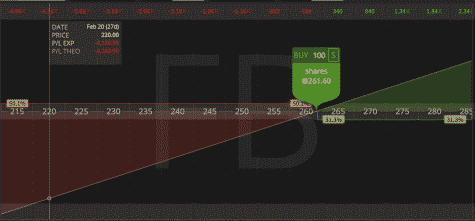 $261.60 – $220 X 100 shares = Loss $4,160.
Long 100 shares, long a 255 Put: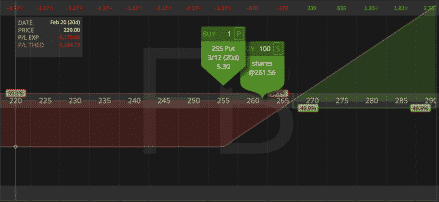 $261.60 – $255 + $5.30 = $11.80 x 100 shares = Max loss $1,190
Notice that the put option caps our loss at $1,190.
What's The Catch In Using Put Options To Hedge?
Capped downside risk and unlimited upside potential, sign me up! But before you go out and buy puts on every stock you have, here is the catch: for every put buyer there has to be a seller.