Nvidia Enters Intel Territory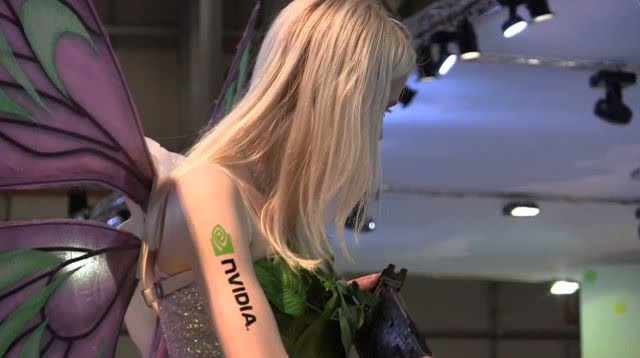 When it was primarily known for making video game chips, Nvidia would have models dressed up as video game characters at its trade show booths. Here, one dresses up as some kind of fairy.
Nvidia Enters Intel Territory
Chipmaker Nvidia (NVDA) has come a long way. From vying for gamers' attention with models dressed as videogame characters eight years ago.
To vying for a piece of Intel's (INTC) data center business today.
Over the past eight years, Nvidia shares are blown past those of Intel and the Nasdaq 100 ETF QQQ.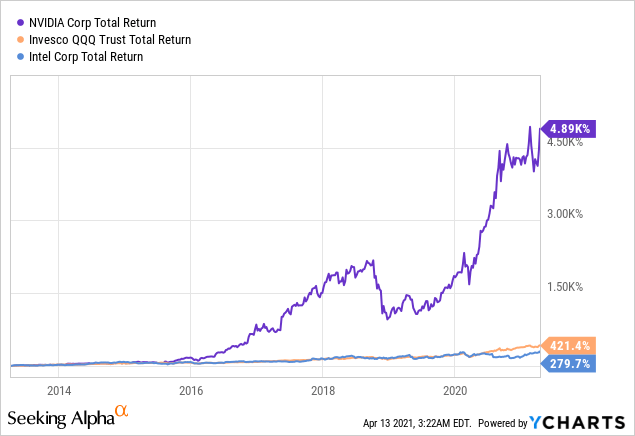 Data by YCharts
Why Didn't You Tell Us About This Before?
One of the comments we got on our previous post about Lovesac (LOVE), another company that's been on a tear, is why we didn't write about the company before its big gains. In the case of the furniture maker Lovesac, it hadn't come up on our screens. In the case of Nvidia, it's been on our screens since the beginning of 2016, and we've written about it numerous times since. Here, for example, is a screen capture from an article we wrote about Nvidia that year.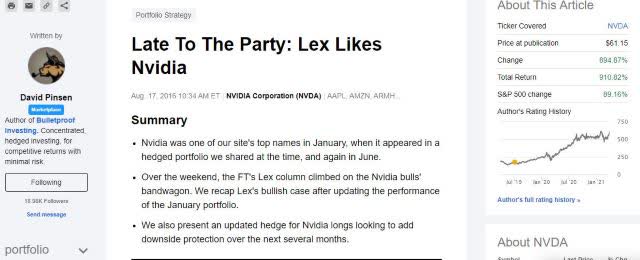 That article was prompted by an FT column highlighting the stock, but our system's gauges of options market sentiment had picked NVDA up when it was trading at a little over $27 per share in January of 2016. In a post then, we shared this hedged portfolio which included Nvidia.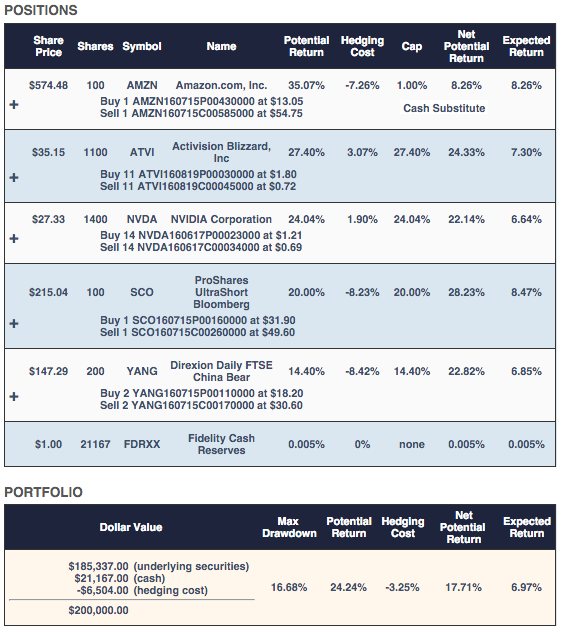 Focusing On Where A Stock Can Go
A human reaction to hearing about a stock when it was trading at $27 per share and then seeing it trade at more than $500 per share is to avoid it, figuring you missed the run-up. An advantage of an algorithmic system such as ours is that it's not human. Its focus is on where the stock might be in six months. You tell it how much money you want to invest, and what's the largest drawdown you're willing to risk over the next six months, and it presents you with a portfolio designed to maximize your return while strictly limiting your risk per your specification.
Disclaimer: The Portfolio Armor system is a potentially useful tool but like all tools, it is not designed to replace the services of a licensed financial advisor or your own independent ...
more