Crash Protection For Coinbase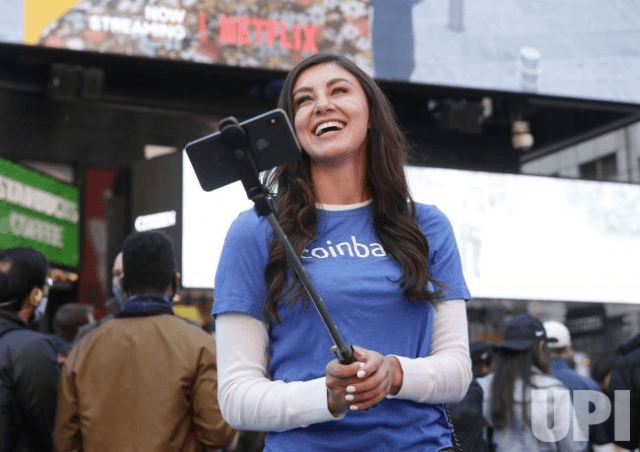 A Coinbase employee takes a selfie in front of the Nasdaq Market Site in Times Square during the company's IPO on Wednesday. Photo by John Angelillo/UPI.
Options Start Trading On Coinbase
Options started trading on Coinbase (COIN) on Tuesday, so longs can now hedge their shares in the crypto platform. We've posted a couple of hedges for the company below, in the event, Anatoly Karlin's prediction of a crypto crash this year comes to pass.
This year will see epochal #DeFi boom: BTC $100k, ETH $10k - ending in a bust (dotcom bubble).

Then a long winter, when hardy survivors can be picked up at fire sale prices.

And then, come the 2030s - just like software 20 years ago - crypto will "eat the world." #prediction

— 🇷🇺 ANATꙮLY 🤔 KARLIN (@akarlin88) February 11, 2021
Before we get to those, let's clear up a bit of misconception about the company's IPO last week.
No, Insiders Didn't Dump Most Of Their Shares
One misconception about the Coinbase IPO last week is that insiders dumped most of their shares. That was exemplified by tweets such as the one below, by Peter Schiff.
On the same day #Coinbase CEO @brian_armstrong was on @CNBC publicly pumping COIN, he was privately dumping 71% of his shares. Other insiders selling included the Pres., CAO, CPO, and CFO who dumped 63%, 86%, 97%, and 100% respectively. Union Square Venture fund also dumped 100%. pic.twitter.com/C0oqScTYbR

— Peter Schiff (@PeterSchiff) April 18, 2021
First a bit of context regarding Schiff: he runs a gold company, and lamented last month that his son had gone all-in on bitcoin.
My son @SpencerKSchiff went all in on #Bitcoin on the last drop below $50k. 100% of his portfolio is now in Bitcoin. He sold the last of his #silver stocks to raise the cash. If my own son is this brainwashed imagine how vulnerable most kids are. He's HODLing to infinity or bust.

— Peter Schiff (@PeterSchiff) March 10, 2021
Disclaimer: The Portfolio Armor system is a potentially useful tool but like all tools, it is not designed to replace the services of a licensed financial advisor or your own independent ...
more