Manufacturing Is Back & Better Than Ever?
The COVID-19 crisis has caused a K shaped recovery because some industries and people have the ability to adapt and some don't. It was an unforeseen risk that was brutal to some and a boon to others. Specifically, software and online retail firms were helped, while bars and hotels were decimated. According to Blomberg, 65.5% of computer and mathematical employees are working from home. On the opposite side, 0.9% of farming, fishing, and forestry workers are doing work at home. Of course, the real losers weren't in forestry because that can be done outside in a social distant manner. Only 2.6% of food prep and service workers worked from home which is unfortunate because it can't be done in a socially distant manner.
21.8% of Americans work from home. Anyone who can work from home is doing so because of the risk. If there is little productivity loss, it makes sense to stay home because it makes the company look bad if there is an outbreak. On the other hand, most people are going to go back to work in the office when the pandemic is over because it will look bad to employers if they stay home. That's the same reason people don't take their vacation days. If the competition is meeting clients in person, firms can't let them have that easy leg up especially since that's how business operated before the pandemic just 11 months ago.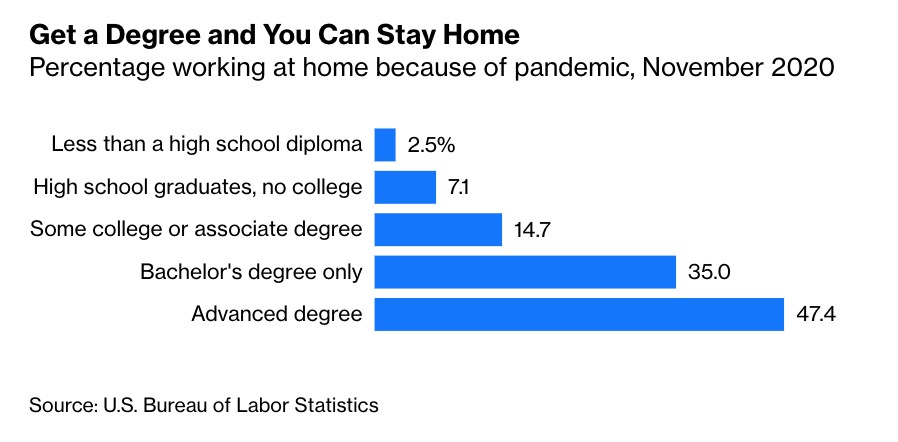 The most brutal part of the K shaped recovery is it hurt the people who could least deal with financial trouble. As you can see from the chart above, only 2.5% of people without a high school degree where working from home because of the pandemic in November. This group was doing so well before the recession as the labor market was very tight. Now these people either don't have a job or do work that puts them at risk of getting sick. On the opposite side, 47.4% of those with an advanced degree were working from home because of the pandemic.
JOLTS Update
The JOLTS report from October was before the latest slowdown due to the 3rd wave of COVID-19 cases. That being said, this report was only okay, with industries having dramatically different experiences. The number of job openings rose from 6.494 million to 6.652 million which beat estimates for 6.4 million. Gone are the days of there being more openings than unemployed people. The ratio is now 1.5 (unemployed/openings). That's over double where it was in October 2019. The number of hires fell from 5.886 million to 5.812 million. That's actually about where it was before the recession.
Disclaimer: The content on this site is for general informational and entertainment purposes only and should not be construed as financial advice. You agree that any decision you make will be ...
more