E

Macy's: What's Next After The Doom?
In my previous articles, I have been fairly clear on M's future and its 2019 performance, as well as the after-effects of COVID-19 pandemic, has left the stock reeling. I had recommended a sell rating when the stock was trading at over $18 post which it hit rock-bottom at sub $5 levels. The company continues to face monumental challenges with its stores closed and general apprehension of the public for apparel purchases. The company had been taking several measures furloughing most of its employees, withdrawing guidance and dividends and tapping its $1.5bn credit line. The investors had growing concerns on the company's ability to pull through and have ability to pay short term needs.
Liquidity Analysis
A look at the key ratios highlights some positives as well as negatives. Here is the most recent balance sheet (as of Feb 1).
(Click on image to enlarge)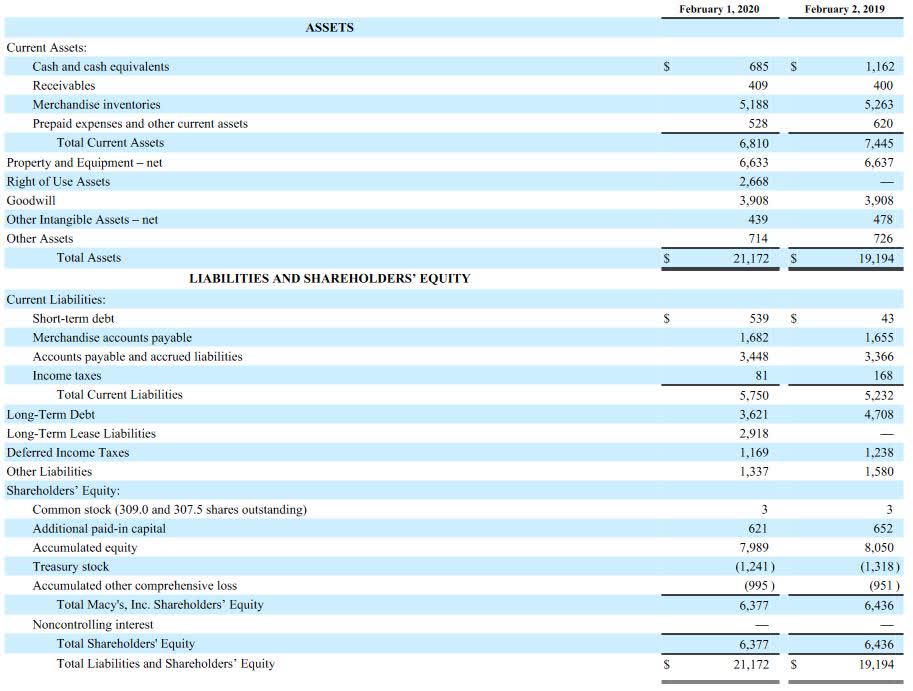 (Source: Macy's 2019 Form 10-K, p. F-8)
The company has $685 mn in cash plus the additional $1.5 bn credit line which it encashed a few weeks back totaling to about $2.2 bn. It also declared suspending its dividends after Q1, however, the company paid about $120 mn in dividends on April 1. This puts the liquidity of the company at roughly $2.1 bn. This puts the acid test ratio or the quick ratio at 0.37 ($2.1 bn cash against its current liabilities of $5.75 bn) which means the company has 37 cents for every dollar worth of current liability and in the times where the situation can get awry too early too fast, this flashes as a warning signal in the hindsight.
Looking at the liabilities, the $539 mn short term debt includes an immediate payment in capital leases of only $6 mn while the rest of $533 mn is present in the form of senior notes which matures only in 2021. With the massive cash burn that the company would be facing, it is a no-brainer for it to make a loss at least for few quarters, entailing it to not cough up the $81 mn in income tax liabilities. Now, coming to accrued liabilities and account payables, about $850 mn of payments comes around in the form of lease liabilities, accrued wages and worker's compensation reserve which are likely to be spread through the later part of the year. Also, the $839 mn in gift cards and customer rewards could either be covered through the company's existing inventory or could more likely be pushed over to the later part of the year as people might not be looking to stock up their wardrobe in the current situation. This comes about to $1.76 bn worth of liabilities not being "immediate".