Largest Decline In Consumer Comfort Index Since 2008
The Q3 NY Fed Household Debt & Credit report was released this week, but we will start this discussion with data updated as of Q2. U.S. consumers are in great shape. This cycle has been a huge deleveraging event. Nominal household debt even fell in the first few years of this expansion as it bottomed in Q2 2013. If this expansion started when debt started increasing in 2013, this expansion would be 6 years old and fewer people would fear a recession. The fact that this expansion is the longest since the 1800s makes people unusually worried about a recession. 2/3rds of the economy implies that the probability of a deep recession is not great.
As you can see from the chart below, financial obligations as a share of disposable income is only 15%. Besides a blip in 2012, this is the lowest reading since at least 1980.
(Click on image to enlarge)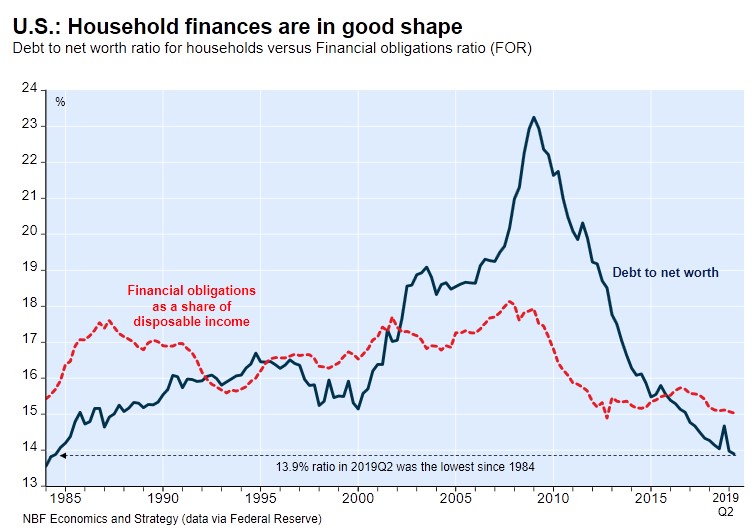 Source: NBF Economics & Strategy
This ratio increased prior to the last three recessions. It has decreased this time. The chart also shows the debt to net worth ratio is 13.9% which is the lowest since 1984. Critics would say that this is suppressed by the rising stock market. Rising asset prices play a part, but the fact that mortgage debt hasn't reached its 2008 peak and credit card debt is only $10 billion above last cycle's peak shows you consumers are more cautious this expansion.
The other important data point which makes consumers look good is household debt payments as a percentage of disposable income. As of Q2, it was 9.7% which is the lowest rate since at least 1980. This low rate is a combination of low interest rates and conservative consumers. However, even if interest rates rise, most of current mortgage debt is locked in at low rates. That means about 2/3rds of debt wouldn't feel the brunt of the rise. Rates would need to stay high for interest payments to push the debt servicing rate significantly higher.
Q3 NY Fed Household Debt & Credit Report
In the NY Fed report, debt increased $92 billion which is a 0.7% increase. The $13.95 trillion in debt is above the 2008 peak of $12.68 trillion. That's only a 0.96% compound annual growth rate. The fact that housing debt is down from $9.99 trillion to $9.83 trillion in an 11 year period shows how artificial the housing bubble was and how growth has been more stable this cycle. As you can see from the chart below, mortgage debt is only 67.6% of total debt. It peaked at almost 74% last cycle. Credit card debt also isn't an issue as it's at $880 billion and it peaked at $870 billion in 2008. It took 10.75 years to grow about 1%. As you can see, it is 6.3% of total debt.
(Click on image to enlarge)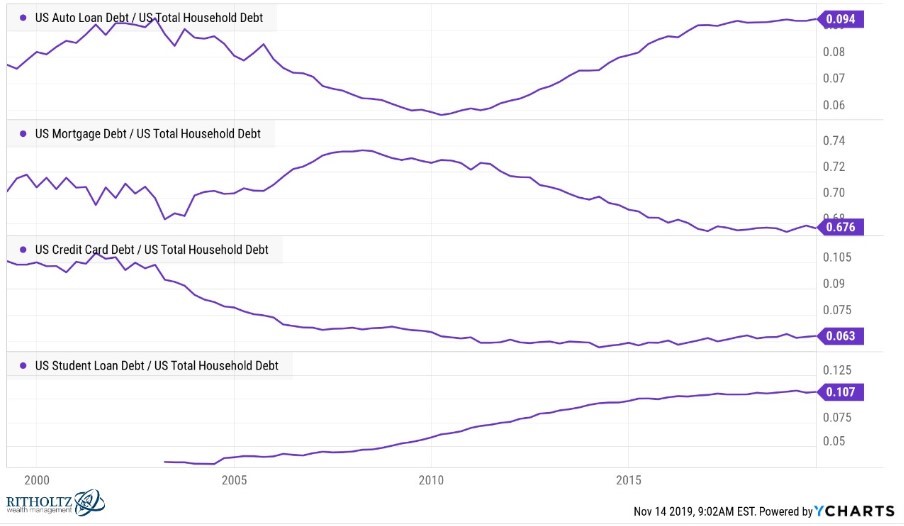 Source: YCharts & Ritholtz Weatth Management
Deep Dive Into Student & Auto Loans
This cycle has been driven by student loans and auto loans. In Q3, auto and student loans increased $18 billion and $20 billion to $1.32 and $1.5 trillion. However, in Q3 student loan balances grew 3.88% yearly which was the lowest growth rate since the NY Fed started tracking this data in 2004. The chart above shows the rapid growth in its debt share occurred in the first half of this expansion. There hasn't been much change since 2015.
Disclaimer: Please familiarize yourself with our full disclaimer here.