Gold: Time To Load Up The Truck Again
As we look at the previous metals markets, I wanted to use the Variable Changing Price Momentum Indicator (VC PMI) to the markets and see what it's telling us for next week. In our past reports, we have been saying that in gold we see supply coming into the market or sellers in the $1,555 to $1,580 area. If we look at the market, the high was $1,566 on September 4, 2019. The VC PMI provides a structure for day and swing traders and acts as a GPS for your trading with 90% to 95% probabilities (see VC PMI Automated Algorithm section below).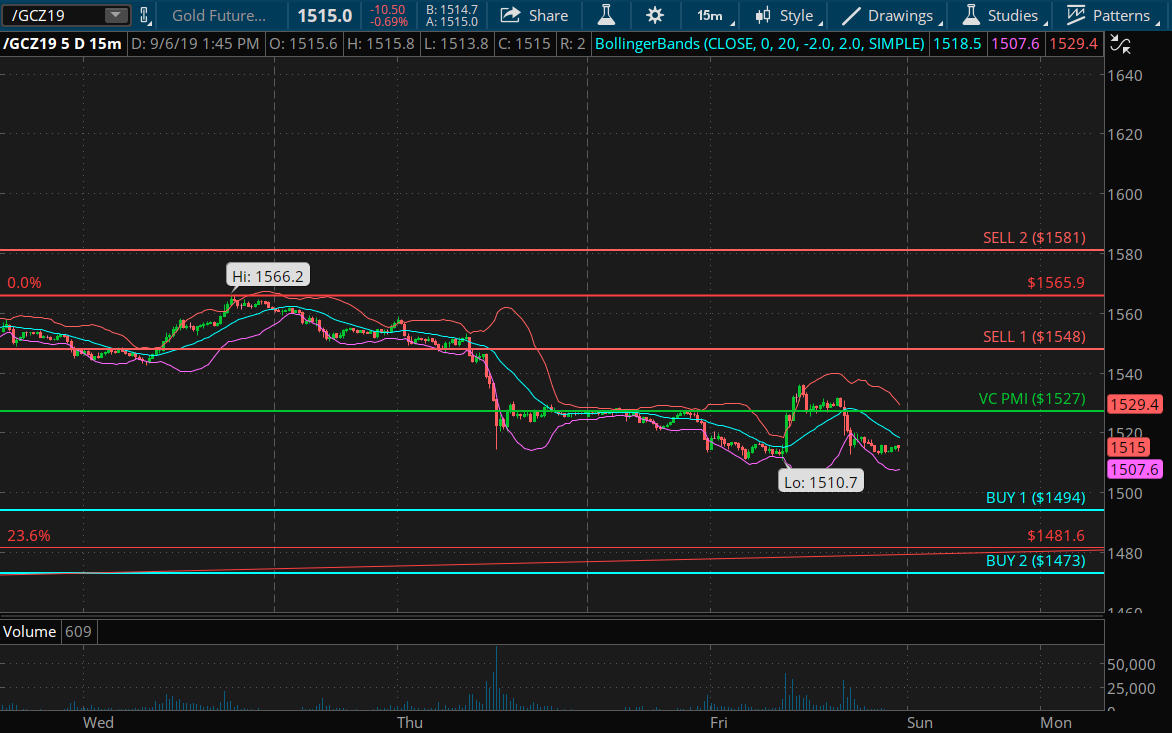 Gold has built an area of resistance, where you can expect sellers to come into the market. If the supply is greater than demand, it will be reflected in the price. When gold closed below the sell 1 (S1) level at $1,565, it activated a short signal on September 4. The automated algorithm identified the targets below that level to allow you to manage your inventory as a self-directed trader for stocks, ETFs, futures, options, stock indices or whatever you are trading. The VC PMI can be based on daily, weekly, monthly or annual data for day, swing or position traders. Here, we primarily use the weekly data and indicator, as well as sometimes publish information based on the monthly data.
Gold: Sentiment is Neutral to Bearish
After the supply came in, it brought the market below the average price as we come into next week. The average price for next week is $1,527. The price closing below that level means we are coming into next week with a bearish sentiment. The market activated the buy 1 (B1) level of $1,494 and the buy 2 (B2) level of $1,473. B1 means a 90% probability that, if activated, the market will revert from that level to the mean of $1,527. If the market reaches the B2 level, there is a 95% probability that the market will revert back up to the mean of $1,527. We use the 15-minute bar for day-trading purposes. The market needs to close below those levels to activate the triggers. Your protective level is a close below $1,494 using the close of the 15-minute bar. We do not recommend using straight stops.
Disclosure: I am long NUGT.
To learn more about how the VC PMI works and receive weekly reports on the E-mini, gold and silver, check us out on more