Gold Market Update - At Critical Juncture Now...
We start this update with the latest version of Larry's amazing gold chart. As Larry states…
"Gold touched $1683.00 on Friday.
Real close to touching the phantom outside possibility line.
To me this means the final moment of truth should be revealed in the next week.
Huge watershed movement – one way or the other – is about to happen."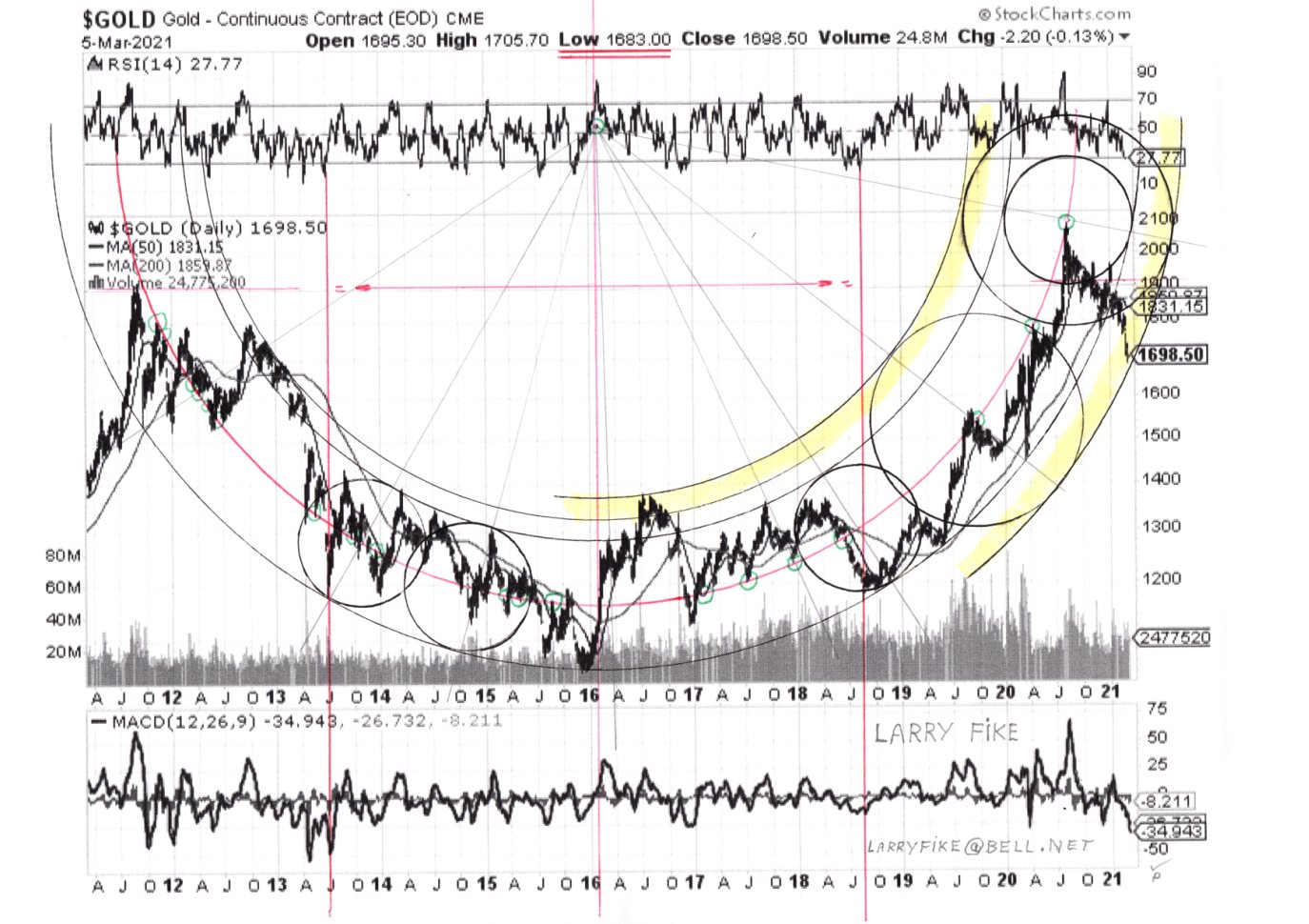 Click on chart to popup a larger, clearer version.
From the action in gold and across markets on Friday, I believe that gold will reverse to the upside this coming week. What happened on Friday is that, with the markets starting to look really fragile, the Bank of America came riding to the rescue saying that the Fed was "going to exercise yield curve control" or words to that effect, meaning that it will attempt to cap shorter-term yields like the 10-year. Every time since 2008 that the markets have looked like they were going to completely cave in, either the Fed has thrown open the monetary spigots or markets have been bolstered by such rhetoric. Anyway it certainly did the trick and we had a big reversal, with bullish reversal candlesticks appearing all over the place, including in many of our stocks.
A point worth making with respect to Larry's gold chart is that even if gold were to breach the outermost boundary of the giant Bowl pattern, what Larry refers to as the "phantom outside possibility line", it may simply mean that a "Handle" is about to form that would complement the Bowl, making it a giant Cup & Handle pattern. As investors in the sector we would rather not see that as if the Handle that formed was proportional to the Cup, it could drag on for anything from 6 to 18 months. However if gold takes off higher immediately, as looks likely, the move could be really big.
On the 3-year chart we can see gold has reacted all the way back across an expanding channel and now looks like a trading buy for a rally, especially as it is oversold and at an important support level. Bearing in mind what we observed above with respect to it possibly making the Handle of a Cup & Handle pattern, one possibility is that it rallies back up to near the highs of last August and then runs off sideways in a Rectangular pattern bounded by roughly between where it is now and the highs.