Unsettling The Climate Change Consensus
Do scientists spin the truth in order to explain complex answers simply? That is the suggestion scientist Steven Koonin makes in his new book Unsettled: What Climate Science Tells Us, What It Doesn't, and Why It Matters.
Koonin speaks with some authority – his career includes being BP's (BP) chief scientist 2004-09 followed by serving in the Obama administration as Under Secretary for Science 2009-11. He has a PhD from MIT in Theoretical Physics. Koonin applies his scientific background to the complex area of climate change.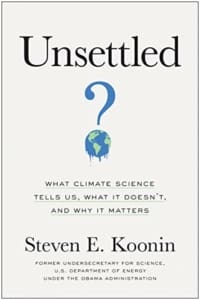 Koonin is no climate denier. He readily acknowledges that human activity is increasing CO2 emissions, warming the planet. From there, he walks the reader through two huge uncertainties – how much global warming have we caused, and how bad will it be anyway.
The UN's Intergovernmental Panel on Climate Change (IPCC) has issued a series of reports which led to the 2015 Paris agreement, where countries agreed that limiting global warming to 1.5 degrees Celsius above pre-industrial levels was necessary to avoid irreversible damage to the planet. Humanity's future hinges on this binary outcome.
In a world of soundbites, "The Paris Accord", "Zero by 2050" and "Saving the Planet" have all become shorthand rallying cries galvanizing action by governments, corporations and investors worldwide. The implication of certainty grates with Koonin's scientific mind which accepts degrees of uncertainty around virtually any forecast. Using computers to model the climate (as distinct from weather) taxes the powers of even today's supercomputers.
Global warming is likely to raise sea levels – but it turns out this has been the case since at least 1900, long before human use of fossil fuels drove CO2 levels higher. While it's true that the 3mm rate of annual increase over the past twenty years is higher than over the past 100, the 1930s saw a similar rate.