Three For One In China Still Yields A Minus Situation
A couple of new developments in China that are worth commenting on. First, what everyone is calling a stealth QE. It isn't. The central bank bill swap program is instead designed for two purposes at once, neither of which will follow along like an LSAP. The intent in doing this specifically right now suggests something other than stimulus.
People are finally starting to ask the right questions about China, in particular, exposures to the country's faltering economy. This is, after all, the basis for the "rising dollar" going back to the end of 2013. The global economy was either supposed to come roaring back from 2008 or, if it didn't, EM's with China in the lead were expected to be insulated from the fallout.
What happened in the summer of 2013 was a taste of the real risks, especially as China "unexpectedly" caught the same economic malady (global reserve currency-itis) as the rest of the world in 2012. This reassessing of the risk/return paradigm played out in both places at once as I wrote a few days ago:
Bernanke never expected banks to just pull out. It was the perfect storm for 2014. Once dealers started reassessing their embedded convexity risks (or risk more broadly) in MBS, they began doing so in all their books – starting with China and EM's.
Next thing you know, right at the outset of 2014, a dollar shortage (rising dollar) shows up for the perpetual Chinese dollar short. Big trouble.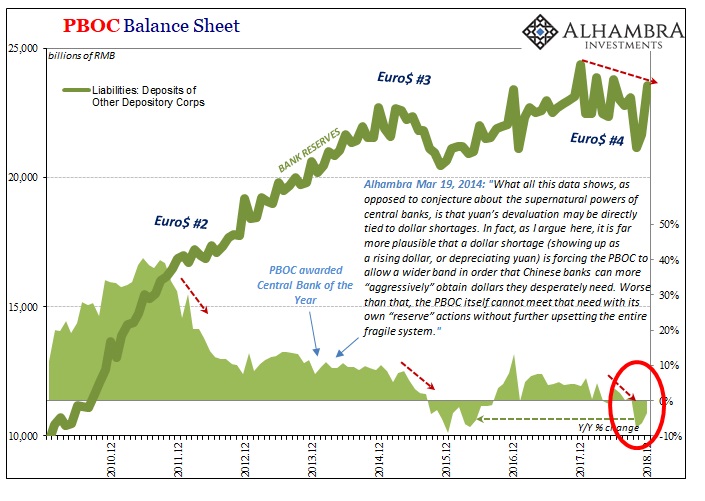 As China's economy slows in parallel, and can't seem to ever get going again, dealers continue to see only more risks of being associated with China and therefore exercise even more caution in funding the country (unless rerouted through a "safe" intermediary, like Hong Kong).
Domestically, Chinese banks are perceived as more of a risk in a way they never had been before. People really start to question what's underneath, including the potential for credit losses in a slowdown (or worse) China economy. Capital ratios as other balance sheet metrics for the first time maybe ever suddenly get scrutinized.
Disclosure: This material has been distributed for informational purposes only. It is the opinion of the author and should not be considered as investment advice or a recommendation of any ...
more