Surprise UK Wage Growth Pick-Up Helps Cement September Hike
There are growing signs that the UK jobs market is softening, but for now the Bank of England will remain focused on stubbornly high wage growth. A September hike is highly likely, but November is more of a question mark.
Photo by Colin Watts on Unsplash
UK wage growth has come in quite a bit higher than expected, and that should all but cement a September rate hike from the Bank of England. Private-sector wage growth, which is the number the BoE focused on, is now at 8.1% from 7.9% previously, when comparing the most recent three months to the same period last year.
This is undoubtedly uncomfortable territory for the Bank, though the doves can point to the fact that the timelier median pay growth data from payrolls did actually slow. And they'll also note that much of the upside surprise today can be put down to revisions to past data, albeit the changes are predominantly to data earlier in the second quarter, so it's not going to be a huge comfort.
Interestingly though, these stubbornly high wage growth numbers are coupled with what are unmistakable signs now that the jobs market is cooling rapidly. The unemployment rate increased by 0.2pp to 4.2%, while the ratio of unfilled job vacancies to unemployed workers now stands at 0.73, down from a peak of almost 1.1 and very nearly back to the pre-pandemic high of 0.64.

Vacancy-to-unemployed ratio has been falling quickly
Macrobond, ING calculations
This is a ratio that BoE Governor Andrew Bailey consistently referred to in his most recent press conference, and it echos what the Bank's own CFO survey has been saying for several months now, which is that hiring difficulties are easing. A year ago, 60% of firms were saying it was "much harder" than normal to recruit, and only 2% said it was easier. Now 23% say it's "much harder" and 16% say it's easier.
While much of that can probably be linked to cooling hiring demand, much can also be explained by improving worker supply. The number of EU workers employed in the UK is up 6% since the low in the third quarter of last year (albeit numbers fell slightly in the most recent quarter). Meanwhile, the number of people inactive has fallen by around 300,000 over that same time period, albeit again the improvement stalled in the most recent data. Much of the improvement here has been driven by returning students, as well as a fall in those classifying themselves as retired, though given both are now back to pre-Covid levels, the downward trend in inactivity is likely to stall.

The number of people "inactive" has been falling
(Click on image to enlarge)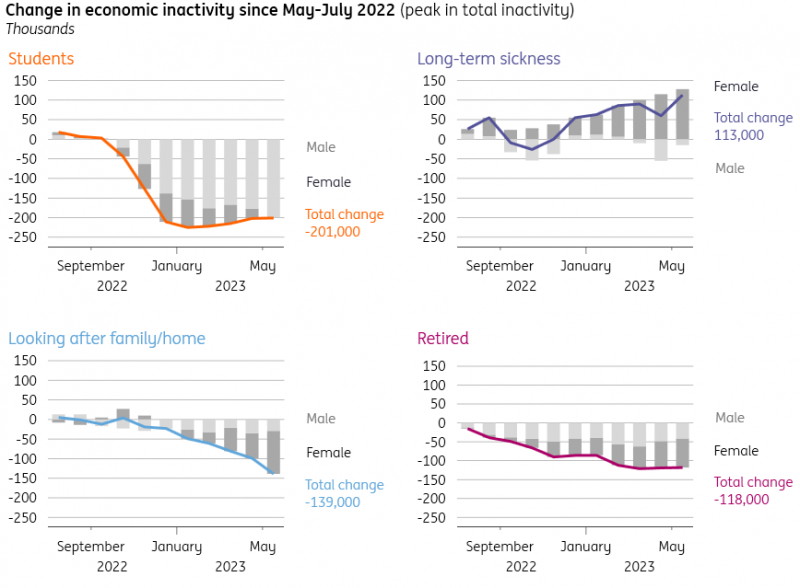 Macrobond, ING calculations
Overall, despite the apparent weakening in hiring and ongoing improvement in worker supply, the Bank will remain focused on wages. When it comes to tomorrow's CPI figures, we think there's some scope for a positive surprise on services inflation, but ultimately a September rate hike still looks nailed-on.
November is more of a question mark, not least because we agree with the Bank of England's assessment that wage growth is likely to slow only gradually. Private sector wage growth at 6% or above at year-end looks likely, but this is likely to be coupled with further signs of cooling in the jobs market. It'll therefore come down to services inflation and if, as we expect, we've seen a bit of an improvement by the November meeting, then the ingredients could still be there for a pause at that point.
---
More By This Author:
China: PBOC Cuts Rates Amidst Data Weakness
Strong Consumer Keeps US On Track For 3% GDP Growth
The Commodities Feed: China Macro Data Disappoints
Disclaimer: This publication has been prepared by the Economic and Financial Analysis Division of ING Bank N.V. ("ING") solely for information purposes without regard to any ...
more