Seven Reasons Why China Is Facing A Hard Landing In 2019
With the latest China economic data once again underwhelming overnight [Thurs>Fri], it is safe to say that in a world where consensus overwhelmingly expect a global recession to arrive some time in 2020, China - which continues its aggressive shadow deleveraging campaign - remains the biggest potential catalyst for a major economic swoon in the coming year.
Which is why we did not find it surprising that in the latest note from Credit Suisse strategist Andrew Garthwaite, he writes that "to us, China remains the biggest macro risk currently. We would expect aggregate demand to continue to slow (owing to a slowdown in housing, manufacturing investment and exports and there needs to be a destocking) but we also would expect to see an accelerating policy response which should be enough to stabilize PMIs at lower levels."
And while the "house view" from the Swiss bank is that the Chinese government still has policy flexibility and none of the preconditions for a hard landing are currently present, it does caution that as one of its biggest possible outlier surprises for 2019 that, China suffers a hard landing, defined as real GDP growth slowing to sub 5% (for context, the lowest real GDP growth recorded in the past 40 years - i.e. since the reform and opening up by Deng Xiaoping - was 3.9% in 1990).
So is a China hard landing probable in 2019, and how could we get to that point? Credit Suisse lays out several key developments that could get us there, starting with...
Aggregate demand growth slows much further
Aggregate demand growth, measured as the sum of exports, FAI and retail sales, is at the weakest in 20 years.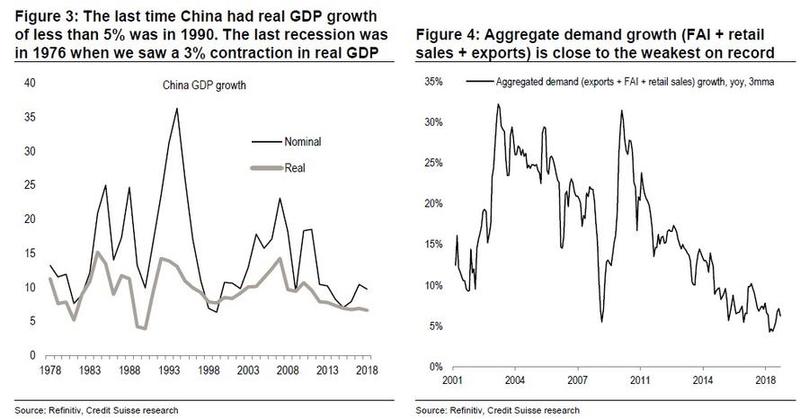 The problem, as CS writes, is that the key drivers of demand are likely to continue to slow:
Exports have been front-loaded and new orders suggest export growth continues to fall.
Housing starts are expected to fall around 8% in 2019, according to our China property analysts – with the fall in property transactions and the end of shantytown loans.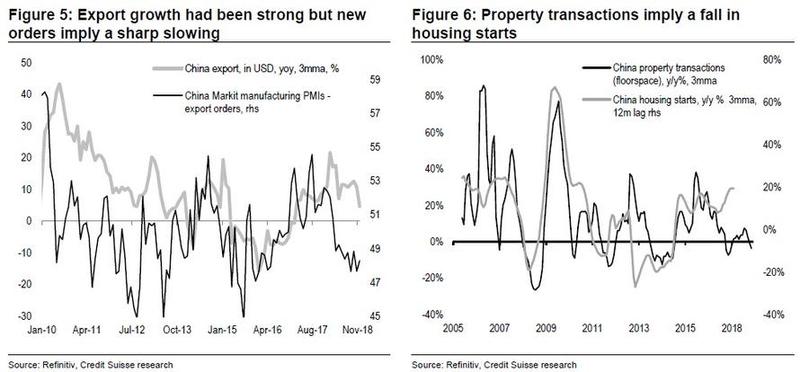 Furthermore, manufacturing investment (which accounts for c.32% of FAI) could slow sharply to reflect the fall in corporate profits, coupled with an inventory destock: inventories are in the top 10% of their range, with NBS PMI new orders vs inventories now at their lowest level in their five-year history.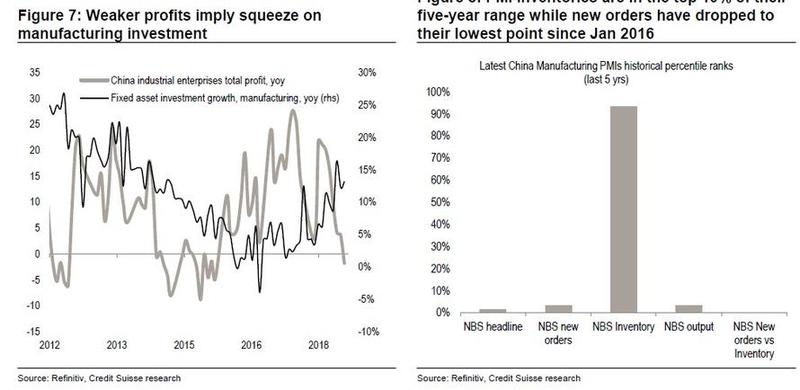 Property prices fall sharply, causing a hard landing
To Garthwaite, a shock in China's housing sector "seems the most likely catalyst" because if we look at the credit bubbles in Spain, Ireland, Japan or the US, then "the recession occurred soon after house prices started to fall." Consider this: China has seen the fourth biggest increase in credit to GDP of any economy over a 10-year period; this is notable because all the other countries that have seen a larger increase in leverage ended up with major recessions (Ireland, Spain and Thailand).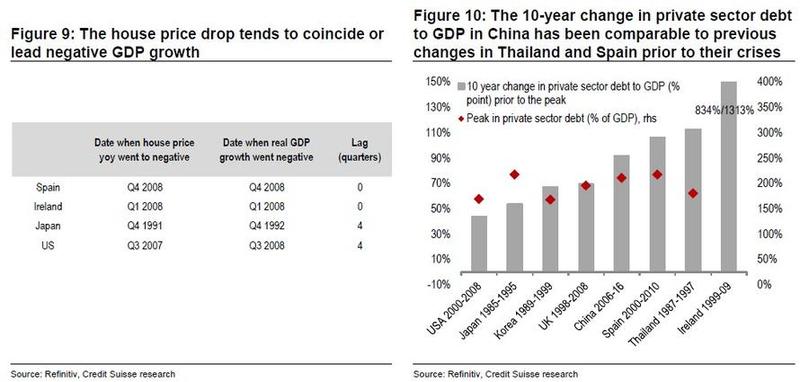 As we have discussed previously, much of this credit excess has gone into real estate (as is often the case). Furthermore, in China real estate is as high as a proportion of GDP, and two measures of affordability look clearly stretched: rental yields are one third of the mortgage rate (a simple measure of affordability) and the house price to wage ratio is among the highest in the world.