Sensex Today Falls 500 Points; Why Sensex Is Down Today; ITC & Reliance Top Losers
Asian share markets are lower today as investors fretted about the economic fallout from fresh Covid-19 restrictions in China.
Bonds and the dollar braced for more updates on US monetary policy.
The Nikkei is down 0.1% while the Hang Seng is trading lower by 2%. The Shanghai Composite is down 0.8%.
In US stock markets, Wall Street indices ended higher on Friday in a choppy trading session, as gains in defensive shares overshadowed energy declines, and investors shrugged off hawkish comments from Federal Reserve officials about interest rate hikes.
The Dow Jones ended 0.6% higher while the Nasdaq rose 0.1%.
Here's a table showing the performance of US indices and US stocks on Friday.
| Stock/Index | LTP | Change ($) | Change (%) | Day High | Day Low | 52-Week High | 52-Week Low |
| --- | --- | --- | --- | --- | --- | --- | --- |
| Alphabet | 97.8 | -0.7 | -0.71% | 99.2 | 96.7 | 152.1 | 83.5 |
| Apple | 151.3 | 0.6 | 0.38% | 152.7 | 150 | 182.9 | 129 |
| Meta | 112.1 | 0.6 | 0.54% | 114.3 | 110.6 | 353.8 | 88.1 |
| Tesla | 180.2 | -3 | -1.63% | 185.2 | 176.6 | 402.7 | 176.6 |
| Netflix | 288 | -7.3 | -2.47% | 298 | 287 | 701 | 162.7 |
| Amazon | 94.1 | -0.7 | -0.75% | 96 | 92.5 | 188.1 | 85.9 |
| Microsoft | 241.2 | -0.5 | -0.19% | 243.7 | 239 | 349.7 | 213.4 |
| Dow Jones | 33,745.70 | 199.4 | 0.59% | 33,827.90 | 33,540.60 | 36,952.70 | 28,660.90 |
| Nasdaq | 11,146.10 | 1.1 | 0.01% | 11,259.40 | 11,059.20 | 16,212.20 | 10,088.80 |
Source: Equitymaster
However, all of the major indices posted losses for the week. The Dow ended flat while S&P 500 lost 0.7% for the week, while the Nasdaq ended 1.6% lower.
Back home, Indian share markets are trading deep in the red following the trend on SGX Nifty and tracking weak global cues.
Market participants are tracking the share price of Delta Corp, Sun TV, and Gujarat Narmada as these companies are under the F&O ban today.
The BSE Sensex is trading down by 445 points. Meanwhile, the NSE Nifty is trading lower by 134 points.
Axis Bank and Maruti Suzuki are among the top gainers today. ITC and Reliance, on the other hand, are among the top losers today.
The BSE Mid Cap index is up 0.2% while the BSE Small Cap is trading on a flat note.
Barring auto stocks, all sectoral indices are trading on a negative note with stocks in the oil & gas sector, IT sector, and power sector witnessing most of the selling.
Shares of Timken India and IIFL Finance hit their 52-week highs today.
Reversing the downtrend, Aarti Industries' share price rose 3% today. Of late, Aarti Industries' share price was falling owing to stake sales by promoters and rising input costs.
The rupee is trading at 81.90 against the US$. After trading in a narrow range, the domestic currency settled at 81.68 on Friday.
Gold prices are trading down by 0.1% at Rs 52,541 per 10 grams.
Meanwhile, silver prices are trading down by 0.5% at Rs 60,545 per kg.
Crude oil prices hovered near two-month lows as supply fears receded while concerns over China's fuel demand and rising interest rates weighed on prices.

Betting big on banks...
In the news from the banking sector, FIIs have been betting big on banking stocks amid improving credit demand and a sharp turnaround in earnings of public sector banks (PSBs).
This has made foreign investors raise their bets on Indian financial services stocks as they reversed their outlook on the equities of Asia's third-largest economy in the last month.
FIIs invested over 39% of their total inflows of US$3.5 billion (bn) in the fortnight ended 15 November in stocks from the financial sector, data from National Securities Depository Ltd (NSDL) show.
These inflows in the sector are the highest since February 2021. As a result, the share of financial services in FIIs' equity portfolio reached 32.28% as of 15 November 2022 - the highest in 18 months.
Note that the main reason behind the bullishness is credit growth and improving asset quality. Credit growth of banks was 16% at the start of November, a multi-quarter high level, and aggregate bank credit reached Rs 129 trillion (tn).
The Nifty Bank index has outperformed the benchmark Nifty 50 since the beginning of the year.
The biggest PSU Bank SBI has seen a sharp rise in its share price in recent months.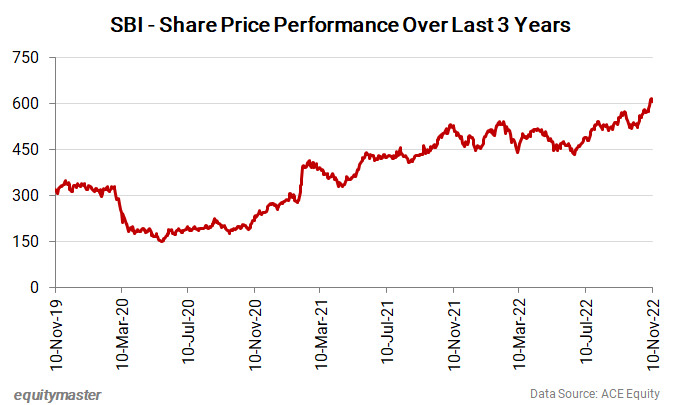 In the September 2022 quarter, SBI beat Reliance Industries to claim the title of a most profitable company.
The last time SBI beat Reliance Industries in full-year profit was in 1998 with a net profit of Rs 18.6 bn against Rs 16.5 bn reported by Reliance.

Engineers India bags an order
Moving on to news from the engineering space, state-owned Engineers India (EIL) on Saturday said the company has been awarded the job for overall project management and engineering, procurement, and construction management (EPCM) services for Chennai Petroleum's Manali refinery.
As part of this assignment, EIL shall provide consultancy Services for detailed feasibility reports, EPCM services, and related off-site facilities for the Group-II project at the Manali refinery.
Engineers India is a global engineering consultancy and EPC company that has been providing services ranging from project conception to commissioning since its inception in 1965.

Sensex Rejig, what it means for Tata Motors
Moving on, Tata Motors will replace Dr Reddy's Laboratories in the BSE Sensex index.
The change will become effective from 19 December. However, the adjustment will take place on 16 December.
After Dr Reddy's deletion, Sun Pharma will be the only healthcare stock in the Sensex. The healthcare sector's weightage in the Sensex is less relative to the sector's weight in the overall market.
The move could lead to buying US$150 million (m) in Tata Motors by passive funds tracking the Sensex.
On the other hand, Dr Reddy's will see outflows of US$113 m.
Tata Motors' inclusion in the Sensex was also expected to result in the inclusion of Tata Motors DVR in the index. However, since the DVR is not part of F&O, it wasn't included, according to experts.
---
More By This Author:
Sensex Today Drops 150 Points; Nykaa Share Price Gains 4% Post Block Deal; Banking Stocks Among Top Gainers
Sensex Today Falls 230 Points; Why Indian Share Market is Down Today; Auto Stocks Witness Selling
Sensex Today Slips 100 Points; Paytm Slumps 10% Post Block Deal; L&T, ICICI Bank Top Gainers
Disclosure: Equitymaster Agora Research Private Limited (Research Analyst) bearing Registration No. INH000000537 (hereinafter referred as 'Equitymaster') is an independent equity ...
more