Sensex Today Slips 100 Points; Paytm Slumps 10% Post Block Deal; L&T, ICICI Bank Top Gainers
Image Source: Unsplash

Asian share markets are trading on a mixed note today while the US dollar stabilized and treasury yields remained depressed as investors tried to assess the outlook for Federal reserve policy following stronger-than-expected retail sales data.
The Nikkei is down 0.3% while the Shanghai Composite is down 1%. The Hang Seng is the biggest loser, down 2.5%
Wall Street indices ended lower on Wednesday as a grim outlook from target spurred fresh concerns about retailers heading into the crucial holiday season, while semiconductor shares slid after Micron's supply cut.
The Dow Jones rose 0.1% while the tech-heavy Nasdaq gained 1.5%.
Here's a table showing how the top US tech stocks ended yesterday.
| Stock/Index | LTP | Change ($) | Change (%) | Day High | Day Low | 52-Week High | 52-Week Low |
| --- | --- | --- | --- | --- | --- | --- | --- |
| Alphabet | 99 | 0.3 | 0.27% | 99.9 | 97.9 | 152.1 | 83.5 |
| Apple | 148.8 | -1.3 | -0.83% | 149.9 | 147.3 | 182.9 | 129 |
| Meta | 113.2 | -3.9 | -3.29% | 116.1 | 112.7 | 353.8 | 88.1 |
| Tesla | 186.9 | -7.5 | -3.86% | 192.6 | 185.7 | 402.7 | 177.1 |
| Netflix | 306 | -4.2 | -1.35% | 310.5 | 303.6 | 701 | 162.7 |
| Amazon | 97.1 | -1.8 | -1.84% | 98.5 | 95.5 | 188.1 | 85.9 |
| Microsoft | 241.7 | 0.4 | 0.18% | 243.8 | 240.4 | 349.7 | 213.4 |
| Dow Jones | 33,553.80 | -39.1 | -0.12% | 33,682.80 | 33,517.00 | 36,952.70 | 28,660.90 |
| Nasdaq | 11,183.70 | -174.8 | -1.54% | 11,286.10 | 11,162.90 | 16,212.20 | 10,088.80 |
Data source: Equitymaster
Back home, Indian share markets are trading on a flat note, following the trend on SGX Nifty.
The BSE Sensex is trading down by 64 points. Meanwhile, the NSE Nifty is trading flat.
L&T and Axis Bank are among the top gainers today. Tata Steel and Titan, on the other hand, are among the top losers today.
Broader markets are trading on a negative note. The BSE Mid Cap index is down 0.3% and the BSE Small Cap is trading lower by 0.2%.
Sectoral indices are trading on a negative note with the exception of the telecom sector and capital goods sector. Stocks in the consumer durables sector, metal sector, and auto sector witnessed most of the selling.
Shares of Hindustan Aeronautics and J B Chemicals hit their 52-week highs today.
The rupee is trading at 81.5 against the US$.
The rupee has sharply appreciated against the US dollar in recent sessions amid a fall in crude oil prices, dollar weakness, and sustained foreign fund inflows.
Gold prices are trading down by Rs 258 at Rs 52,804 per 10 grams. Meanwhile, silver prices are trading down by 1% at Rs 61,358 per kg.
For a growing economy, sectors like power and telecom should be the pillars of growth.
Instead, in India, they became the pariahs of investors and policymakers alike.
Hence, it's difficult to imagine the fortunes of these sectors could turn around dramatically a decade later. So much so that power and telecom are now the most sought-after opportunities among policymakers and investors alike.
Power stocks assumed importance with digitization and the electric vehicle revolution. In fact, a few power stocks have once again enjoyed irrational exuberance in the past year.
But telecom stocks are yet to find a place in the sun.
This could change in 2023.

Why Avenue Supermarts Share Price is Falling
The Covid-19 pandemic has finally taken a break, at least in India. There are still concerns in China as the country battles through uncertainty.
The world is slowly and cautiously moving back on its feet. But the aftereffects of the pandemic still continue to hurt the economy.
Rising inflation and increasing costs have hurt businesses globally, which in turn have hurt investor sentiments.
Resultantly, the share price of even fundamentally strong stocks has taken a beating.
Radhakishan Damani's Avenue Supermarts is no exception to this. The company's share price has fallen around 19% in the last year.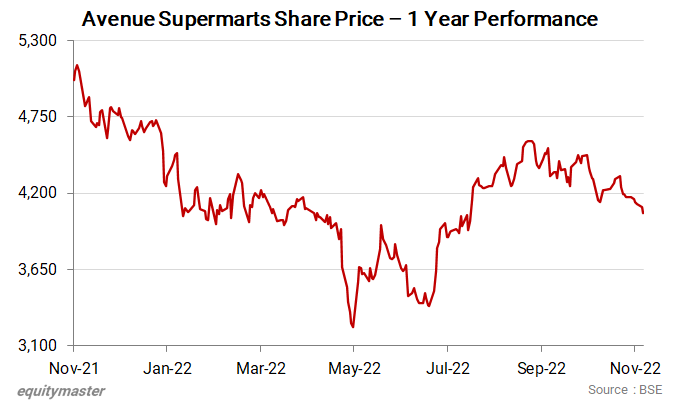 Just as Avenue Supermarts' share price was starting to gain some momentum, minor hurdles paused the rally. Shares are down 6% in a month.

SoftBank Sells Paytm Shares
Japan's SoftBank will sell a third of its stake in One97 Communications, the owner of the Paytm payments app, reportedly through a US$ 200 million (m) (about Rs 1,630.8 crore) block deal.
SoftBank, which owns 12.9% of Paytm, plans to sell 29 m shares or 4.5% of the fintech company today.
The shares are being offered to institutional investors at Rs 555-601.5. At the lower end of the band, it is a 7.7% discount to the closing price of Rs 601.3 on Wednesday.
Bank of America is the sole broker of the transaction. The sale follows the end of one-year mandatory lock-in for pre-IPO investors in Paytm.
Paytm started trading on the bourses on 15 November 2021 after raising Rs 18300 bn in an initial share sale, the second biggest IPO so far in India. However, Paytm's journey as a publicly traded firm quickly turned sour as the stock slumped 27% on market debut from its issue price of Rs 2,150 apiece.
Amid the global tech slowdown that started last year, Paytm share price was falling. The stock is trading at a massive discount to its issue price.

Page Industries to Set Up Two New Facilities
On Wednesday apparel manufacturer Page Industries said it will invest Rs 2.9 bn to set up two facilities in Telangana.
The new units will provide total employment to 7,000 local youngsters. It will manufacture garments that include sportswear and athleisure wear.
The announcement was made after a top management team from the company led by V Ganesh, Managing Director, met Telangana Industries Minister K T Rama Rao.
The two proposed locations of Page Industries are at Whitegold Spintex Park Facility in Ibrahimpatnam and at Mulugu in the Siddipet district.
The Ibrahimpatnam facility will be a 150,000 square feet Plug and Play facility built by Whitegold Spintex Park and leased to Page Industries. This facility will provide jobs to 3,000 local youngsters.
Page Industries will build its own facility at Mulugu in the Siddipet district in a 25-acre parcel. This facility will provide employment to 4,000 local youngsters.
Page Industries is the exclusive licensee of Jockey and Speedo in India. It is also one of 3 stocks paying dividends in December 2022.
---
More By This Author:
Sensex Today Ends 108 Points Higher; Metal Stocks Fall; Hindustan Aeronautics, Nifty Hit New High
Sensex Today Trades Flat; Bikaji Foods Lists At 7% Premium; Maruti, TCS Among Top Gainers
Sensex Today Trades Marginally Lower; IT Stocks Fall; Tech Mahindra & ITC Among Top Losers
Disclosure: Equitymaster Agora Research Private Limited (Research Analyst) bearing Registration No. INH000000537 (hereinafter referred as 'Equitymaster') is an independent equity ...
more