Revisiting Hong Kong (For Reasons We Wish We Wouldn't Have To)
This is perhaps the perfect day to review what's going on in Hong Kong (thanks J. Fraser). I'll be in Vancouver over the weekend to talk about curves, so why not preface it with a little HKD update. With everyone focused elsewhere, the story of 2017, in my view, wasn't so big in 2018. For reasons that will further disturb Economics convention, the city is making a comeback in 2019 (really last December).
This is what happened today:
A string of Hong Kong-listed stocks plunged without warning in afternoon trading, the latest shock losses to sideswipe investors in the world's fourth-largest equity market.

Jiayuan International Group Ltd., Sunshine 100 China Holdings Ltd. and Rentian Technology Holdings Ltd. fell over 75 percent in a matter of minutes and at least 10 companies were 20 percent lower or more by the close, wiping out HK$37.4 billion ($4.8 billion) in market value.
Though these things do take place from time to time, this wasn't a flash crash in the same way as prior events. The share prices of these companies and others fell quickly enough but didn't recover. It seems as if HK is a little lacking on the liquidity side.
In relation to that, monetary authorities there had promised that the sinking HKD early on last year was nothing to be concerned about. The world had parked massive liquidity in the city's financial system in 2009 in the aftermath of global panic. Now, as the world of 2017 was inching closer to normal and recovery, that money was leaving the safety of Hong Kong for riskier ventures in globally synchronized growth. Allegedly.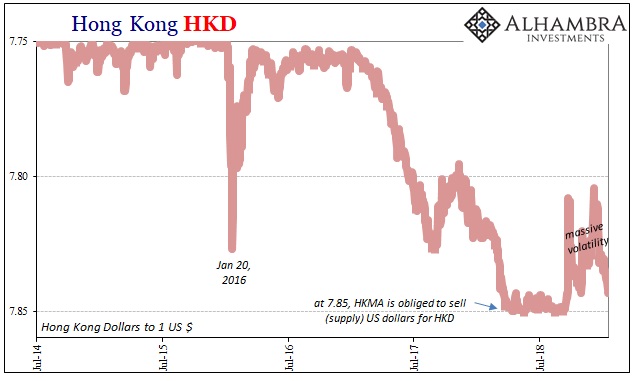 This was the stated theory behind HKD's falling exchange value as well as rising interest rates (HIBOR) in interbank HKD markets.
Yet, no one would sanely characterize the global market activities this last December as approaching normal. They were so clearly the opposite. Each and every market was under obvious duress, displaying tremendous disorder the likes of which were entirely too reminiscent of 2008 (or 2015, if you are Asian).
Disclosure: This material has been distributed for informational purposes only. It is the opinion of the author and should not be considered as investment advice or a recommendation of any ...
more