Confirming The Big Change In 2017
What determines the price of gold? It seems like it should be an easy question to answer, but gold more than perhaps any other asset often mystifies in its behavior. Part of the reason is mainstream, orthodox Economics and its practitioners who have waged an intentional war on the metal for more than a century and a half. Demonizing it has effectively meant a lack of fundamental study.
That's true, of course, about a whole lot more than the marginal setting of the gold price. Economics simultaneously devalued money as a concept in order for it to fit in DSGE models without producing singularities in all the complex math. Like rational expectations theory, demonetizing money, so to speak, places econometrics above rational understanding, substituting determined ignorance for appreciating what is very messy, and unpredictable, reality.
One silver lining from an otherwise thoroughly disappointing 2017 (it was supposed to be the year for economic expansion, real economic expansion, but now that's 2018) was another obvious test for what possesses gold at least in specific episodes toward the downside. Later in the year, for the second straight year, repo collateral became hard to come by, a serious defect that spilled over into other funding markets and capacities – including gold as collateral of last resort.
(Click on image to enlarge)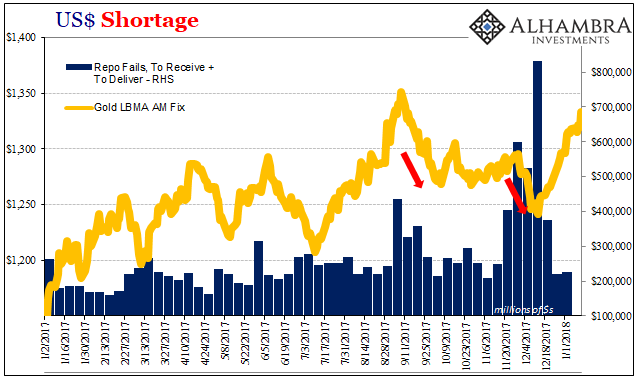 In that weird way, the Federal Reserve should be gold owners' best friend; a functioning and useful RRP would alleviate these persisting gold slams. The reverse repo, however, has been one more fairy taleEconomists recite in the media for why central banks are for them so central.
For several years, the gold price in dollars correlated strongly with Japan's currency far more than our own. You hear all the usual explanations for what sets gold prices altered slightly to try to explain this, from interest rate opportunity costs (gold pays no interest) on safe assets to expected inflation to several other alternate theories floated over the years. Many of those latter ideas have been expressed to try and account for JPY's hold.