Mexico's Economy Rebounds Outlook Revised Up
from the Dallas Fed
-- this post authored by Jesus Canas and Chloe Smith
Mexico's gross domestic product (GDP) grew an annualized 58.0 percent in third quarter of 2020. The consensus GDP growth forecast for 2020, compiled by Banco de México, was revised up from -9.3 percent in October to -9.0 percent in November.[ 1] The latest data available show continued improvement as industrial production, employment, exports, and retail sales increased. The peso gained ground against the dollar in November, while inflation was closer to the target rate.
Output Recovers in Third Quarter
Mexico's third-quarter GDP rose an annualized 58.0 after the second quarter's staggering 52.4 percent drop (Chart 1). Even with this strong bounce-back, third-quarter GDP was 8.6 percent down from the same quarter a year ago. Service-related activities (including trade and transportation) were up 39.9 percent in the third quarter. Goods-producing industries (including manufacturing, construction, and utilities) increased 119.3 percent. Agricultural output grew 35.8 percent.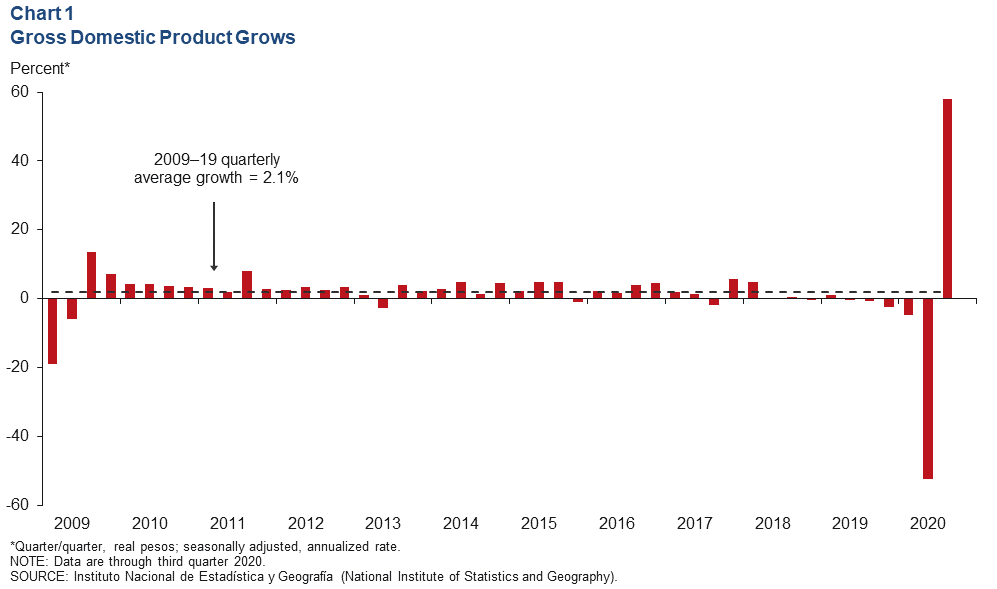 Exports Continue to Improve
The three-month moving average of total exports grew 3.3 percent in October as oil exports fell 1.1 percent and manufacturing exports rose 3.1 percent (Chart 2). On a month-over-month basis, both total and manufacturing exports expanded by 4.8 percent in October. This year through October, exports have fallen 13.7 percent compared with the same period in 2019.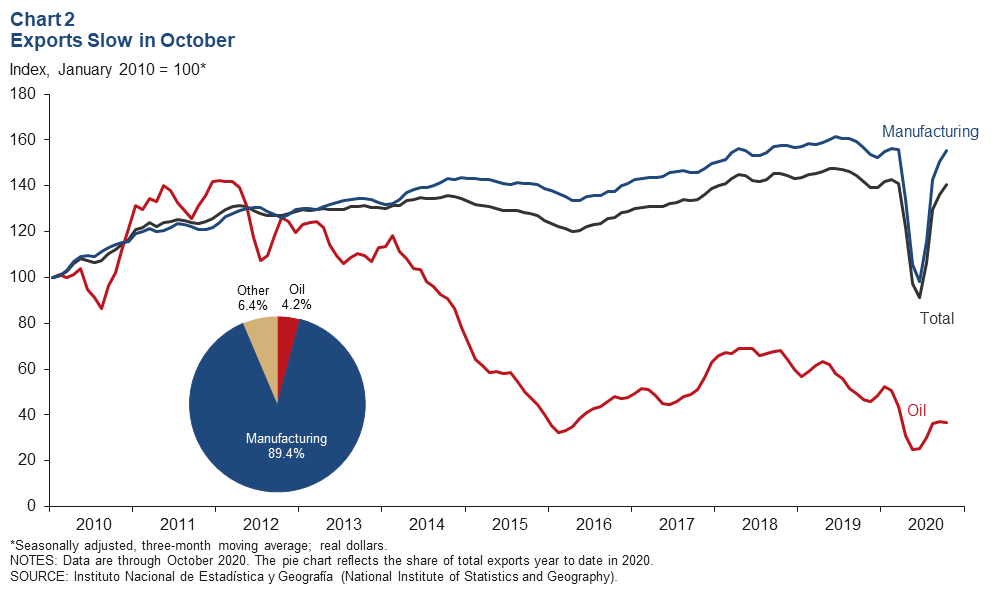 Industrial Production Expands Further
The three-month moving average of Mexico's industrial production (IP) index - which includes manufacturing, construction, oil and gas extraction, and utilities - increased 1.9 percent in October, and manufacturing IP was up 1.5 percent (Chart 3). On a month-over-month basis, IP was up 2.0 percent in October, while the manufacturing index increased 1.8 percent. North of the border, U.S. IP grew 0.4 percent in November after rising 1.0 percent in October, and the three-month average continued to increase. The correlation between IP in Mexico and the U.S. increased considerably with the rise of intra-industry trade as a result of the 1994 North American Free Trade Agreement, recently replaced by the United States - Mexico - Canada Agreement.
Disclaimer: No content is to be construed as investment advice and all content is provided for informational purposes only. The reader is solely responsible for determining whether any investment, ...
more