Key Events In EMEA For Week Of July 11
Photo by William Zhang on Unsplash
Energy prices in the Czech Republic remain the main upside risk to inflation, as suppliers follow the market leader's footsteps in hiking prices.

Czech Republic: Inflation in next stage, but not at peak
For June, we expect inflation to slow marginally from 1.8% to 1.7% month-on-month, which translates into a dramatic year-on-year rise from 16% to 17.3%. Like previous months, food prices continue to rise at a high rate of 2.9% MoM. Fuel prices accelerated further in June to almost double (4.1% MoM). On the other hand, no sharp price increases are announced for June from major energy suppliers. Thus, we expect a smaller increase of 3.6% MoM compared to April (4.2%), but larger than in May (1.6%). Nevertheless, energy prices remain the main upside risk and the main question for the coming months, which we believe will be more interesting than the June print.
At the end of May, the main energy supplier announced a dramatic price hike effective from July, and a week ago the price list was changed upwards again effective from August. Other suppliers can be expected to follow in the market leader's footsteps. Some of them have already announced increases from July or August, the month in which we should see the largest contribution of energy price in the CPI. But, given the mix of floating and fixed contracts, energy prices will be written gradually into the CPI until at least January next year. As we mentioned previously, we are thus more and more skeptical that there will be a slowdown in inflation in the second half of the year as expected by the Czech National Bank. On the contrary, the next prints, including the June one, may push us to levels close to 20% year-on-year.

EMEA Economic Calendar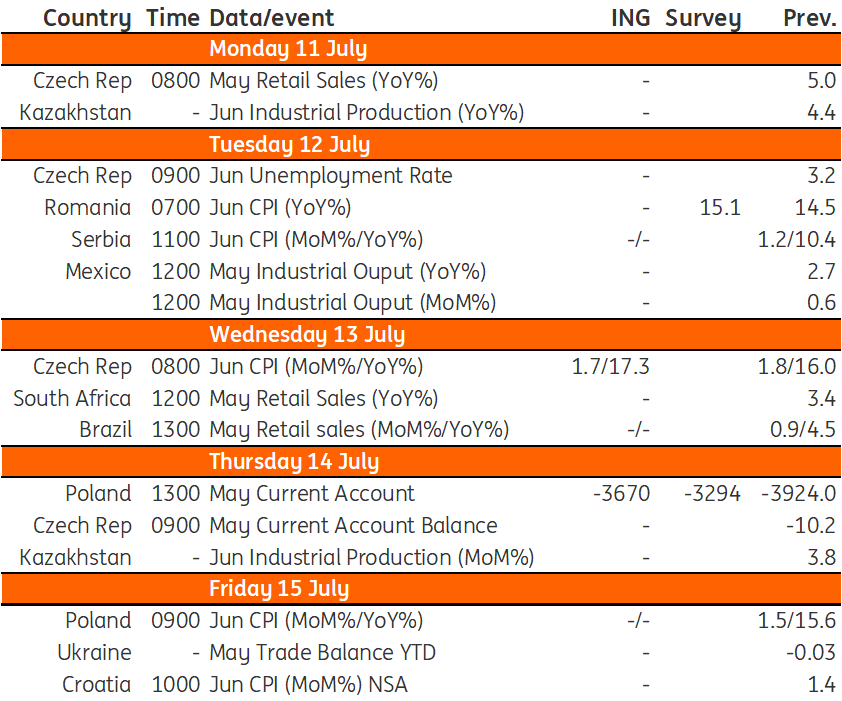 Image Source: Refinitiv, ING
Disclaimer: This publication has been prepared by the Economic and Financial Analysis Division of ING Bank N.V. ("ING") solely for information purposes without regard to any ...
more