How Is Malaysia Bucking The Global Slowdown?
Firmer growth, low inflation, and a healthy external payments position – everything is coming together to support investor confidence despite the current global economic turmoil. That said, we don't think the authorities will relax just yet - we expect another 50 basis points of rate cuts in 2019.
Source: Pexels
So far so good – an economy that surpasses expectations
Malaysia's economy seems to be relatively unscathed despite the ongoing global trade and tech war, as well as the slump in the tech sector.
Last week, the country's GDP growth improved to 4.9% year-on-year in 2Q19 from 4.5%. It wasn't a complete surprise though. A pick-up in exports and manufacturing growth foreshadowed the GDP improvement, leaving the year-to-date economic performance on par with that in the full-year 2018.
Private consumption continued to be the key GDP driver from the spending side, making up for the continued slack in investment demand (both public and private), while inventory depletion also continued to drag headline growth downwards in the first half of the year. Stronger private sector performance was underpinned by persistently low inflation and accommodative monetary policy and weak public spending hasn't been a surprise either as the government is reigning in its expenditure after a blow-out deficit last year.
Despite external headwinds, exports were almost flat in the first half of the year compared with sharp declines in neighboring economies. As such, net trade contributed more to the GDP growth in the first half of the year than it did all of last year, which, in turn, was consistent with a near-doubling of the current account surplus to MYR 30.7 billion from a year ago.
Services remained the key growth driver from the industry side, though the improvement in the manufacturing contribution is noteworthy.
Expenditure and industry-side sources of GDP growth

Source: CEIC, ING
What's behind the export outperformance?
Following a 14% (USD denominated) surge in exports last year – the fastest in Asia - some export weakness was inevitable this year.
Given Malaysia's heavy export exposure to electrical and electronic goods, the outlook for Malaysia's export sector was about as bad as you could imagine. But a 5% fall in exports in the first half of 2019 from a year ago wasn't at all bad in comparison with sharp export declines elsewhere in Asia.
Asian export performance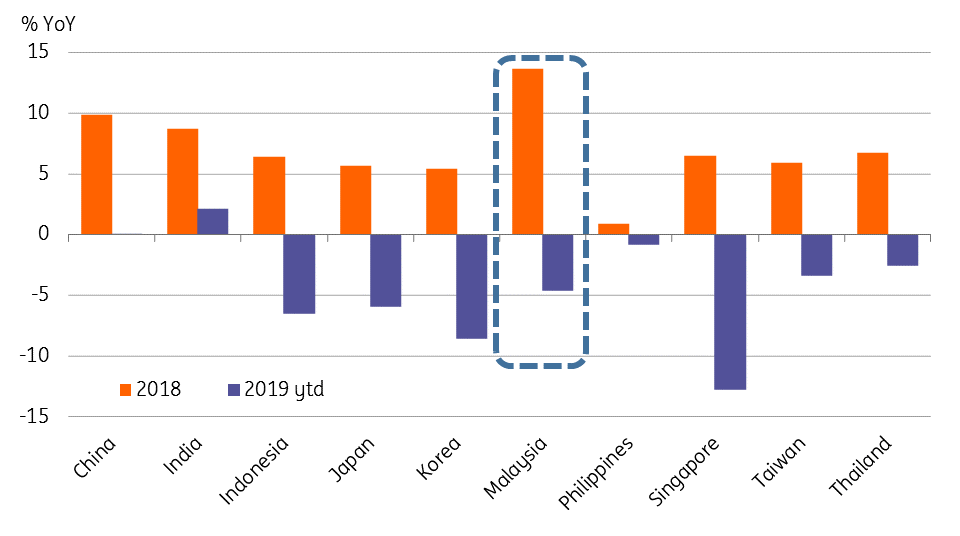 Source: Bloomberg, CEIC, ING
Among the key factors supporting Malaysia's export performance, this year are continued favorable terms of trade, an undervalued currency, relative electronics strength, and maybe some supply chain diversion.
Terms of trade: The 2014 commodity price crash was a huge negative shock for Malaysia's commodity-driven economy. Commodity prices started to recover in 2016 but the terms of trade failed to follow suit. While the recovery in both global commodity prices and Malaysia's terms of trade was further hampered with the onset of the trade war between the US and China last year, this probably helped sustain Malaysia's exports competitive advantage in international markets.
Undervalued currency: The Malaysian ringgit (MYR) hasn't escaped the emerging market contagion. The MYR lost 2% of its value against the USD in 2018 and another 1% so far this year. This despite a relatively stable economy with a healthy balance of payments. The weak currency is boon for exports.
The information does not constitute investment recommendation, and nor is it investment, legal or tax advice or an offer or solicitation to purchase or sell any financial instrument. more