FTSE Trims Early Losses To Close In The Green
Image Source: Unsplash

At the closing bell on the UK's benchmark FTSE 100 index after starting the day with a decline on Thursday, as mining stocks were weighed down by disappointing data from China. Investors also took time to evaluate the recent hawkish signals from the U.S. Federal Reserve regarding potential interest rate hikes. The subdued performance of mining stocks reflected concerns about the impact of weak economic data from China on global demand for commodities. Meanwhile, market participants carefully analysed the implications of the Federal Reserve's stance on monetary policy, which indicated a likelihood of tightening measures in the future. The combination of these factors contributed to a cautious sentiment in the market at the opening of the FTSE 100, however, as the session advanced so did the FTSE looking to close out the session with modest gains.
On the positive side of the ledger shares of Informa Plc, a British events organiser, rose by nearly 4% putting it in the top spot for the day. The company has raised its profit and revenue outlook for the fiscal year, primarily driven by a strong performance in its academic markets and B2B markets businesses. Informa now expects its revenue for the fiscal year to be between £2.95 billion and £3.05 billion, representing a 7% increase from the previous forecast. Furthermore, the company anticipates a 10% increase in its adjusted operating profit, with a projected range of £750 million to £790 million for the year ending December 31. As of the previous close, Informa's stock has gained 13.7% year-to-date. Overall, Informa's improved forecast reflects its positive business performance in key markets and highlights its growth potential in the industry.
On the negative side of the ledger Halma, a British technology firm sits at the bottom of the index, saw its shares decline by as much as 9.4% to 2200p, making it the top percentage loser on the UK's blue-chip index. The company expressed expectations for an increase in its return on sales for the 2024 financial year, aiming for approximately 20% compared to 19.5% in 2023. However, the rise in interest rates and supply chain disruptions, especially in the safety sector, had an impact on the return on sales. Halma's statutory profit before tax for the fiscal year experienced a 4% decrease, primarily due to the absence of a gain on disposal worth £34 million from the previous year.

FTSE Bias: Intraday Bullish Above Bearish below 7550
Below 7540 opens 7435
Primary resistanceis 7660
Primary objective 7720
20 Day VWAP bearish, 5 Day VWAP bullish
(Click on image to enlarge)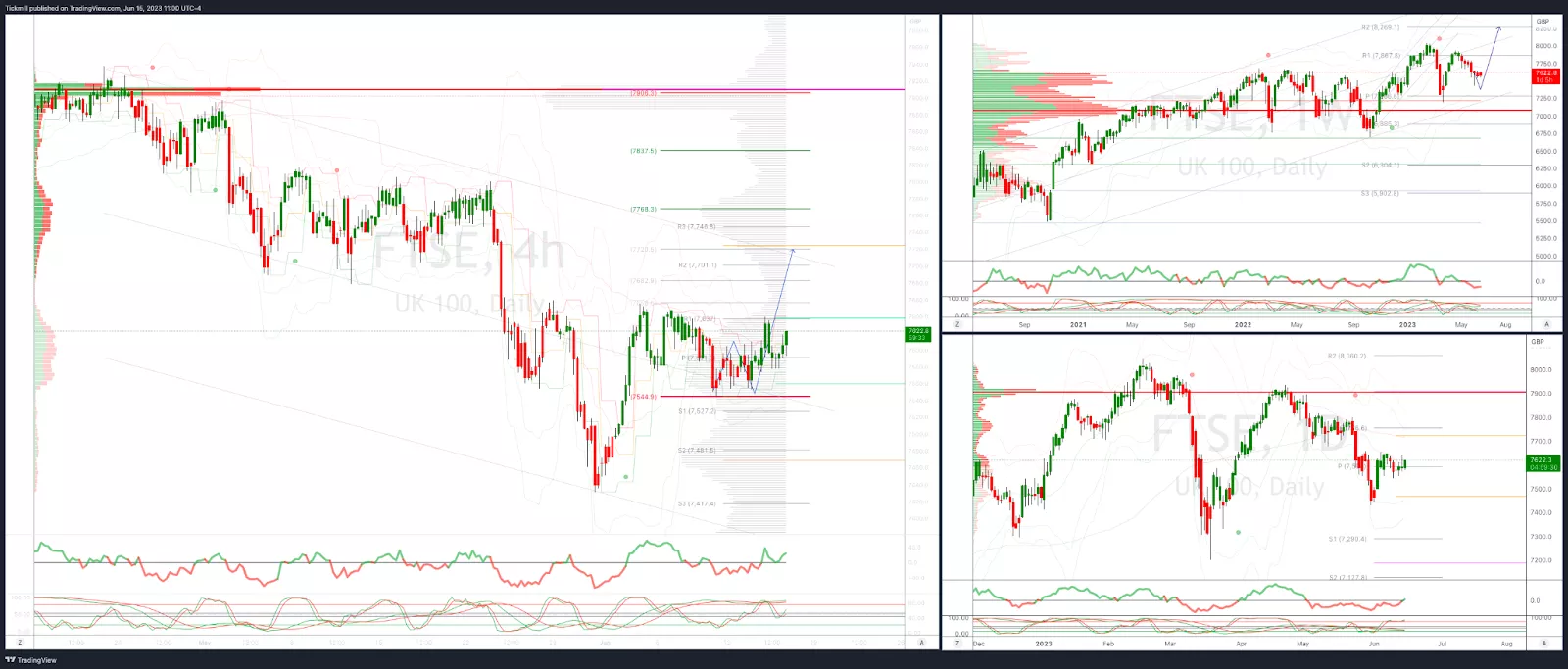 ---
More By This Author:
Daily Market Outlook - Thursday, June 15
FTSE 100: Miners Shine Again, While Market Wait On The Fed Decision
Daily Market Outlook - Wednesday, June 14
Disclaimer: The material provided is for information purposes only and should not be considered as investment advice. The views, information, or opinions expressed in the text belong solely to ...
more