FTSE 100: Miners Shine Again, While Market Wait On The Fed Decision
Image Source: Unsplash

At the closing bell on Wednesday, the primary stock indexes in the UK exhibited a lackluster performance as investors awaited a significant policy decision from the U.S. Federal Reserve. Simultaneously, market participants assessed the increasing probability of enduring rate hikes by the Bank of England. The blue chip FTSE 100 eked out meagre gains of 0.2%.
Entain, a gaming company, experienced a significant decline of as much as 10.2% following its announcement of plans to acquire STS Holdings in Poland for a total sum of 750 million pounds ($945.90 million) heading into the close the stock staged a modest recovery closing out the session nursing losses of 8.48%.
In merger news Vodafone and CK Hutchison's Three UK Mobile have officially announced their agreement to merge their mobile businesses in the UK, forming the largest operator in the country. According to a statement released by Vodafone, the combined business will be owned 51% by Vodafone and 49% by Hutchison. The deal is anticipated to generate significant efficiencies, resulting in over £700 million in annual cost and capital expenditure synergies by the fifth year after completion. This is estimated to have a net present value exceeding £7 billion. Margherita Della Valle, Chief Executive of Vodafone, hailed the deal as a positive development for customers, the nation, and competition. She emphasised that the transaction represents a pivotal moment for Vodafone in its domestic market and demonstrates confidence in the UK's aspirations to become a technology hub. Under the new structure, the current CEO of Vodafone UK, Ahmed Essam, will assume the role of CEO for the newly formed company. The completion of the deal is expected to take place prior to the end of 2024. Vodafone closed out the session with gains of 0.7%.
On the positive side of the ledger the miners shined again with another robust session, buoyed by more positive murmurs out of Chinese regulators and government official overnight, Anglo American led the pack posting another 4.45%, while Antofagasta saw 3.7+%, however Smith & Nephew won the day sitting at the top of the index with with gains of over 5.2%.

FTSE Bias: Intraday Bullish Above Bearish below 7550
Below 7540 opens 7435
Primary resistanceis 7660
Primary objective 7720
20 Day VWAP bearish, 5 Day VWAP bullish
(Click on image to enlarge)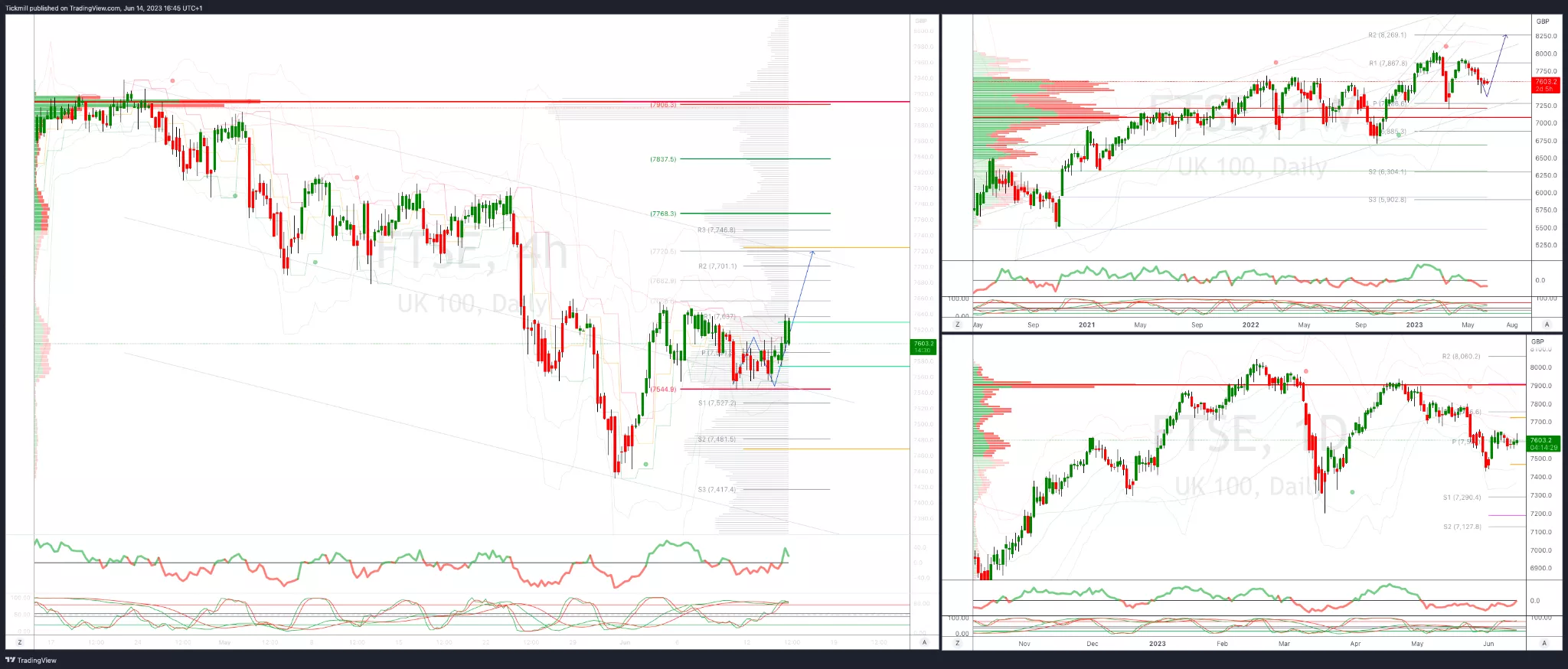 (Click on image to enlarge)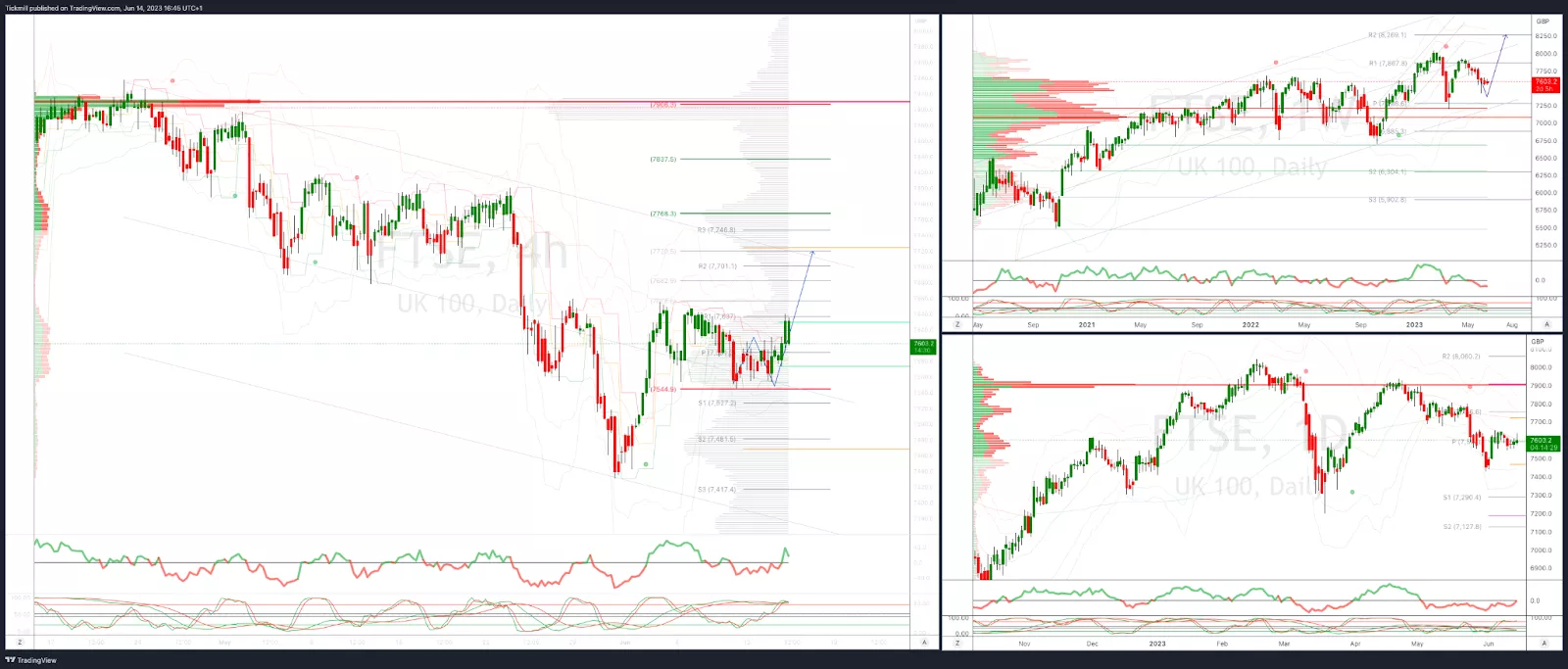 ---
More By This Author:
Daily Market Outlook - Wednesday, June 14
FTSE 100: Mining Sector Gains Support Risk Sentiment, Homebuilders Weigh
Daily Market Outlook - Tuesday, June 13
Disclaimer: The material provided is for information purposes only and should not be considered as investment advice. The views, information, or opinions expressed in the text belong solely to ...
more