FTSE Faltering Into The Close As US Markets Struggle For Traction
Image Source: Unsplash

The UK's FTSE 100 index is fading into the close as US investors return to the defray after Monday's public holiday early selling Stateside has added to pressure on the UK blue chip index. On the negative side of the ledger ongoing China economic growth and lack of detail on future stimulus continue to weigh on sentiment for miners as Anglo American tops the percentage losers on the day shedding a further 3.7% adding to yesterday's losses, Antofagasta is also sitting towards the bottom of the index losing another 2.5%+ on the session.
On the positive side of the ledger UK reinsurer Beazely holds the top spot on the day. According to eight research firms covering the company, it has received an average "Buy" recommendation. Out of the eight investment analysts, all have rated the stock as a buy. The average one-year target price, based on brokerages that have covered the stock in the past year, is 838p. On Friday, June 16th, Clive Bannister, a non-executive director made a purchase of 60,000 shares of the company's stock. The average price per share for this transaction was 578p, resulting in a total transaction value of £346,800. It is worth noting that insiders currently hold 2.36% of the company's stock.
On the fundamental front, tomorrow morning, the focus will be on the release of the May UK Consumer Prices Index (CPI) reading for inflation. Markets expect a slight decrease in headline inflation from 8.7% to 8.4% in May. This data is highly significant as it could play a crucial role in shaping the Bank of England's decision on the key interest rate, which is scheduled to be announced on Thursday. Investors and market participants will closely analyse the inflation figures to gain insights into the potential direction of monetary policy.
FTSE Bias: Intraday Bullish Above Bearish below 7550
Below 7540 opens 7435
Primary resistanceis 7660
Primary objective 7720
20 Day VWAP bearish, 5 Day VWAP bullish

(Click on image to enlarge)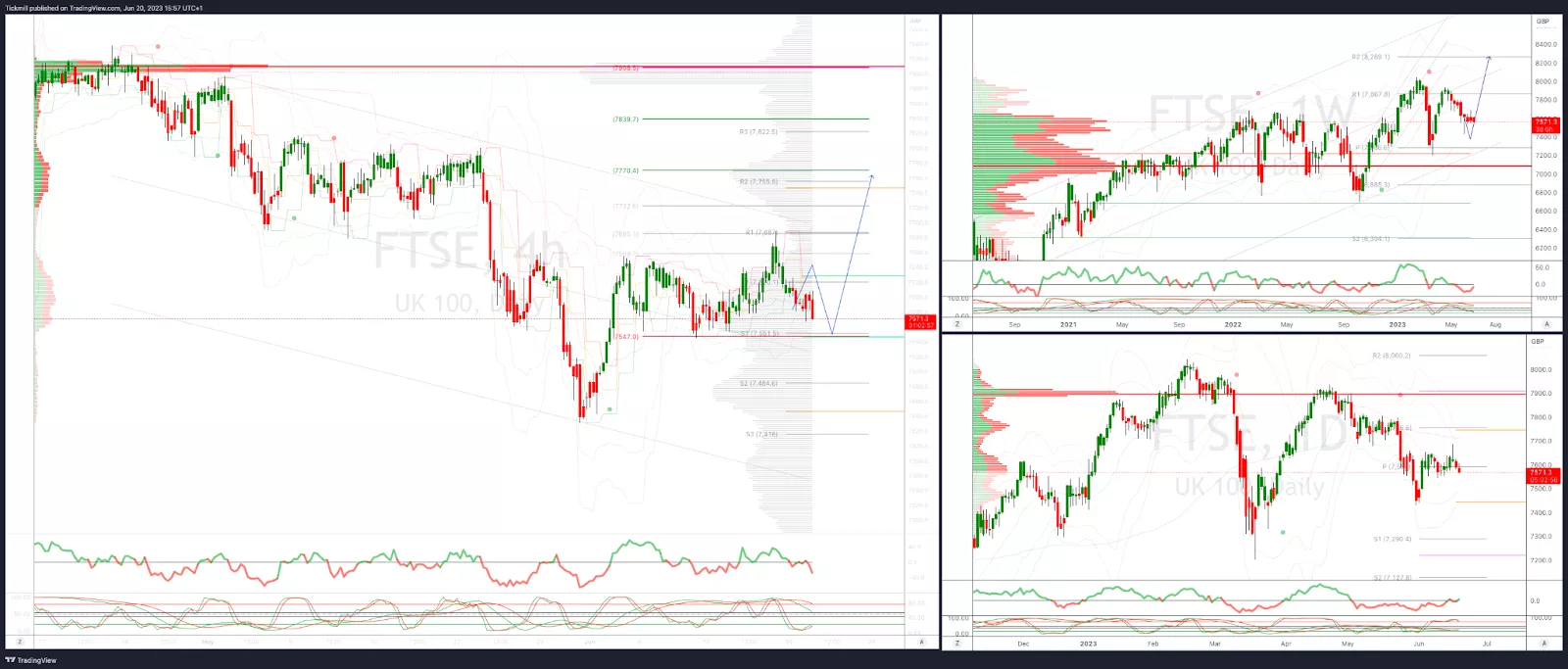 ---
More By This Author:
Daily Market Outlook, Tuesday, June 20
FTSE 100: Lack Of China Stimulus See Miners Lead The Way Lower
Daily Market Outlook, Monday, June 19
Disclaimer: The material provided is for information purposes only and should not be considered as investment advice. The views, information, or opinions expressed in the text belong solely to ...
more