FTSE 100: Lack Of China Stimulus See Miners Lead The Way Lower
Image Source: Unsplash

The UK's FTSE 100 index opened the new trading week in the red, with the UK Mining index down by 1.33%, in contrast to the broader FTSE blue-chip index which was off by 0.29%.
Shares of top London-listed miners including Rio Tinto, Anglo American, Antofagasta, Glencore, and experienced drops ranging from 0.8% to 3.2%. The decline can be attributed to lower copper prices, influenced by a lack of clarity on economic stimulus in China and a stronger dollar, which reinforced expectations of weak demand. On the London Metal Exchange, three-month copper fell by 0.6% to $8,517.50 per metric ton, ending a three-week rally primarily driven by speculation that China would implement further stimulus measures to revive its economy affected by the COVID-19 pandemic. The near-term demand for copper, used in sectors such as automotive, construction, and power, remained sluggish during the traditional off-peak demand season. Over the weekend, Rio Tinto reported a derailment of one of its iron ore trains in Western Australia, potentially causing damage to the track on one of the company's two lines leading to export ports. Among the UK mining index constituents, Anglo American experienced the highest percentage decline down 2.32% as the London session heads towards the close, Anglo American's stock has fallen by 23.09% since the beginning of the year. Spirax Sarco Engineering is the biggest loser on the day shedding just under 6% as a follow-through from Friday's selling pressure.
On the positive side of the ledger shares of British fashion retailer Next saw a significant rise of up to 6% to 6,826p, making it the top percentage gainer on the FTSE 100 index. The company has raised its sales and profit outlook for the fiscal year, citing trading that has exceeded expectations due to favourable weather conditions and increased wages for consumers.
Next has increased its full-price sales guidance for FY23-24 by £137 million ($175.51 million) to £4.67 billion and its profit guidance by £40 million to £835 million. In addition, the company reported a 9.3% increase in full price sales during the first seven weeks of Q2, surpassing the guidance that predicted a 5% decline. Year-to-date, shares of Next have surged by approximately 16%, reflecting the positive performance and investor confidence in the company's outlook.

FTSE Bias: Intraday Bullish Above Bearish below 7550
Below 7540 opens 7435
Primary resistanceis 7660
Primary objective 7720
20 Day VWAP bearish, 5 Day VWAP bullish

(Click on image to enlarge)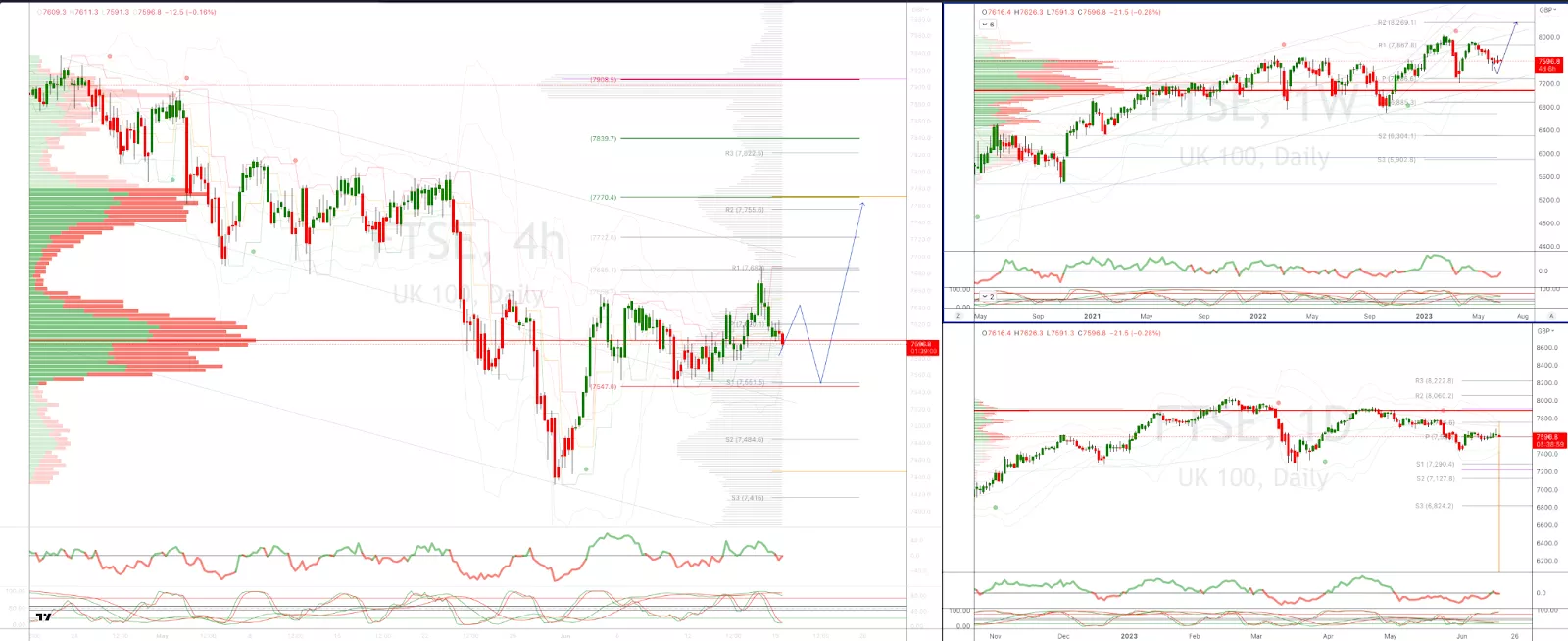 ---
More By This Author:
Daily Market Outlook, Monday, June 19
Nasdaq USTECH 15324 Target Hit, What Next?
FTSE First Green Weekly Close In Four
Disclaimer: The material provided is for information purposes only and should not be considered as investment advice. The views, information, or opinions expressed in the text belong solely to ...
more