ECB Trademarks "Digital Euro" As It Begins Experiments On Digital Currency Launch
As the world obsesses over Trump's taxes or whether or not he is using oxygen during his COVID-19 hospitalization, the biggest overhaul in monetary and currency history is quietly taking place just behind the scenes.
Just two weeks ago, Cleveland Fed president Loretta Mester hinted at just how close the US is to a comprehensive overhaul of the entire fiat system when she said that "legislation has proposed that each American have an account at the Fed in which digital dollars could be deposited as liabilities of the Federal Reserve Banks, which could be used for emergency payments."
This, together with an August Bloomberg interview with Simon Potter, who led the Federal Reserve Bank of New York's markets group for years, and Julia Coronado, who spent eight years as an economist for the Fed's Board of Governors, in which the duo suggested depositing digital dollars directly in households' apps, prompted us to write two weeks ago that "In An Unprecedented Monetary Overhaul, The Fed Is Preparing To Deposit "Digital Dollars" Directly To Each American."
While the Fed may be slow in responding to the collapsing monetary velocity, the ECB is absolutely glacial, largely due to the fact that, while the Euro area shares a monetary regime, it still has independent fiscal regimes. Which may explain why while the digital dollar is still in its development stage (the Fed is currently conducting joint research with MIT on whether and when to launch it), Europe is far closer to hitting the "green light" button on a digital currency.
On September 22, the ECB quietly filed to trademark the term "digital euro," as disclosed by the website of the European Union Intellectual Property Office, as European officials are preparing to release an assessment of the benefits and drawbacks of creating a digital version of the currency.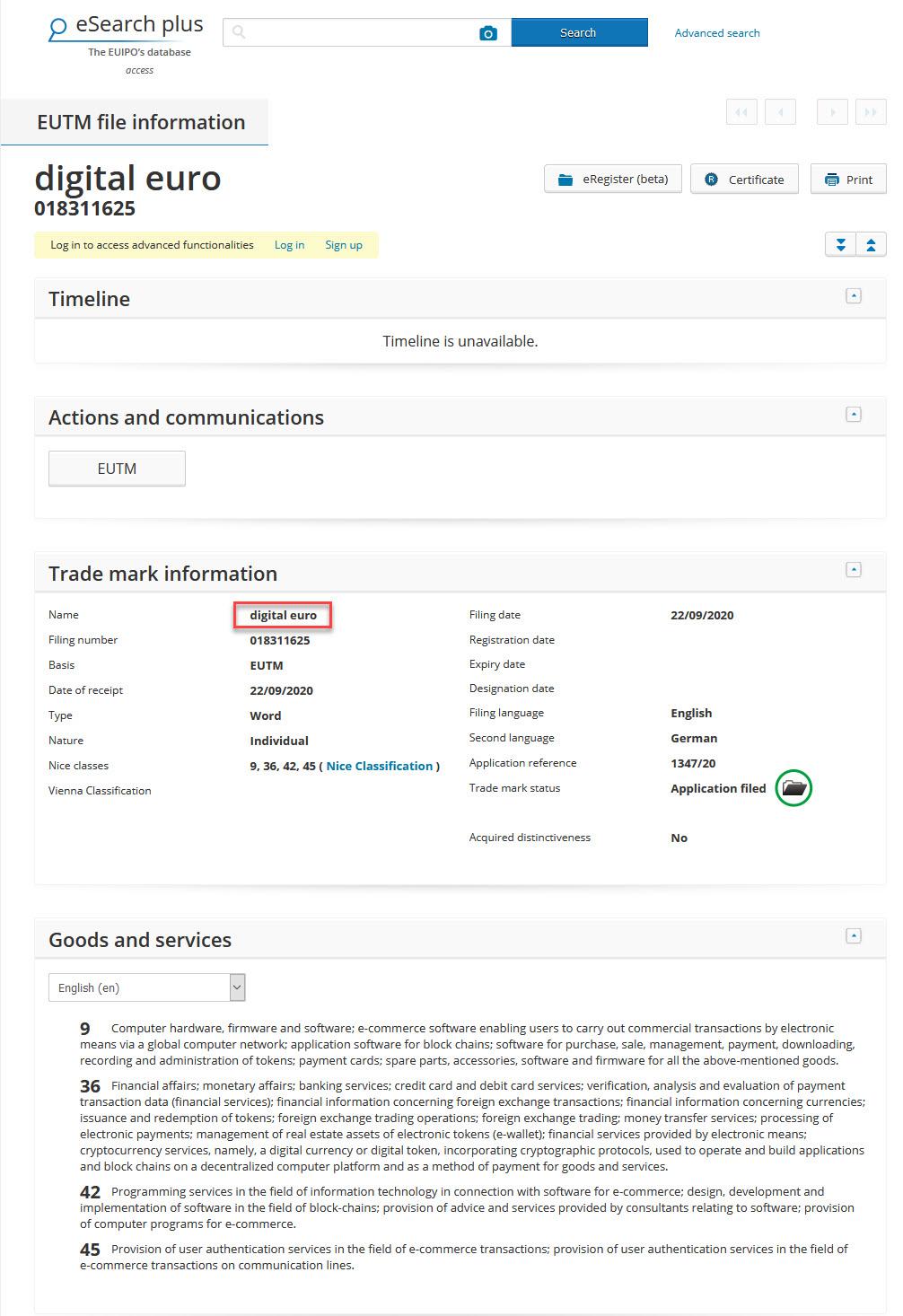 The trademark lists various applications for both goods and services, among which:
Disclosure: Copyright ©2009-2020 ZeroHedge.com/ABC Media, LTD; All Rights Reserved. Zero Hedge is intended for Mature Audiences. Familiarize yourself with our legal and use policies ...
more