EC

Alibaba Is A No Brainer
I'm not Chinese.
I'm a foreigner like most people reading this, but my experiences with Alibaba likely go beyond what most investors and analysts have experienced with the company.
If you want a one sentence version this whole article it is this:
I am long Alibaba (BABA) and plan to be for a long time as China and the world cannot function without Alibaba.
Let me back up.
I made a big "value investing" mistake with Amazon (AMZN) by overly focusing on the numbers and valuation. Even though I have vast experience with their eco-system as a buyer and also as a 3rd party seller on their platform, I placed more emphasis on the current price as opposed to the underlying price based on the many moving and growing parts of Amazon.
This isn't about Amazon, but Alibaba is a similar story, entrenched in Chinese society.
You see, if Amazon disappeared one day, it will be very inconvenient for the majority of the population, but I don't see people suffering because Amazon is gone.
There are just as many ecommerce stores online and software like Shopify (SHOP) and WordPress (using WooCommerce) has made it extremely simple for people to set up an online store.
On the AWS side, if Amazon was to shut down, corporations and businesses would still be able to move to another service. Microsoft (Azure), IBM (Softlayer), Rackspace, Google Cloud and so on. The beauty of the USA market is the amount of competition and choices.
Not so in China.
Alibaba has built the economy to what it is now and has the backing of the government. It's an unfair advantage that Alibaba has taken full advantage of. It comes with its own consequences, but the difference with Amazon in USA and Alibaba in China is that, should Alibaba shut down, China will be in chaos.
Alibaba the Chinese Giant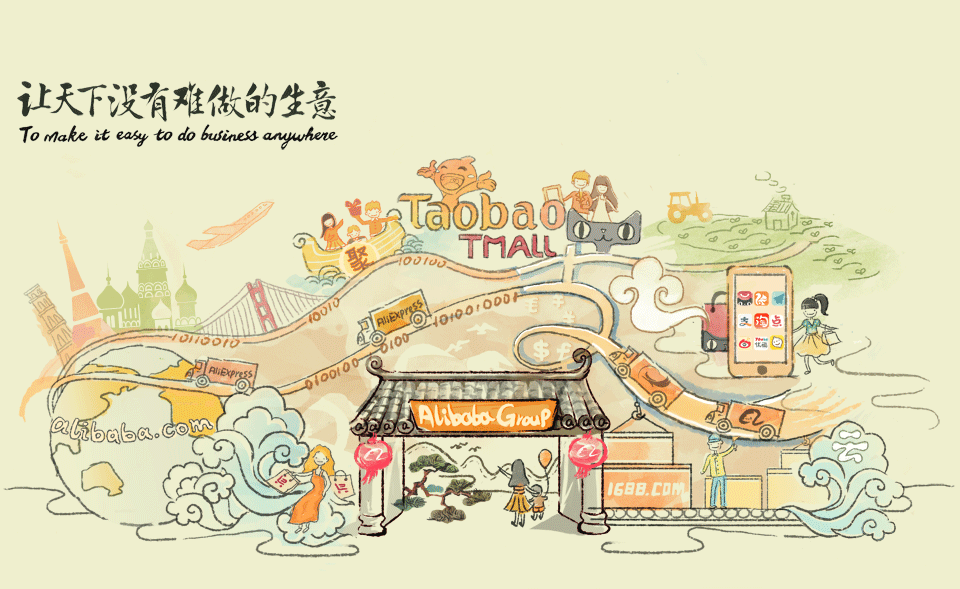 source: Alibaba Group
The main walk to fame is alibaba.com and is still very much the driver of the Chinese ecosystem. Being an industrial country, the majority of Chinese businesses are small to medium sized factories and companies related to trade. There are not a lot of people opening up small clothing boutiques, retail stores, car washes or other "typical" small to medium sized businesses you expect in the USA.
I'm not saying the country is not diverse. There are plenty of foreign companies opening up retail stores and providing all the products for the Chinese population to buy. But this is about Alibaba and the vast majority of business is driven by Alibaba's role of connecting the millions of small factories with local and international buyers.
Alibaba's International Monopoly
Disclosure: I am long Alibaba (BABA) and plan to be for a long time as China and the world cannot function without Alibaba.